We have updated our original big review for 2022, you can read it here. But for 2022 we have also added reviews of 8 new and revised climbing helmets with a focus on alpine climbing. In this helmet review you will find: technical data, strengths and weaknesses of the various models and what to look for when buying a helmet.
Price Range of the reviewed helmets
The price range of the helmets in our review is pretty wide, ranging from cheap 50$ for the Camp Armour helmets to almost 160$ for the Black Diamond Vision with MIPS technology. All of them are save, but depending on the amount of money you are willing to shell out you will get more comfort and/or fancy design features.
Austrialpin helmet.ut light 70$
Black Diamond Vision MIPS 160$
Camp Armour 50$
Camp Storm 80$
Edelrid Salathe 90$
Grivel Duetto 140$
Petzl Meteor 80$
Skylotec Viso 80$
When should you wear a climbing helmet?
Whether a helmet makes sense depends, among other things, on one's own sense of risk. When climbing on rock that is not always solid, alpine climbing or when you are belaying yourself (as in the Palatinate, for example), a helmet is advisable. But even in "normal" sport climbing a helmet does not hurt, rockfall can never be completely ruled out. Even those who do not climb in ultra-steep terrain, but in inclined slabs or vertical wall sections, are exposed to the risk of hitting their head against the rock in uncontrolled falls. A modern climbing helmet provides protection in this case as well. In addition, helmet manufacturers have done a lot to ensure that it is no longer difficult to wear a helmet while climbing, even under the southern sun.
More comfort with maximum safety – this is how you could describe the developments of the manufacturers since our last helmet test. We have tested eight new or improved helmets since then. Some manufacturers are therefore not represented here. However, their top models are still cutting-edge.
What should you  look for in a climbing helmet?
A maximum of 10 kN of force may be exerted on the head when a five-kilo boulder falls onto the helmet from a height of two meters. This is stipulated in the EN 12492 standard for mountaineering helmets. From a greater height, of course, a smaller stone (e.g. one kilo from a height of ten meters) is sufficient to exert the same force on the helmet. In addition, the standard provides for side impact tests, a penetration test, and tests of the strength of the straps and the fit on the head. The voluntary UIAA standard goes one step further in terms of damping. It only allows a force of 8 kN. Of the models presented here, the helmets from Black Diamond, Grivel, Petzl and Skylotec are also certified according to this standard. Guideline values for a maximum permissible acceleration in a side impact do not yet exist for mountaineering helmets, unlike bicycle or ski helmets. Grivel's Duetto also has approval as a ski helmet according to EN 1077/B, and Petzl additionally calls the Meteor the first CE-certified ski touring helmet.
If you're unsure about the certifications and want to understand how the European standards work, check out this Article on the Petzl Homepage: Article.
If you need more information how climbing helmets are different from bike helmets, read this article we wrote!
Differences in the construction of climbing helmets
Most modern lightweight helmets are constructed using inmolding technology. This involves injecting a cushioning layer of styrofoam (expanded polystyrene, EPS) into a thin shell of polycarbonate. In models from Black Diamond, Edelrid and Grivel, the shell is made of EPP foam (expanded polypropylene), an elastic material that absorbs impact energy by deforming and then mostly returns to its former shape. On top of this, the Vison MIPS and the Salathe have a partial hard shell that protects against penetration from above. Grivel does without this shell piece in the Duetto and achieves the standard specifications through greater wall thicknesses in the foam. The Armour of Camp falls with its hybrid construction – complete hard shell with cushioning foam piece inside – out of the frame and is not directly comparable with the other helmets. However, it was included for the sake of completeness.
Our Evaluation criteria in the helmet test: wearing comfort, climate and operation.
These three points are the decisive criteria for evaluating the helmets. Four factors determine the wearing comfort: fit, weight, padding and an optimal fit. Apart from people with very narrow heads, everyone should actually be able to cope with the fit of the test helmets. Padding is mandatory at the top and on the forehead. Finally, good adjustment options ensure that the helmet can be adapted as perfectly as possible to the individual head shape, that no strap presses on the ears and no buckle on the jaw – and that a cap can be worn under the helmet if required. There is nothing to complain about in terms of wearing comfort in the test field. None of the helmets pinches and all fit well to very well on the head, depending on the head shape.
Many large ventilation openings, preferably distributed around the head, help to keep a cool head on hot days. Also, the helmet should not be completely snug, but have "channels" so that air can circulate. In terms of climate comfort, the differences are not very great. Only the Duetto from Grivel and the Camp Armour are suitable rather limited for very hot days.
The strap systems differ more clearly. Neck strap, side straps and the chin strap should be easy to adjust and not slip. A simply taken, separately suspended chin strap facilitates the adjustment of the side straps and the tightening under the chin. A dial or slider bar on the neck strap makes size adjustment very easy. Combine that with a separately suspended chin strap and clips that prevent the side straps from slipping, and it's optimal, as with Camp's Storm. The pure belt systems especially trimmed to weight helmets are a little more cumbersome to deal with. With Black Diamond and Grivel, the side straps are firmly sewn to the chin strap. This limits the flexibility somewhat, but the helmets can still be adjusted perfectly.
Since we have placed the main focus this time on helmets for sport climbing, an evaluation of the headlamp holders was omitted. At first glance, the systems from Black Diamond, Edelrid and Petzl work particularly well.
Conclusion and recommendations
The manufacturers have done their homework when it comes to wearing comfort. All helmets are very comfortable. Who likes which helmet more ultimately depends on the shape of the head. Even hotheads can't complain about a lack of ventilation in most helmets. Full marks in all respects received the revised Meteor from Petzl. A recommendation also receives the new Vision MIPS from Black Diamond, the Storm from Camp and the new Salathe from Edelrid.
Detailed Review of the 8 Best Climbing Helmets for 2022

Climbing helmet Austrialpin Helm.ut light
Austrialpin, an Austrian brand known in Europre, has given its inmoulding model a slimming cure. The revised Helm.ut is now called Helm.ut light and is designed more for wider heads. The side straps are a bit long, which moves the closure under the chin and the chin pad is not centrally located. Adjusting the double chin strap is a bit of a hassle. The neck strap is not suspended from the straps and is not height adjustable. Climate and wearing comfort are great.
Wearing comfort: 5/5
Ventilation: 5/5
Operation: 4/5
Construction: EPP with partial hard shell
Adjustment: Sliding latch
Standard: EN 12492, UIAA
Sizes: (head circumference) S/M (53 – 59 cm), M/L (58 – 63 cm).
Weight: 251 grams (size S/M)
Price: 160,00 $
Verdict: Comfortable, reasonably priced helmet that doesn't let its guard down when it comes to climate. With the band system is air upward.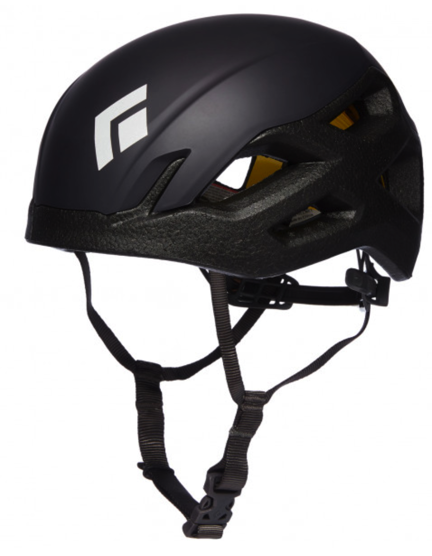 Climbing helmet Black Diamond Vision MIPS
Black Diamond builds into the new Vision a so-called MIPS system. This is an additional, thin, flexibly mounted inner shell. It dampens rotational forces that can occur during impacts from oblique angles. There is nothing to complain about in terms of wearing comfort and ventilation. The helmet can be adjusted very well by means of a slider bar. The chin strap could be longer and the side straps sit a bit close to the ear.
Wearing comfort: 5/5
Ventilation: 5/5
Operation: 4/5
Construction: EPP with partial hard shell
Adjustment: Sliding latch
Standard: EN 12492, UIAA
Sizes: (head circumference) S/M (53 – 59 cm), M/L (58 – 63 cm).
Weight: 251 grams (size S/M)
Price: 160,00 $
Verdict: Lightweight, comfortable and with additional protection from the MIPS system. However, everything together has its price.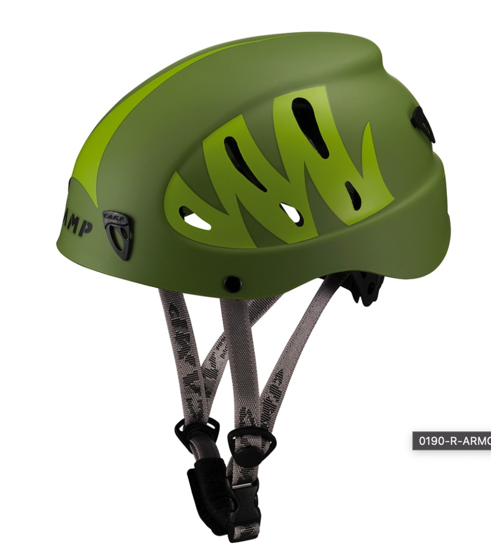 Climbing helmet Camp Armour
The Armour is the only hard-shell helmet in the field and thus cannot be directly compared with the rest of the lightweights. Due to its circumferential headband, it sits very firmly on the head. Adjusting the band system is a bit fiddly, partly because of the double chin strap. The Armour also can't keep up with the other models when it comes to ventilation. In return, however, it is extremely robust and entices with a very reasonable price.
Wearing comfort: 4/5
Ventilation: 3/5
Operation: 3/5
Construction: Hybrid
Adjustment: rotary wheel
Standard: EN 12492
Sizes: (head circumference) S (50 – 57 cm), L (54 – 62 cm).
Weight: 372 grams (size L)
Price: 50 $
Verdict: Relatively heavy due to construction, but very robust and affordable helmet.
Climbing helmet Camp Storm
Camp has slightly revised its proven Storm. It sits firmly on the head and wears comfortably. From the shape it fits on pretty much all heads and offers even with large heads still enough space for a cap underneath. The adjustment is perfect. The closure of the separately suspended chin strap is on the side and does not press. Top: clips prevent slipping of the side straps.
Wearing comfort: 5/5
Ventilation: 4/5
Operation: 5/5
Construction: Inmolding
Adjustment: rotary wheel
Standard: EN 12492
Sizes: (head circumference) S (48 – 56 cm), L (54 – 62 cm).
Weight: 259 grams (size L)
Price: 80 $
Verdict: The Storm is highly customizable, offers a universal fit with a good climate and very good wearing comfort.

Climbing helmet Edelrid Salathe
The second lightest helmet in the field relies on a foamed shell made of EPP (Expanded Polypropylene) with a partial hard shell made of ABS plastic that provides protection against penetration. The large vents provide plenty of fresh air, even on hot days. The Salathe adjusts well and fits very snugly on the head for a helmet with a strap system. Adjustment is a bit of a hassle, and the side straps sit close to the ear.
Wearing Comfort: 5/5
Ventilation: 5/5
Operation: 4/5
Construction: EPP with partial hard shell
Adjustment: Strap
Standard: EN 12492
Sizes: (head circumference) Size 1 (50 – 58 cm), Size 2 (52 – 62 cm).
Weight: 215 grams (Size Size 2)
Price: 89,95 $
Verdict: Low weight, very good ventilation and equal wearing comfort characterize the Salathe.

Climbing helmet Grivel Duetto
With surprising design and made entirely of EPP foam (Expanded Polypropylene) comes the Duetto and incidentally meets a standard for ski helmets. To do justice to everything, the helmet shell turns out very thick-walled. Which in turn, however, provides good protection at the sides and back. The carrying system consists entirely of webbing and can be adjusted relatively well. In terms of climate, not a helmet for very hot days.
Wearing comfort: 5/5
Ventilation: 3/5
Operation: 4/5
Construction: Foamed
Adjustment: Strap
Standard: EN 12492, UIAA, EN 1077/B (ski)
Sizes: (head circumference) one size (53 – 60 cm).
Weight: 204 gram
Price: 139,00 $
Verdict: Extremely lightweight helmet with surprisingly good wearing comfort and extravagant design for not too big heads.
Conclusion
With these new helmets you can't go wrong in 2022. If you need a new helmet, make sure to check out some of the the models we tested for this article. This article about new climbing shoes in 2022 is also really nice.
More reviews: