Lightweight, compact,& easy to assemble, the Chair Zero is Helinox's most popular backpacking camp chair. It's made of durable materials that can withstand the great outdoors and collapses into a small package for easy transportation. Explore the great outdoors with the Chair Zero by your side! Time to put it to a test.
If you're too lazy to read: It costs around 120$, is worth every penny, and unless you weight over 265lbs or need to be super super lightweight, it's a clear recommendation to buy! Check prices here.
Portability & Packability
Great camp chair for those looking for an ultralight backpacking companion. The Chair Zero is a light and compact chair suitable for all-day sitting or watching the night sky with loved ones. With a seemingly unlimited weight capacity of less than 2lbs, it's perfect for backpacking. The Chair Zero is a lightweight, packable chair that can be easily carried anywhere. It's particularly helpful for backpacking or hiking trips because it can't break like a normal camping chair and packs down to the size of a water bottle. It's also great for everyday use – from tailgating to sporting events. Weighing only 2 pounds, the Chair Zero is the best lightweight packable chair we've found on the market.
Comfort
When you've had a long day on the mountain, nothing sounds better than taking off your boots, kicking up your feet, and sitting back in our ultra-comfortable Chair Zero. This is the best chair for spending all night around the campfire with friends. The Chair Zero comes with a lightweight aluminum tripod that sets up in seconds and packs up just as quickly for easy transportation.
The Helinox Chair Zero is a lightweight, zero-sized chair that is perfect for those who enjoy camping or hiking. It's also ideal for those who like to work in the great outdoors. However, there are some disadvantages to this chair.
To start with, it can be difficult to adjust the width of the chair. It is very easily tilting backwards, furthermore, it can be too narrow for some people as well as if you're sitting in an incline position on your butt.
Durability
The durability of a backpacking chair can be a major concern for campers. This product is made with quality materials and built to last. There are no durability issues that we could find on the fabric, poles, or pole inserts. The only thing that people are not fond of about it is the pole inserts that are not reinforced, but so far they worked out great.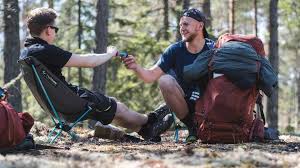 Ease of Assembly & Disassembly
Camping just got infinitely more comfortable with Helinox's Chair Zero, especially when it comes to assembly and disassembly. Weighing less than a pound and folding down to the size of a water bottle, this is the ultimate lightweight chair for your next outdoor adventure. The all-aluminum frame is sturdy and durable, providing an ergonomic design that will be perfect for long-term sitting. The Chair Zero is designed to work for most outdoor adventurers, tailoring to your needs by making setting up a breeze. The Chair Zero comes in two sizes, regular and the compact travel size, which fits perfectly into any backpack. With just one click of the handy attachment knob at the bottom of the seat fabric, you can attach it to any Helinox Chair One or Two via an aluminum frame for increased comfort.
PROS
The Helinox Chair Zero is a lightweight, durable and compact chair that you can take with you on your next adventure. With a weight of just 17oz (0.48kg), the Chair Zero is essenceapotek perfect for those who like to travel light and fast without sacrificing comfort.
Get light, comfy, and tiny with the Chair Zero. Weighing in at under one pound, packing down to be slightly larger than a Nalgene, and fitting in any backpack pocket – The Chair Zero has redefined the meaning of weight, space, and comfort.

The Chair Zero is the lightest, most minimalist chair on the market. It packs into its own compact bag with a carabiner clip and carries easily. Made of 3D weaving, it's tough as nails and is waterproof up to 3000mm. The Chair Zero is perfect to take with you anywhere, anytime, for anything outdoors!

When we were first introduced to this chair we thought it would be complicated to assemble and take time to figure out. Our assumptions were wrong, as the poles pop into place on their own so you only have to snap a few together. It's a breeze and we love that there are no loose pieces!
CONS
We found it harder to recline in the Chair Zero than in other chairs because of its "zero" recline angle. The chair reclines so far back that you are forced to lean forward slightly. The lack of support for your back and small armrests made it difficult to find a comfortable position. This is especially the case if you recline too much and then try to move around the chair.

It is not a surprise that the Chair Zero zero is pretty expensive. It was invented by a team of engineers and designers who wanted to create a backpacking chair that people would love. They also wanted to create something that would change the way people can relax and sit around a campfire. The chair zero was created after years of research and development, and it shows in the price,
Who should buy the Chair Zero from Helinox – Check Price on Amazon
Well, this chair is perfect for backpacking due to its lightweight and compact size. It is also very comfortable making it a good option for people who are tall. Furthermore, it has a low center of gravity which makes it very stable. This chair is ideal for tall people because it will allow them to sit without their feet being too close to the ground. This chair's lightweight design makes it extremely practical for backpacking and camping trips. Its compact size makes it easy to carry in your backpack without weighing you down or taking up too much space in your pack as well as being easy to fit inside your tent once you finally arrive at your campsite. Furthermore, the chair's high-density foam rubber seat ensures that you'll be comfortable throughout the day and night whether you're sitting on the ground or

This chair is perfect for those who are always on the go. It's compact and lightweight, making it easy to carry around with you wherever you go.

The Chair Zero is an amazing chair. Not only is it lightweight and compact, but it's also comfy! The design of the chair has a number of features that make it absolutely perfect for camping in the backcountry or just lounging around your backyard. It's a must-have for anyone who enjoys being outdoors and wants to be comfortable when they're sitting down. Since it is so easy to assemble, easy to fold up, and can be taken apart quickly if you need to take the whole thing with you to another location, its a clear recommendation from our side. 
Who should not buy the Chair Zero
If you are an ultralight backpacker, then this is not the backpacking chair for you.I cannot recommend this backpack for anyone who is an ultralight backpacker. It is still too heavy for my needs and the added features are not really for me.
If you're looking for an cheap chair, this chair might not be the best place to go.
Don't buy it if you want a cheap chair, and don't mind the extra weight.
If you want to stay comfortable and have your back supported, then by all means go for a this higher end chair. But if you're just looking for something that can serve as a temporary or permanent replacement when your other chairs are in use, then this might not be the best option
Don't buy the Chair Zero if you want a very heavy and comfortable chair. In this case, some other options might be better. Also if you're heavier then 265lbs, go for another chair