Camping is great, and for most of my friends and me, it's a great way to see different places and wake up in the morning, nose full of fresh nature. But even when you go camping and enjoy the outdoors a lot, after a few days you want to take a shower. If you have a campervan, you're all set, but in case you like backpacking or traveling light with only a tent, you need a portable shower. That's why we reviewed and tested the best camping shower for 2022.
So what is the best camping shower in 2022? The best overall camping shower with electrical power is the ECEEN Portable Shower. The best powerless camping shower is the Sea to Summit Pocket Shower.
We found that some models work better for backpacking than others, and we give a recommendation for different budgets. Some of the camping showers in our big review use electrical or battery power, some with gas, and some are heated by the sun. Depending on your camping trip, you might not have electrical power; that's why we also included powerless camping showers in our test.
All of these showers are more or less portable, lightweight, and compact. But some are more suited to be used on a campsite with electrical power, while some are ultra-compact and heated by the sun, which makes them perfect for backpacking adventures off the grid. You can use most of them to wash, dishes, gear, or anything else.
Why You Might Want a Camping Shower
We all love camping, my family and I love it to relax and unwind. But as soon as you go camping in a remote area for more than
2 days, you might want to have a camping shower to clean up after a day of hiking or fishing. If you go camping on a campsite, the chances are high that there are some good facilities with hot showers and water toilets, but if you are somewhere in the backcountry, especially on some campsites in the USA and Canada, there might not be a shower available.
That's when a camping shower can be really convenient. Most of the tested camping showers either come with a large bag or tank that gets heated by the sun or allow you to heat your own water in a bucket and then dunk a battery-powered pump into it. Super nice, and a hot shower to clean off some of the fireplace smell and dirt is a great way to make your life a bit easier when you camp. And with the exception of a few models, most of the camping showers in our test are not expensive, with prices way below $100.
The Best Electrically or Gas Powered Camping Showers

ECEEN Portable Shower: Rating: 4.5 / 5
The ECEEN Portable Shower is powered by electrical power, aka a battery. That means it's not suitable if you plan to wander off the grid, without bringing a solar charger or something similar. But it's powerful, and you can use it to take a shower or even wash a car. Downside: It doesn't heat the water, which means you either have to find a source of heat for your water and preheat the tub or bucket or enjoy the benefits of a cold shower. If that's ok for you, then this shower is a good fit.
The battery that powers it gives it a full one-hour runtime, and you can charge it with a USB charger. So technically, you could charge it with a solar charger, although it would take a while to charge fully. The pump is waterproof, so you won't have to worry about damaging the circuitry, and this camping shower comes with a filter system. That's a nice bonus for impurities in your water source. It only costs around $40, is fairly compact, and if you can live with cold water or heat it yourself, it's a decent camping shower.
Facts about this camping shower
2200 mAh battery,  5V, USB charger included
Waterproof
Filter included
NO heater!

Camplux 5l Propane Gas Shower: Only Propane Gas Powered Shower in the Test – Rating: 3.5 / 5
The Camplux is about the closest you will come to a normal household shower. As it uses a propane gas bottle, it's not as portable as some other models, so backpacking is out of the question for this model. But it's very comfortable: You need a battery and a propane gas tank, and then it's almost ready for setup.
You can store it in a caravan or car, it's fairly compact, and has a 5 liter per minute output. You can control temperature and flow, but you need to bring batteries and propane gas. We think this shower is great for caravan or campsite use, but as it is not really portable, we cannot give it more than 3.5/5 as a camping shower.
Facts about this camping shower
Full function: Heating, Pump and flow control
Variable temperatures
5L per minute
Battery-powered pump

iVation Portable Power Shower: Good Value Camping Shower with a Submersible Pump – Rating: 3.5 / 5
A great camping shower for rinsing water off after a day at the beach, this portable camping shower doesn't come with a heater. It comes with a good battery and is waterproof. You can charge the battery with the included USB charger anywhere, and it powers your shower for an hour of use. As this model comes with a submersible pump, you need a water source like a lake, tub, or river to use it.
It costs $30, which is okay for the quality it delivers. And since it comes with a filter, you won't need to be super worried about impurities in your water source.
Facts about this camping shower
powered pump by battery
no heating, cold water only
comes with a 2-year warranty

Laserbreak Portable Electric Shower: Submersible Pump For Lake and River Usage Rating: 4 / 5
If you're next to a lake or river (or any other water reservoir for this matter), the Laserbreak Portable Electric Shower could be a good fit. It comes with a submersible pump instead of a water tank, and the pump also uses a filter. No refilling needed; as long as you have the battery, you have running water, given that your lake doesn't run empty, which is unlikely. The battery on this model is very strong, and with one charge, you can take s shower for over an hour. It also has variable flow rates, making it adjustable to your tase.
The hose is long, so you can reach anybody part easily, but the big downside, as with most pump-driven models: There is no heating included. That means you either find a source with hot water or live with a cold shower. But thanks to the battery-powered pump; you can use it to water your garden or wash the car. It costs just less than $40, so it's a fairly expensive model, but you get a strong battery and different flow settings.
Facts about this camping shower
Long hose on this camping shower
Submersible pump works well in any lake or river
Variable speeds, nice extra
Strong battery: 4800 mAh, 5V USB charger

Ivation Battery Powered Portable Shower: Comes with Suction Cup – Rating: 3 / 5
This is another battery-powered shower. You dunk the pump into the water source and enjoy a shower. The handheld nozzle is okay but needs to attached to a flat surface via a suction cup, making it not the greatest shower to use outdoors in the woods, but you can also use the included S hook to hang it.
Facts about this camping shower
Needs external heating source
USB Charger
One hour of use

RinseKit Portable Outdoor Shower – Rating: 3.7 / 5
This 2 gallon 12V electrical camping shower comes with a hot rod water heater. As such, it is the only electric camping shower that actually heats the water itself. The capacity is fairly small but enough for a quick shower, and you can shower up to six minutes with the built-in the pressure of the shower. The reservoir can be refilled easily, and heat and pump work both at the same time. It can be charged from a 12V vehicle charger.
Facts about this camping shower
Built-in heating
12V Vehicle Port Charger
2 gallons of water or six minutes of showering with one tank

Stansport Battery Powered Portable Shower: Long hose and Carrying Bag Included – Rating: 3.3 / 5
This battery-powered camping shower comes with over 2 meters or 7 feet of hose and a carrying bag, which is nice. It works like the other drop-in pump camping showers work, simply submerge it into a bucket of water. You need to supply the heat externally and by yourself, but the shower has an adjustable water flow. Don't forget to bring enough batteries, as this shower doesn't charge via USB, but needs 4 D-batteries!
Facts about this camping shower
Long hose on this camping shower
Carrying bag included
Battery-powered with 4 D-batteries
No heating unit included

LUOOV/AngLink Portable Camping Shower: Battery Powered Show with an Extremely Good Pricetag – Rating: 3.5/ 5
The AngLink Portable, also sold as LUOOV on Amazon, and probably a few other brand names, is a nice, cheap battery powered shower with a fairly large shower head. The water flow is just right, although not controllable. It has one of the widest shower heads of all the showers we tested, so if that's something you like, there is almost no way around this camping shower. You can hang the shower almost anywhere with the included suction cup attachment, making this shower essentially hands free.
Like many other battery-powered showers, this camping shower needs to be dunked in a tank or water reservoir with its pump, but compared to some other models, the battery life is pretty good, and you can find replacement parts for it if you really have a breakdown. We didn't like the fact that the battery is not waterproof, as this seems kind of counter-intuitive for a shower, but all around, this shower is a cheap and versatile shower.
Facts about this camping shower
Large and comfortable shower head
Long-lasting and rechargeable battery
Versatile
Low price
Battery not 100% waterproof, which is a downer
Not super robust
The Best Powerless Camping Showers

Zodi Extreme S/C Shower:  Best Overall Camping Shower – Rating: 4.8/5
Zodi Extreme S/C took home the victory in this review. We loved the unconventional design of this easy to use camping shower, and it even has adjustable pressure and flows control. It's one of the few camping showers with a manual hand pump as well as a controllable rate of flow and a comfortable on-off lever. The hose is super long, making this shower perfect for anyone who is tall.
The coolest(or hottest :D) feature: The Zodi Extreme can be heated by simply putting it on a stove. With the built-in outside thermometer, you can easily see when it's hot enough, then remove it from the stove, and enjoy a hot shower. All this is bought, of course, with the rigid design: The Zodi camping shower doesn't compact, and its made from metal, which means it's fairly heavy. So, it won't be the number one choice for a backpacking trip when you have limited storage.
Facts about this camping shower
Very durable thanks to metal construction
Adjustable pressure
Fastest shower to heat above 100 degrees Fahrenheit (42 degrees Celsius), just put on the stove
Simple to use but heavy
Not very compact

Sea to Summit Pocket Shower: Best Shower if You Go Backpacking – Rating: 4.7 / 5
Wow, this shower is tiny, and if you fold it, less than 6 inches. For that, it packs a surprising 2.6-gallon bag that lets you take a shower in the middle of nowhere. Just fill it up, roll it an clip it, hang into the sun for 2 hours, and your good to go.
The exterior is made from black colors, like most solar heated camping showers, and does a good job of storing heat. It is gravity fed, but the pressure is not very great. Hanging this shower needs you to learn how to tie a knot, as it comes with paracord. That makes it versatile, but you need a bit more effort to hang it from a tree.
A downside is that the top of the roll leaks a bit, so you should position it upright while it lays in the sun and heats up. It's not a big problem, but keep it in mind. This shower is super good for real backpacking as it is the most compact and lightweight shower in the test, making it the deserved winner for backpacking camping showers.
Facts about this camping shower
Super lightweight
Compact
Simple to use
Solar-powered
Easy filling
Comes with everything
Low pressure
Hanging difficult
Some leakage in top roll

Risepro Solar Shower Bag: Cheap, solar heated and two flow settings – Rating: 4.5 / 5
Bag-type camping showers are pretty popular these days, and being able to take a shower off the grid is great. This camping showers lets you store water in a bag that is then heated by the sun. Made from environmentally friendly materials, you can hang this bag anywhere in the sun, wait for two or three hours and enjoy a hot shower on the go. This model even comes with a temperature displayed on the front side of the bag.
It has a 20-liter capacity, and you can hang it from a tree, pole, or your best friend or spouse. The hose is long enough to allow comfortable showering, and it offers two different flow settings. This is something to notice, as many pump-driven camping showers don't offer this. As it is a solar heated camping shower, this shower will not heat water if you hike where the sun is not shining, making it best for spring or summertime camping trips. It only costs $15, a great fit for any budget!
Facts about this camping shower
Solar heating
20L capacity
Eco-friendly
Two water flow rates

Yellowstone Camping Shower: Cheap, solar-heated – Rating: 4 / 5
Another bag-type camping shower we tested is the Yellowstone Camping Shower. You can hang it from any taller pole or tree, and it works by using good old gravity to supply you with a flow of clean showering water. With a 20 liter capacity, this shower is pretty compact when empty, and it heats up water by using the sun. Within 3 hours you can get your water up to 40 degrees Celsius (100+ Fahrenheit), and enjoy a nice hot shower that lasts long enough thanks to the big water tank.
The flexible shower hose works super well, and although there is no visible shower head, we find it easy to use and powerful enough. You need to bring clean water, as this shower comes without a filter. And since you have no control over the flow rate of the showerhead, one setting must suffice. But overall it's a great shower, and it costs less than $15.
Facts about this camping shower
Solar heating
20L capacity
Eco-friendly
No flow adjustment

iTovin Portable Pressure Shower: Interesting design, 15-liter tank – Rating: 4 / 5
iTovin makes a pressure drive model, which works differently than the gravity-powered designs in the test. You can pump it up with a foot pump, and it has a good capacity of 15 liters. Since it stands on the ground, you won't need a tree or something like that, and it comes with a safety valve to avoid over pressurizing the whole system – neat!
The 2-meter hose works well, at least for taking a good shower, and you can also use it to wash your dog or car. The valve to fill this camping shower is large, and the shower only weights 770 grams, so you can even stuff it in your backpack. With a full tank and maximized pressure, you will have an 8-minute shower with one filling, but you might need to pump every once in a while to keep it up. It costs less than $40, and if you want a manual pump shower, this one is a good fit!
Facts about this camping shower
Pressure driven design
Manually pumped with a foot pump
No tree or pole needed
15-liter capacity

NEMO Helio Pressure Shower: Versatile Shower with a Narrow Head – Rating: 3.6 / 5
NEMOs Helio camping shower is interesting, as it comes with a foot pump. You just push the pump a couple of times, and the shower builds up pressure. This method of operation works really well, and it keeps your hands free for cleaning. Unfortunately, the nozzle is very small, but this at least results in a long showering time, as the capacity of this shower is only around 3 gallons or 12 liters. You can use this shower for cleaning dishes too. The Helio is very portable, thanks to the design and small capacity.
A downside: The filling opening is pretty tight, so it's kind of hard to fill it, and it's annoying that you have to hold the shower in the ON position for taking a shower.
Facts about this camping shower:
Pretty packable
Good water pressure
Durable and robust
Big capacity
Small shower head
Small filling opening
Must be held in ON position, so not the most comfortable

Sportneer Solar Camping Shower: Another Solar Powered Bag-Type Shower – Rating: 4 / 5
WE didn't find anything particularly bad or good about this model. It's a camping shower powered by solar heat, and it works. It folds to a compact size when empty, the 20 liters of capacity, that you find on many of these bag-type models, work good and are plenty of water in reality in a camping situation, and it heats your water to 40 degrees Celsius or above 100 Fahrenheit in ca 3 hours.
You need to find a good water source for this shower, as it has no filter, and this model come without any kind of flow adjustment – that means you have to hold it higher or lower to regulate the water flow. With just less than $25, it's reasonably priced!
Facts about this camping shower

Road Shower 4S: Top Pick if You're Camping With Your Car – Rating: 3.7 / 4
We have to give the makers of the Road Shower 4S credit for this unusual design. Instead of making just another bag-type solar-powered rubber shower, they thought of something different. This camping norskapotek24 shower is unique, as it needs a car or something with a sturdy frame to be mounted. The tank is a powder-coated aluminum tube that you mount on your roof rack of a car. Any VW Vanagon, Westfalia Van, Sportsmobile Van, Camper, or even a sailboat works. But you can use a cabin, Kayak rack, Bike rack, Luggage Rack, Yakima, and Thule Racks as well. The tube is then heated by solar power, heating up around 12-20 degrees per hour on an average day with some sun. When you're finished, you have around 4.5 gallons of hot water that you can then spray with the included hose and nozzle.
To increase pressure, you can attach any pump or compressure and re-pressurize the shower and have even more spraying power. The nice thing about this shower is that it works super well without any further setup once you mounted it. Just unhook the hose, and you have enough water flow for a normal shower, and if you need more, fill it with a couple of pumps from a bike pump. Filling it is easy too: You can either use a hose or just open the large valve on top and fill the tube.
While we loved this ingenuity, the standard nozzle is not a great shower per se, as it is more or less a standard hose head like you find in your default garden hose setup. While that works great for cleaning a surfboard or your dog, it's not super comfortable for taking a shower. There is an additional showerhead, but you need to buy it separately. Not cool! Also, if you have no bike pump, you will notice that the water pressure drops significantly when you are using the shower with an almost empty tank. Good thing: You can re-pressurize, and you can also find this camping shower with a 7 gallon and a 10-gallon tank!
The shower comes with a hefty price tag of over $300, making it the most expensive shower in our review.
Facts about this shower
Very easy to use
Manual pump or gravity
No hose needed
Durable construction mounts to your car
Limited to usage on your car
The included nozzle isn't a GREAT shower
Pressure decreases while showering
Can't completely empty the tank
Very expensive

Advanced Elements Summer Shower: Rating: 3 / 5
If you decide that you want a powerless bag-type camping shower, then this is another model to consider. Advanced Elements makes a shower that is pretty similar to other models on the market. Like most other camping showers with solar-heated bags, you can hang it from anywhere higher than your head, and it uses gravity and solar power to drive and heat the water. The hose is long, which makes this shower pretty powerful – the higher you hang it, the more power the water flow has.
We liked the quality of materials used in this camping shower with a four-layer bag, and a good temperature gauge, so you know if you're about to take a cold shower or spray yourself with scaling water. But the shower has a limited capacity of only 9 liters. Since other models have 20 liters, this one is a little behind in that area, and not the best model to take long showers. With a price of around $30, it's also twice as expensive as our top contending bag-type camping showers, which is kind of a downer.
Decide for yourself: If you want really good materials and a good gauge, but won't take very long showers, this one might still be a good fit!
Facts about this camping shower
9-litres
Premium quality
One speed
Long hose

Reliance Outdoors Flow Pro Portable Shower: Heavy shower with small capacity – Rating: 3 / 5
While this might not be the lightest shower, it only holds 2 gallons of water. We didn't like this, but at least it comes with a good carrying strap and a neoprene sleeve. The showerhead works good; with an action trigger, you can make the most use of the 2 gallons. The hose is 6 feet or almost 2 meters long, and of very good quality!
Facts about this camping shower
Good resistant hose
Trigger action showerhead
Only 2 gallons of water

Hozelock PortaShower: Rating: 2.5 / 5
We had a hard time with the Hozelock PortaShower. On the one hand, we loved the design with a manual pump, allowing you to use this shower anywhere without a battery. But with a tank of a measly 7 liters (not even 2 gallons), this shower won't last for more than a quick rinse off after the beach. And the water is cold, so it's probably better suited to spray plants in the garden then real showering.
On the other hand, it is very portable, and the air pump is small and compact. That means you can throw it in the back of your car, and the long hose works pretty well too. But it costs $30, which is quite expensive, especially when you compare it to solar-powered bag-type camping showers that offer how water and more than double the water reservoir.
Taking these facts into account, we cannot give this shower a better rating than 2.5, making it the last on our list.
Facts about this camping shower
7 Liters capacity
Manual pump, no power needed
No heating, no solar heating, cold water only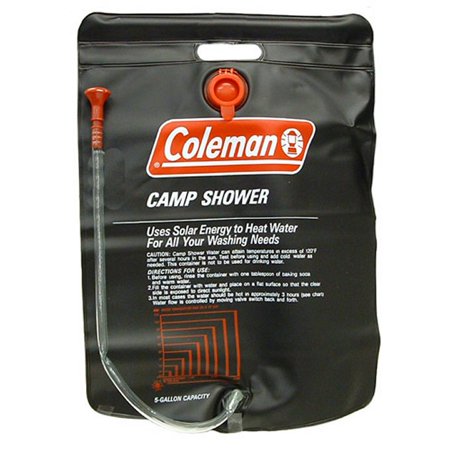 Coleman Camp Shower – Rating: 3.5 / 5
Coleman builds an old school bag-type camping shower. It comes with a 5-gallon reservoir and a flexible hose. It is solar heated, and you can use the robust handles to both transports it if filled and also hang it from a branch of a tree. Thanks to the good on/off valve, you can get multiple showers out of one filling!
Facts about this camping shower
Sturdy handle
On/Off Valve
5-gallon reservoir

On Track Portable Shower – Rating: 3.7 / 5
This shower only has a 0.75-gallon tank, making it the smallest shower in the test. But it uses a pump-action to pressure it, so you can shower really efficiently with it. As it comes with a good shoulder strap you can also sling it around your shoulders and use the shower as a cleaning tool for your gear.
Being smaller than a jug of orange juice, this shower can be stowed anywhere and is perfect for quick trips!
Facts about this camping shower
Compact and portable
Pump action easy to use
Quick refills

Green Elephant Solar Shower – Rating: 3.6 / 5
Green Elephant makes a solar-powered camping shower from non-toxic TPU material. You can roll it up easily, but also use it as storage for other items. Thanks to the waterproof seal, it effectively serves as a dry bag when not being used as a shower.
Hang it on a tree, and let mother sun heat it up.
Facts about this camping shower
Non-toxic TPU material
Doubles as dry storage
5-gallon tank
Solar-powered heating

Geyser System Portable Hot Shower: Really Water Efficient Small Camping Shower – Rating: 3.4 / 5
This small shower only has a 1-gallon tank, which might seem too small. But thanks to the water control and unique design, you can get up to 7 minutes of showering out of it. It has a sponge attached to the nose, and this allows for both scrubbing and rinsing at the same time while saving water.
As this camping shower only weights 6 pounds when full, it is the water-saving alternative to other showers in this review!
Facts about this camping shower
7 minutes of showering
1 gallon of water
Weighs only 6 pounds when filled
How We Tested These Camping Showers
I've spent a lot of time camping or backpacking in my life, and I love to explore new places and roam nature. Whether in a kayak, a campervan, or just backpacking, I've been outside some way or the other for the last 25 years.
That's why I appreciate getting clean every once in a while, even when staying outside. I did have my fair share of weeks without a real shower, don't get me wrong, but a hot shower is a comfort not to underestimate. And I have been using everything from solar heated bag-type showers to washing with a cloth in the rain to taking a dip in a hot geothermal pool.
Before we tested these showers, we tried to figure out which aspects are most important for an outdoor camping shower. Then we selected the models we wanted to review, measuring or collection information about technical details of these camping showers, like showerhead width, length of hose, water pressure, and tank capacity if the camping shower came with a tank. When we couldn't get our hands on a model, we collect information from other verified review sources, to give you a complete picture.
Some Buying Advice for Camping Showers
Most of these showers had something good or bad about them, and while you can spend weeks calculating scores about them, like some other websites, love to do, we think a short and concise conclusion and a single metric rating serves best. No one wants to spend hours of their time to understand artificial metrics test scores for a shower, while in reality, they just want the best advice to buy a good shower.
In the end, it comes down to subjective preference, and while for some, the price might be the most important point, others need a very robust and reliable camping shower. That's why we put together a little buying guide for camping showers, where we talk about some of the aspects. For all these aspects, we give a recommendation, which shower might serve you best if this particular aspect is most important to you.
Value – Price Is Not Everything
Camping showers show a huge spread in terms of price. While you can find a decent model for $10, the most expensive camping shower in our test, the Road Shower 4S, cost more than $300. That's a 3000% difference! If the price premium is worth it, it all comes down to your preference. We try not to overvalue the price point of a product, but in some cases, we need to factor it in, as we think that value for money is an argument that speaks for itself. The best value for money, if you need a battery Powered Shower.
Camping showers can be attached to a wide variety of prices, from less than $10 to well over $300! While reviewing this range, we found that price doesn't necessarily correspond with performance. And though we never include price into any of our calculations of product performance scores, we recognize that price can make a big difference as to what model you ultimately decide to purchase. The shower with the best value is the AngLink, as it has a very good value for the money you spent.
Comfort Level – A Good Camping Shower is Easy to Use and Versatile
Taking a shower is a matter of comfort, as well as getting clean. Sure, a shower in the woods will never be as comfortable as a jungle rain shower at home, but nonetheless, there are different levels of comfort we experienced in the tested showers. It's one of the aspects we value high when making our overall score. In terms of comfort, you cannot get any better than the Zodi Extreme, as this shower is very easy to heat up, works super well with controllable water flow, and has an outstanding build quality. The Road Shower 4S is another great comfortable camping shower if you have a car or boat to mount it.
Other questions that were important for our review score: How good is the showerhead, does it do a good job cleaning your hair and body? Can the shower be operated by one person alone? Does it have a valve or lever to control the water flow rate? Maybe it includes a fixture to mount it overhead? How long does a water take to heat up? Can the shower be heated up with a stove?
Functionality and Versatility
But a shower doesn't only need to be comfortable; it also needs to clean. That's why we tried to find or test these showers with some other uses like cleaning a dog or bike too. Most of the showers can also be used to clean up dishes or tools, and if a shower performed really well at these tasks, we give it a high versatility rating, indicating that the shower is not only functional but also practical for other uses besides plain showering.
In terms of versatility, the Zodi Extreme is another hot shower to look out for, offering plenty of uses besides just washing hair and body. We also tested the nozzle diameter of the different models, and how well the pressure was balanced to clean off dirt.
The narrow nozzle of the Road Shower isn't ideal for spraying in your face but is great for directing that high pressure at a muddy mountain bike.
Ease of Use
At home it's super easy: Go to the bathroom and turn on the shower. Camping showers don't work that easy – yet. You need to find a proper water source, a tree to hang in case of gravity-fed bag-type showers, and possibly a source of heat if you need to warm up the water in a separate reservoir. That's why we reviewed each shower in terms of how complicated it is to get it going.
If you need a super easy to use the shower, the Sea to Summit Pocket Shower is great, as well as the Road Shower 4S and the Zodi Extreme.
We also tested how long it takes to heat up the water, as some of the showers need you to heat up the water yourself. A solar shower is nice in that aspect, as you can simply hang it up and leave it there for 3 hours, come back and enjoy a hot shower. But there is a downside: If you are camping and the weather is less than sunny, chances are high your shower will take longer to heat up or not even heat up at all – bummer, as rainy and cold days, are the days where a hot shower is best!
Durability
We also looked at how durable the materials of the showers were. Some of the designs are prone to break, as it's the case with cheap plastic connectors etc. The Zodi Extreme is a really durable shower, made from all metal, so if durability is your main concern, consider this shower. The Road Shower 4S is pretty durable too! If you are worried about caps, hose, etc., and their integrity, you should stick with some of the more expensive models, as they used more durable materials. The Zodi, for example, is made from stainless steel, making it pretty much unbreakable for normal showering use. The Road Shower 4S, made from aluminum, is super strong too.
Portability
Going directly against the durability in most cases is the portability. The top two most durable showers were also the least portable camping showers. Metal tanks and high quality fixed tank design go hand in hand with bulk and weight. The camping showers that are most portable are the Sea to Summit and the bag-type showers, but they are also the least durable as they are made from rubber and not that strong in terms of durability.
If you can't take your camping shower with you camping, what's the point? Not much, we think, which is why we included Portability tests as part of our overall score calculations. The results of these tests are summarized below.
Important Features on a Camping Shower
Some of the cool features you should look at are these:
Design Style
There are 4 basic types of camping showers:
Bag type showers that are solar heated and gravity fed.
Submersible pump-fed, which only have hot water if your water source is preheated.
Air pressure drive camping showers.
Propane gas and battery-powered – we only had one of these types in our test.
Only the solar-powered showers are self-heating, with the exception of two other models. The other models need you to warm up the water yourself in a bucket and then dunk the pump into it – that or take a cold shower.
When it comes to capacity, most camping showers have around 10 to 20 liters capacity or 2.5 to 5 gallons. That's a good average value, and while some showers had a smaller capacity, below 7 liters you really will have a hard time taking a good and cleaning shower without rushing through the motions, unless there is some kind of smart design involved like on the On Track or Geyser System camping showers, where you have combined sponge and nozzles for example.
How Camping Showers Work
Basically, a camping shower is some kind of bag that holds water heated by the sun or a pump that you dip into a water tank. In terms of their working principle, these types of portable showers are pretty similar to any water garden hose or plant spraying device. They work as a fish pond pump works. Some of the camping showers also have an included heating unit, like the propane gas-powered one, and that might involve a little more work to set up.
A gravity-fed version of a camping shower is basically just a bag of water that you hang up high, so gravity pulls the water through the hose. Pretty simple, and for most of these showers, sunlight is used to heat up the water. The concept is simple, but they work really well and have been in use for over 30 years – so it is a proven design!
Conclusion
If you found this review helpful, have a look at some of our other hot gear reviews for 2020: