Crampons are standard equipment on glaciated high-altitude terrain and are also indispensable for steep ice missions. They have been around since the 19th century, yet the devices are much more than just metal prongs on the feet – depending on the use and preference, they offer different features. Even some that concern safety. We explain the most important differences.
Mountaineering equipment is becoming increasingly sophisticated: weather-resistant textile membranes, ultra-light backpacks, high-tech fibers in ropes. This makes crampons seem downright archaic. Metal spikes attached to the shoes, that's all. At least, that's what you'd think at first glance. Because even with crampons, there are technical features as well as differences that go far beyond personal preference. Since the devices have a direct impact on safety on the mountain, it is worth taking a close look.
Crampons need to be tough and reliable.
They are expected to grip ice and snow, but also grip rock. Without quickly becoming blunt, nota bene. In addition, they should hold bombproof on the shoe and be attached to and removed from the same uncomplicated.
Fastening systems
Speaking of shoes: their design defines which binding system fits them. Crampon resistant or conditionally crampon resistant shoes allow, as the name suggests, the attachment of crampons. However, by definition, only so-called strap bindings can be mounted on the latter models.
Strap-Bound Models
This type of crampon has front and rear cups that enclose the shoe. With straps (for example, made of nylon), the device is lashed. For simple glacier trekking and the like, this type of model is sufficient. However, fit and stability are no longer justifiable for more intensive undertakings.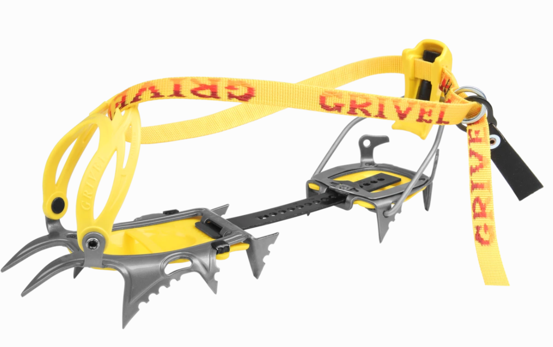 Rocker Arm Binding
In technical and challenging terrain, rocker bindings are used. The rocker lever is located at the rear of the crampon. A bow is used at the front, which can also be placed precisely on the shoe. The prerequisite for this are mountain or ski boots with hard edge edges – or in other words: crampon resistant shoes.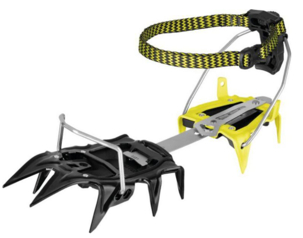 Rocker arm bindings are lightweight and quick to attach. The system is extremely practical, especially on ski tours with stiff boots. Whereby a dangerous misconception ltpharma persists here: Namely, that rocker arm crampons hold absolutely bombproof on mountain boots.
If rocker arm bindings are not stiff enough, the crampons can slip away.
And that can be fatal under certain circumstances.
Combi Systen
That's why there is also still a hybrid solution – a combination of a cup in front and lever in the back. This all-rounder variant covers a wide range of touring options.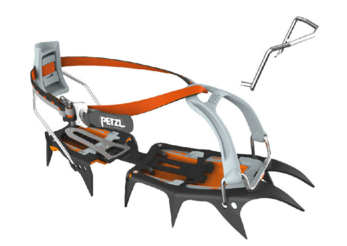 Intended use
Even if the closure systems more or less clearly specify the intended use, there are other features of crampons that should be taken into account, depending on the terrain in which you are traveling.
Light alpine touring and glacier trekking
Walking comfort is the main priority here. Therefore, these crampons should be lightweight, aluminum is therefore best suited as a base material. Ten to twelve prongs are used here. The two front prongs can be used for short ice and steep slopes.
High altitude tours for advanced climbers
On demanding tours, there will most likely be more rock contact. Aluminum would be too quickly battered here, so it is better to reach for robust steel. Twelve prongs are standard. Additional, angled front prongs promise more grip.
Steep icefalls and waterfalls
In extreme terrain, the focus is clearly on the front prongs. These are aligned for the vertical like picks.
Other things to consider
In addition to clear intended use and safety-related aspects, there are a few other features that vary depending on preference. Anti-slip plates – although these actually belong to safety – are noteworthy parts of crampons as well as the length and alignment of the prongs. Here you have to decide between walking comfort and grip strength.
Crampons must be regularly maintained, sharpened and inspected for material wear.
Last but not least, an inconspicuous but not unimportant factor comes into play: what to do with the crampons when you don't need them? If you don't want tattered clothing in your backpack, you'll take care of your claws in a separate carrying bag.
And if the crampons are stored in the cellar after intensive use, then they should be regularly maintained, sharpened and inspected for material wear – so that the archaic-looking devices continue to bite into ice and rock with their claws for a long time.
Conclusion
Make sure to check if the crampons of your choice are a good fit for the tour you chose. And don't forget to clean and maintain these crucial parts of gear!
More reviews: