Here we present you four relatively inexpensive, waterproof jackets, which are also light and small packable.
For most climbers, boulderers, and also alpinists, the rain jacket will hopefully spend most of the time as a backup in the backpack. Then you have done everything right when planning your mountain tour or trip, at least as far as the weather is concerned.
But if a surprising thunderstorm hits or the tour is not finished before the rain front, the jacket has to protect reliably against rain and wind. But in order to only occasionally survive a shower or a sudden fall in the weather, you don't need a high-end jacket suitable for expeditions. One size smaller is enough. Here we present four relatively inexpensive, waterproof jackets, which are also light and small to pack.
Different approaches, same goal
Tight and at the same time as breathable as possible: this is what is required of a functional jacket. The four manufacturers achieve this with four different membrane technologies. Black Diamond relies on Gore-Tex Paclite, Marmot, and Patagonia on the in-house developments EVODry and H2No, Salewa has always relied on Powertex. All four work well with small differences. None of the jackets showed any weaknesses in terms of tightness.
When it comes to climate control, Salewa's Agner Jacket is slightly in the back because of the missing pit-zips (= ventilation openings with zips under the arms). The jacket scores in terms of abrasion resistance. The latter is somewhat reduced in Patagonia, but the Stretch Rainshadow Jacket is extremely light, soft and very comfortable to wear. With the Eclipse Jacket, Marmot shows that functional jackets can also be produced in an ecologically compatible way.
Black Diamond and Salewa are convincing in terms of climbing performance – which is what they have to be good for when in use. Both jackets follow every move. The fully helmet-compatible hoods of the Liquid Point Shell and the Agner Cordura 2 PTX can be adjusted quickly and easily with or without a helmet.
Review of 4 Rain Jackets
We put together a list of 4 rain jackets that were produced with climbers in mind.

Black Diamond Liquid Point Shell
With the Liquid Point Shell, the company from Salt Lake City is launching a classic hardshell with a Gore-Tex membrane. The Gore-Tex-Paclite used dispenses with a protective layer on the inside of the jacket, which saves weight. All seams are taped, and the zippers are water-repellent. The cut of the jacket is designed for climbing: If you put your arms up, there is no draught anywhere, and the jacket slides up only minimally – even without a harness. The hood fits loosely over the helmet. The front pockets are accessible with a strap over the jacket but are not fully usable. The jacket is quite big.
Conclusion: Light, tight, and breathable – with the blue one, everything is in the green range.
We like that:
Relatively light jacket; good cut for great mobility; very vapor permeable and waterproof; helmet-compatible hood; main fabric "bluesign approved
We like that less:
Depending on your physique, a slightly protruding wrinkle forms in front of the stomach.
Specs:
Material: 75D Gore-Tex Paclite
Features: 2 large front pockets with zip, 1 front zip, adjustable hood, cuffs with Velcro closure, pit-zips
Weight/pack size: 405 g (size L)

Marmot Eclipse Jacket
Marmots EVODry technology is based on a PFC-free membrane laminated to a recycled nylon outer fabric. Marmot also dispenses with PFCs in the impregnation and water-repellent zippers. With 20.000 mm
water column and high vapor permeability (20,000 MVTR), the jacket cuts a fine figure even in really bad weather. The pockets are also accessible with a belt (although not completely usable), the cut should be a tuck further down the sleeves. A helmet fits only just under the hood.
Conclusion: A lot of eco and the really good breathability are pleasing. For climbers, the cut is a little tight in places.
We like that:
Pleasantly soft jacket; without helmet good hood; very vapor-permeable; waterproof even in heavy rain.
We like that less:
Sleeve cut a bit tight (can pull at elbows); hood with helmet tight; after longer use, the impregnation seems to decrease a bit
Specs:
Material: 100% recycled nylon
Features: 2 large front pockets with zipping, 1 front zip, adjustable hood, cuffs with Velcro closure, pit-zips
Weight: 410 g (size XL)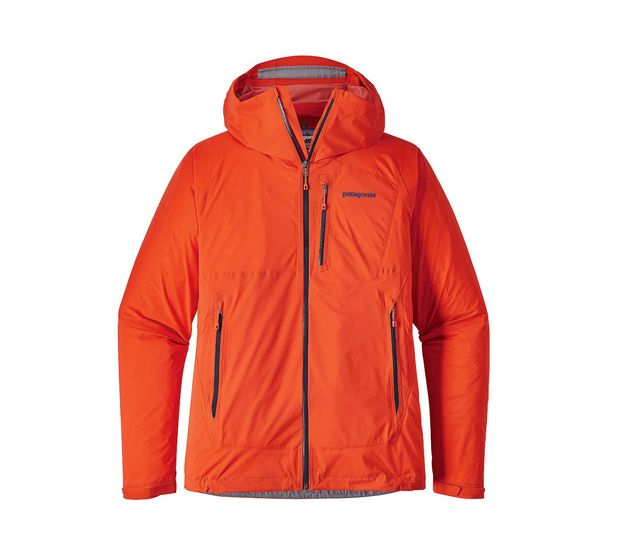 Patagonia Stretch Rainshadow Jacket
Tailored from our own material, Patagonia produces a very soft, comfortable jacket. The relatively wide cut allows full freedom of movement when climbing. The climate comfort convinces with a very vapor permeable material and pit-zips. The hood fits easily even over bulky helmets. It can also be easily adjusted without a helmet. The shield of the hood could be a little larger, however. Jacket and pockets are tight. But the front pockets are too deep for a climbing harness. The low weight is also somewhat at the expense of the robustness of the material.
Conclusion: Very light wind and weather protection for less extreme use.
We like that:
Very light, a waterproof jacket made of pleasantly soft material, good freedom of movement due to stretch and wide cut, very good climate, helmet-compatible hood
We like that less:
Less robust material, front pockets are covered by the climbing harness
Specs:
Material: 2.5-layer H2No Performance
Features: 1 chest pocket, 2 front pockets with zipping, front zip waterproof, adjustable hood, Velcro cuffs, Pit-Zips
Weight: 300 g (size L)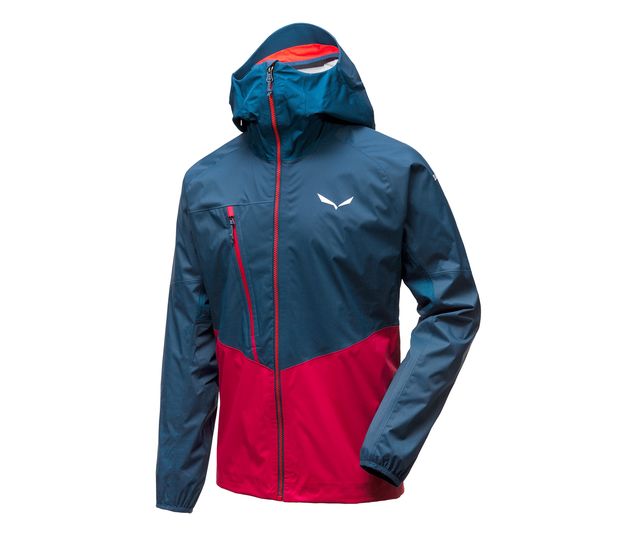 Salewa Agner Cordura 2 PTX
Salewa has been using Powertex as a breathable, waterproof material for years. The Agner Jacket has Cordura fibers incorporated, which makes the jacket very abrasion-resistant in relation to its low weight. In terms of climatic comfort, one has to make slight concessions, also because of the lack of pit-zips. The fit with a body-hugging cut and pre-shaped sleeves is excellent. Even with a climbing harness, the full freedom of movement is maintained. The very well adjustable hood with its stiff shield is fully helmet-compatible. A gusset with zipper in the neck allows for additional volume adjustment.
Conclusion: light, robust, tight – the jacket from Salewa can cope with even harder demands.
We like that:
Very light, waterproof jacket, very good body-hugging cut and best freedom of movement, robust material, excellently adjustable, helmet-compatible hood with a stiff shield.
We like that less:
worn directly on the skin slightly uncomfortable feeling.
Specs:
Material: 2,5-L Powertex Extreme Cordura
Features: Breast pocket with waterproof zipper, front zip with cover strip, adjustable hood, elasticated front pocket, adjustable hood. cuffs, packing bag
Weight: 325 g (size L)
Conclusion
These 4  rain jackets all do a good job keeping you dry and warm when it's raining, and you still want to send some routes. But they do differ in sizing and some other aspects. Pick the one that suits your needs best. You cannot really go wrong with any of them. For us, the Black Diamond model is the winner.
For more reviews:
Best Crashpad in 2022 for Bouldering