No matter if you sport climb or trad climb, quickdraws are one of the essentials. Finding good quickdraws can be quite hard, and especially when you are a beginner it's hard to find quickdraws with good value for the money. Our Skylotec ClipZ Basic Quickdraws review shows if they are a bargain, and see why they're a great fit for beginners and advanced climbers in our in-depth review.
Our Rating ⭐⭐⭐⭐⭐ – 5/5
Price: $14.00
Pros:  Durable, fairly lightweight, cheap and easy to clip
Cons:  The gate closure could be a bit smoother, but for the money spent we can live with it
Quick Facts
Skylotec Clipz Basic Quickdraw
Carabiner Material: Aluminum
Bolt Carabiner:Aaluminum, key lock, solid
Rope Carabiner: Aluminum, nose lock, wire
Weight: 102 g
Closed Major Axis Strength: 25 kN
Open Major Axis Strength: 9 kN
Minor Crossload Strength: 9 kN
Gate Type: Upper carabiner solid, lower wire
Bolt Carabiner: straight
Rope Carabiner: wire
Sling Material: nylon
Available Sling Lengths: 12 cm
Test Locations: Frankenjura, Germany and various gyms
Days Tested: 30
Our Verdict
Skylotec Clipz Basic Quickdraw are ideal for beginners and advanced. They come in 12 cm length, and while we tested them we loved how the combined solid carabiner for the bolt and wire carabiner for the rope side saved weight. The wire carabiner is also great in reducing the whiplash effect that happens on solid closed carabiners when you take a fall. Both carabiners have big enough openings, making clipping easy as pie, and the nylon sling is durable and wide enough to grab for it if you need an emergency anchor or hold. If you're looking for a good, all-round set of quickdraws that won't break your bank account, the Skylotec Clipz Basic are a great fit!
Excurse: Gate slap or Whiplash
If you don't know about the whiplash effect, also known as gate slap, it happens when you take a fall and the weight of the carabiner gate opens from the bouncing force. When open, this means the carabiner of the rope side of the quickdraw is open and under load, reducing the possible maximum load to roughly a third of the original major axis strength. A wire closure on the rope side minimizes this risk because the weight is reduced
Analysis and Results from Our Review
What we liked
Let's dive into the details of the Skylotec Clipz Basic, we put them through a thorough test in and around our local home mountains in beautiful Frankenjura Germany.
Design
We live at a point in time, where carabiners and quickdraws are pretty advanced in terms of technology. If you look at the differences, you will most likely find only small differences like color, weight and so on. Like many other carabiners on quickdraw sets on the market, the Skylotec come with one solid-gate and one wire-gate. The solid gate carabiner has a keylock and the wire carabiner has a traditional nose lock. They come in only one size, the standard 12 cm you find on many port climbing dogbone slings. The sling, also referred to as dogbone, can be replaced when it wears down.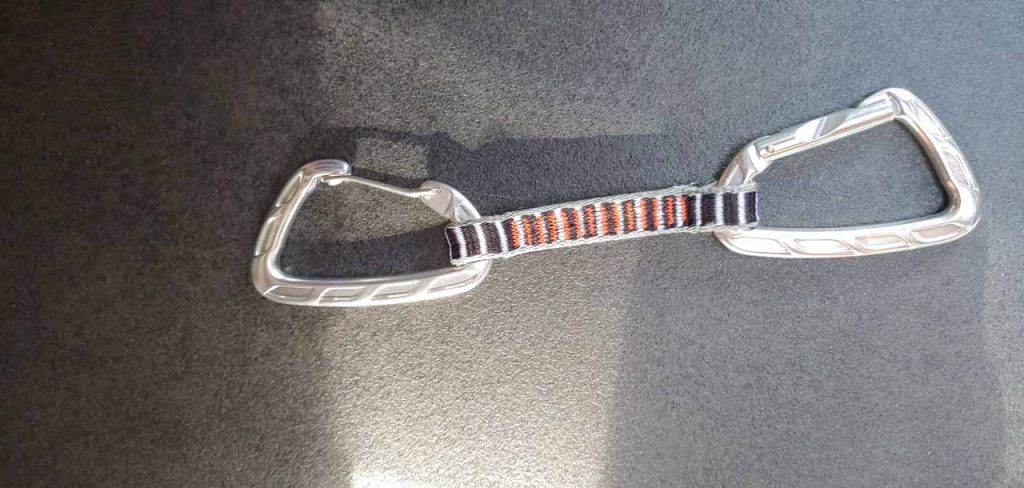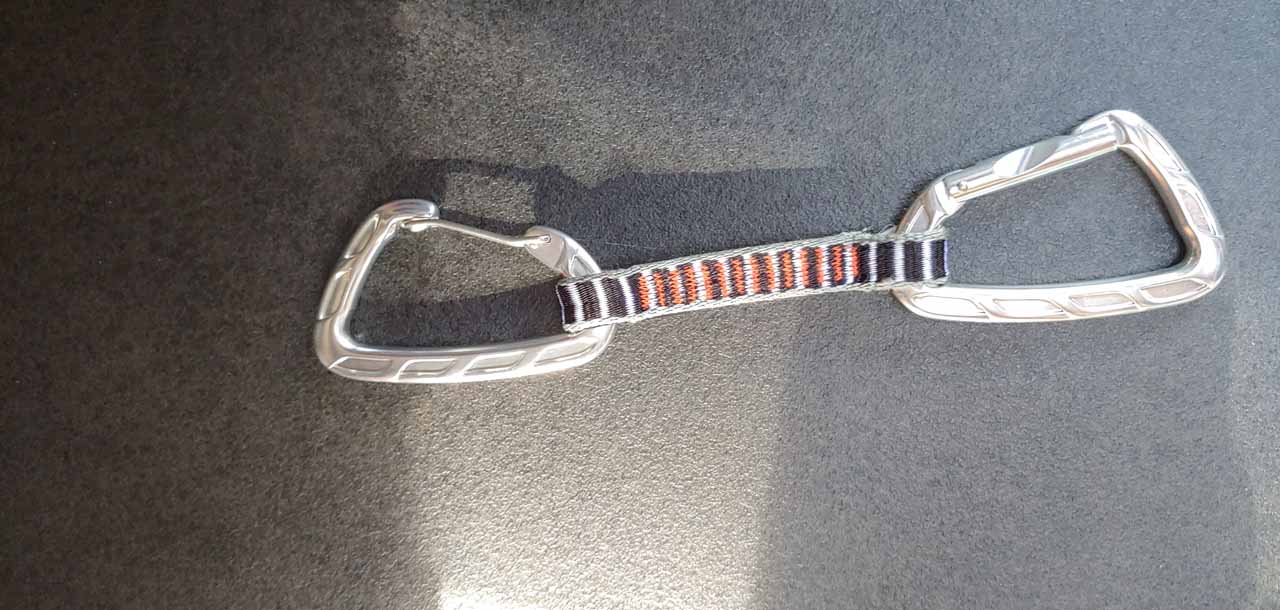 Carabiner Shape
The shape of the carabiner on quickdraws decides how their action goes. Different shapes of carabiners have a different action, and the shape also influences if a carabiner feels very smooth or snappy. The Skylotec Carabiners are pretty normal in terms of length, neither longer nor shorter than standard Edelrid or Petzl carabiners. And while they won't come in fancy colors or anodized surfaces, but rather standard aluminum they do look nice.
Both the rope and bolt side are snappy and close tight, yet easy enough to clip without effort. The wire gate of the rope carabiner is great if you're a beginner and looking for easy and reliable quickdraws. And it's easy to always grab the right side for the rope if you're still learning – there is only one wire gate and it goes to the rope.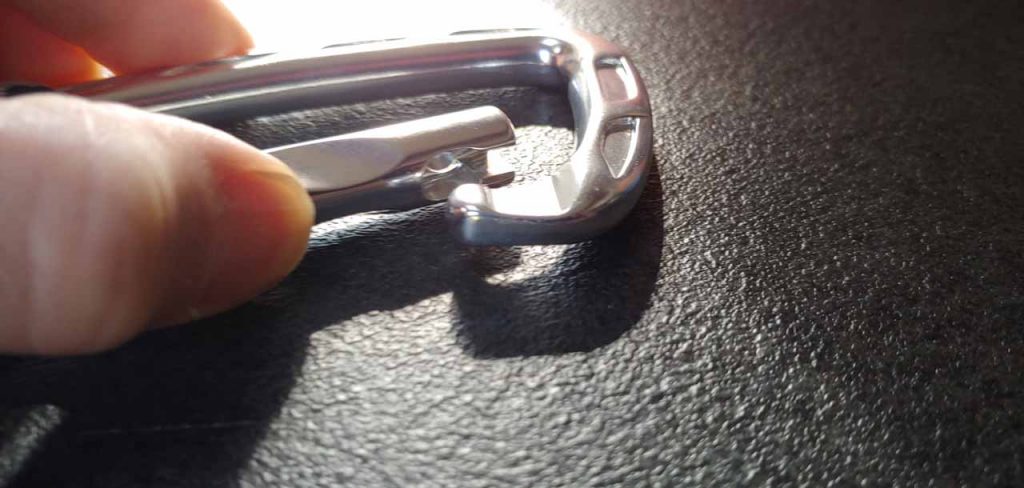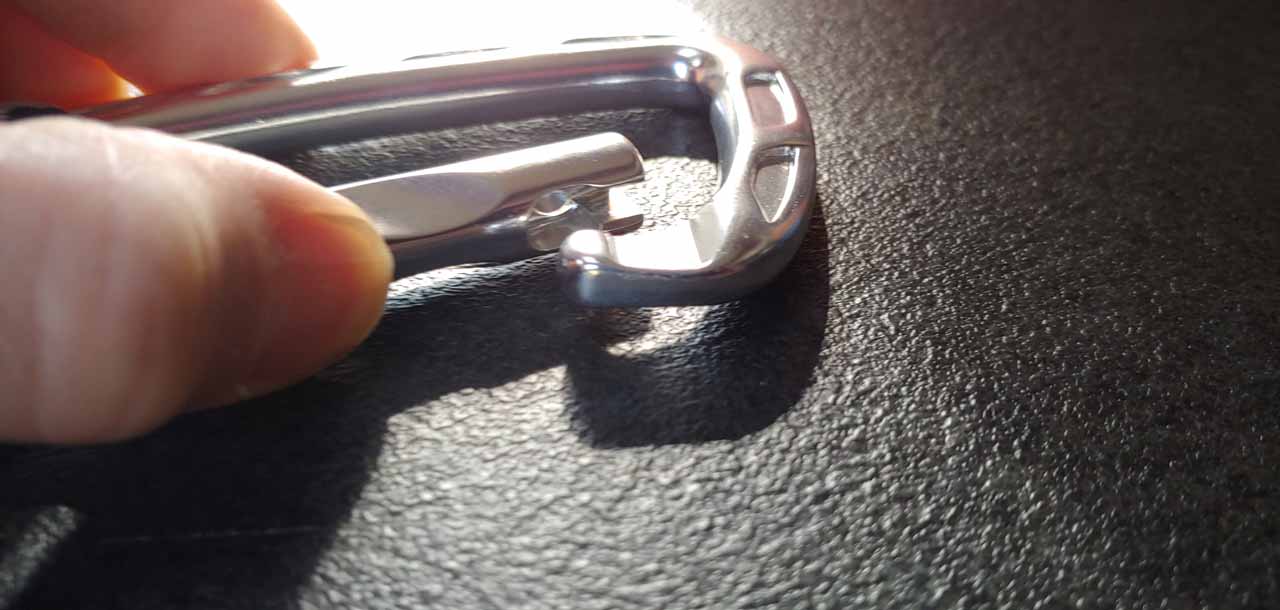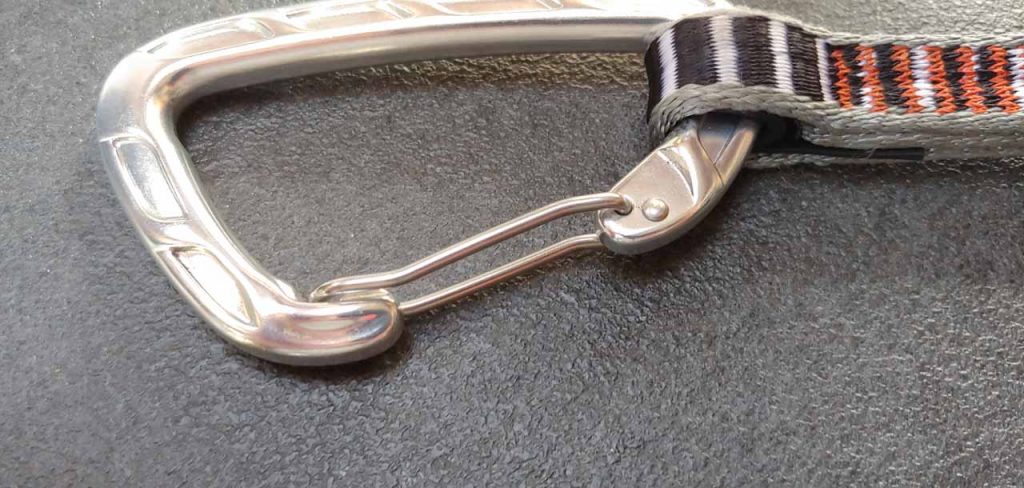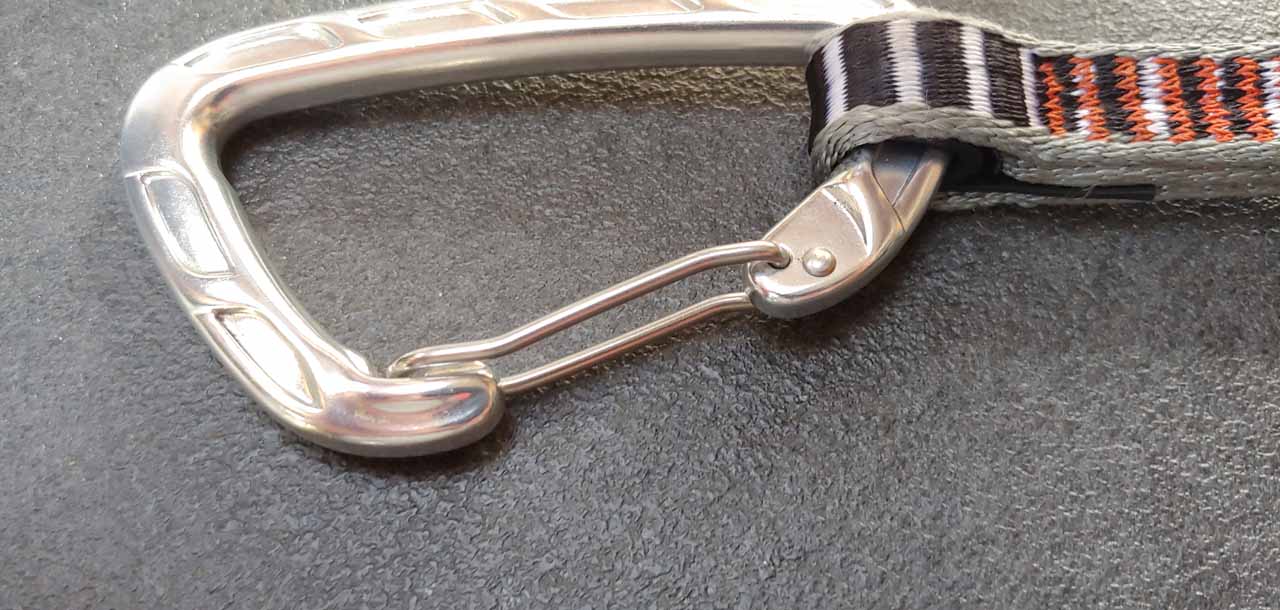 Weight
The Skylotec Clipz Basic quickdraw is a little heavier than some of the other more expensive quickdraws, but still lighter than steel quickdraws.
Find some references down there to compare.
107 g Petzl Djinn Axess, 12 cm
103 g Black Diamond Freewire, 12 cm
102 g Skylotec Clipz Basic, 12 cm
98 g Petzl Spirit Express, 12 cm
63 g Black Diamond Oz, 12 cm
Durability
Durability is something that is not obviously an issue with quickdraws, as carabiners are made from aluminum. But the snapping mechanism and the nylon slings are nonetheless prone to wear and tear. For us, we couldn't notice any real wear and tear during our tests. Snappyness of the gates remained good during our test, and the slings remained crisp and clean.  Keep in mind that we climbed in the Frankenjura in Germany, where the rock is not as sharp and unforgiving like in other places where granite and volcanic rock destroy textile materials faster.
For the money spent, Skylotecs Clipz Basic quickdraws were durable enough for all our sport and trad climbing needs. After two seasons of climbing on these draws, we can't discern any wear to the wire rope bearing carabiners surface. And we have seen aluminum carabiners to develop edges and dents after only some days of heavy use. Especially in areas where the rock is more abrasive like granite or volcanic areas.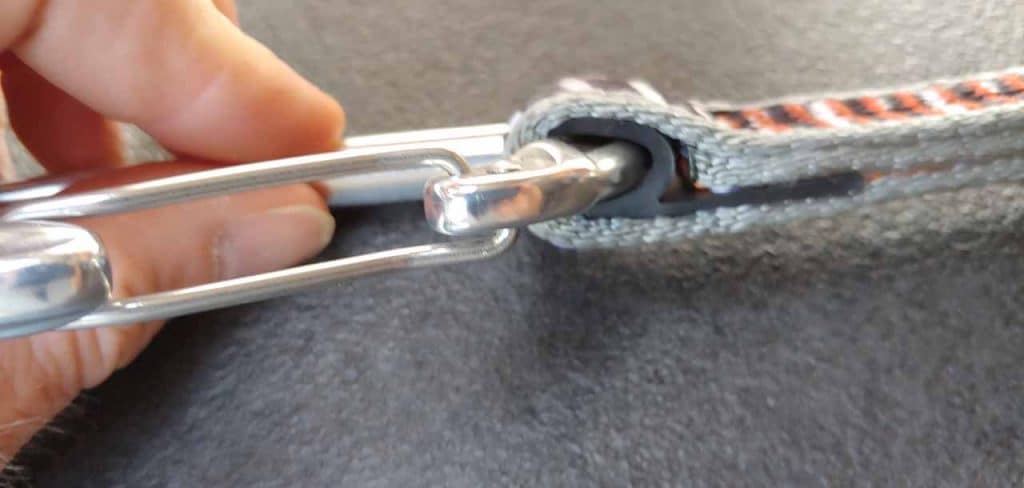 What we didn't like so much
The action of the bolt side carabiner could be smoother. We had a set of 10 quickdraws and noticed some of the gates were not as smooth as carabiners of brands like Edelrid or Salewa. That said, we never had trouble clipping in, so the action was not perfectly smooth, but didn't interfere with climbing performance. It's just that if you are used to very smooth high-quality carabiners it might feel a bit rough.
Also, the aluminum color without any anodizing or color looks a bit bland – but can we really complain given the pricepoint? We think no!
Who are these quickdraws perfect for?
While we cannot say anything about big wall climbing or long alpine multi-pitches, we think the Skylotec quickdraws are excellent for normal sport climbing at the crag and moderate multi-pitch climbing as well as light traditional climbing. The carabiners are sturdy, and the weight is average.
If your goal is to climb long pitches on traditional routes, or you plan to do heavy and long multi-pitch alpine climbing routes, it might be better to opt for a set of lighter quickdraws.
Bottom Line
The Skylotec Clipz Basic are terrific quickdraws for a very competitive price. If you start out climbing and look for an affordable set of quickdraws that will serve you well for your first seasons of sport climbing or just need a good cheap allround set then they are perfect. They don't wear down fast and while there are lighter options out there if you are willing to spend more money, the weight is still good. We can absolutely recommend them.
If you liked this review, check out our climbing pants and climbing shoes reviews!