Are you excited about your next climbing adventures? If yes, you might need another essential piece of climbing gear aside from your backpack and harness – approach shoes. We tested the best climbing approach shoes 2022. Some hiking routes are only accessible via steep, technical terrain, where normal hiking shoes are not enough. This is where approach shoes come into play. Approach shoes are a mix of hiking and climbing shoes, find out more here. Nothing beats a good hike to the crag with comfortable shoes, as it's the perfect warm-up routine and sometimes there is no road access to routes and crags anyway.
But here's the big question: Which pair to buy? There are many options, and we decided to put the best shoes of known brands like Salewa, Scarpa and La Sportiva for our big 2022 review of approach shoes. Some of these shoes are updated for 2022 while some are the same as in 2019. What are the best climbing approach shoes in 2022? The best overall climbing approach shoe we tested for 2022 was the Five Ten Tennie Guide, followed by the La Sportiva Boulder X. These shoes combing perfect climbing capability, with support and ruggedness so you can hike for long hours and still tackle difficult terrain. So, let's get started with the top picks I have for you. With this selection, I hope you decide which approach shoe best fits your preference. As always it's a matter of choice and preference! Let's start.
Five Ten Guide Tennie: The Best All-Round Approach Shoe In our Review – Score: 9/10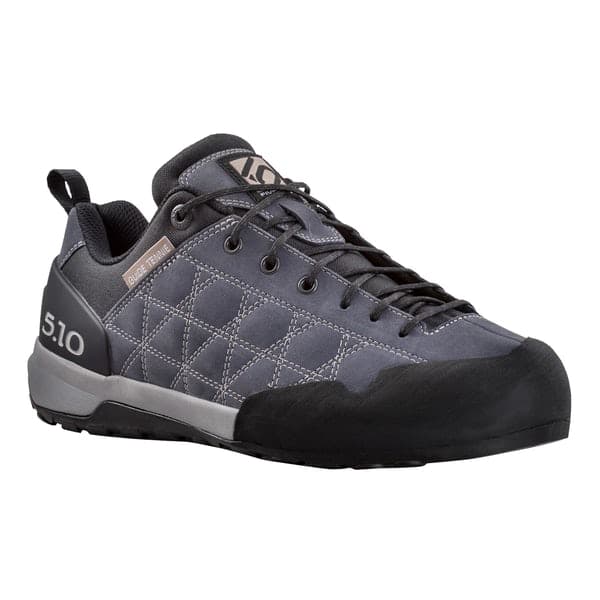 Price: $100
Climbers who are looking for the best shoes will not be disappointed with the Five Ten Guide Tennie. Why? The approach shoes are sensitive for smearing, stiff enough for edges, and can handle hand cracks. You can wear the Five Ten Guide Tennie even if the terrain warrants an easy sport climb.
This approach shoe stands out from the list, as it has been in use by professional climbing guides for years. They have been using this shoe for a while, as it has super good climbing abilities. The sticky C4 rubber works very well, and Five Ten updated this shoe in 2017 to make it better looking and with firmer midsole.
It became a little heavier in the last update, so it's probably not your choice model if you want to go trail running, but other than that it's durable and water-resistant. Thanks to the tongue you can also lace it up nice and tight to support your ankles, and it's very flexible. And the best part: It only costs $100!
Pros
Supportive and stiff even if you're climbing long hours
Good for carrying a heavy load
Great at scrambling and climbing
Water-resistant
Unlike some other approach shoes, it even works for cracks
Inexpensive
Cons
La Sportiva Boulder X: Best Value for the Money, Good for Rough Trails and Heavy Loads – Score 8/10

Price: $120
The leather material of the La Sportiva Boulder X isn't a joke and climbers know it. If you want a reliable but affordable approach shoe, La Sportiva is always a very good choice. And the Boulder X proofs this: Perfect for hard and long approaches, it can climb really well too. This shoe is like a mix between the TX4 and TX2: It comes with the best support of all three models, is rugged like the TX4 and does hike really good, but gives climbing ability like the TX2.
The La Sportiva Boulder X provides excellent support for scrambling and hiking too. The leather is breathable and allows climbers to wear them for a long time.
But it doesn't stop there. The Boulder X has a superb lacing system that extends on the ankle collar. Hence it assures a slip-free advantage if you're hiking for a longer time.
But despite the good sides, there are some drawbacks. One of these is the shoe is bulky and heavy. Clipping it to the harness is not a good idea. But still, for the money, the Boulder X is probably the best value shoe you can find.
Pros
Durable shoes
Comfortable to wear
Good for long approaches
Climbs well, good for scrambles
Rugged
Budget-friendly
Cons
Bulky for most climbers
Too heavy for you to clip on the back of harnesses
Scarpa Crux: Good All-Around Approach Shoe, Best for Climbers with Narrow Feet – Score 8/10

Price: $125
Rough and tough – two words to describe the Scarpa Crux, Well, the description fits for this approach shoe because of its durability. If you aim to climb cracks, this shoe suits your standards. The Scarpa Crux can even withstand big walls.
Like the Boulder X, Scarpa Crux doesn't create a hole in your wallet. The durable leather is capable and ready to face the abuse and torture of hiking. Also, Scarpa Crux doesn't let you down when it comes to ankle support, making it good for carrying heavier loads.
Why? With the medium-stiff midsole, the shoe offers hikers reliable support. The high-level support you get allows you to be successful in aid climbing and schlepping heavy loads. But here's a little drawback – the shoe isn't waterproof, so better not wear it during rainy hiking trips.
Pros
Durable for long jogging or hiking adventure
Excellent support
Sticky rubber for good climbing endeavor
Cons
Quite heavy
Design needs improvements
La Sportiva TX2: Well-Rounded Approach Shoe – Score 8/10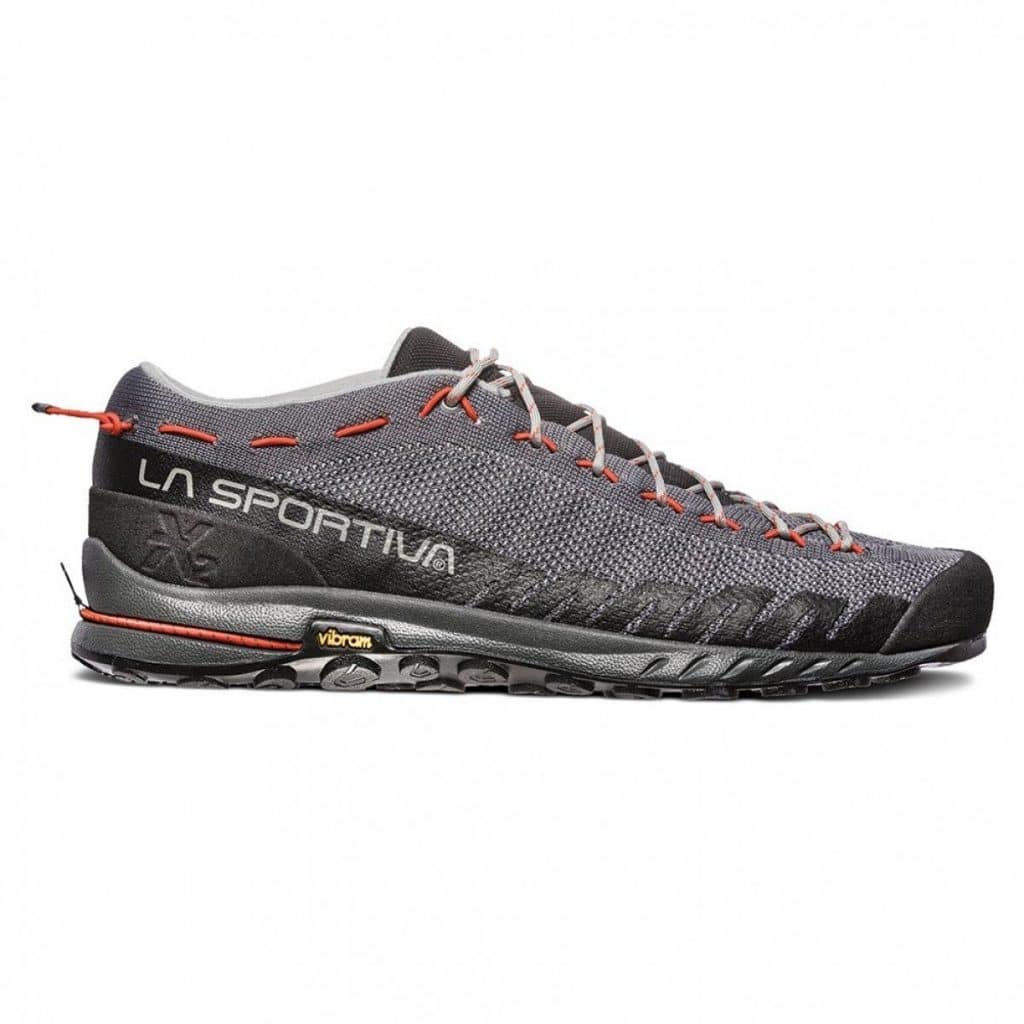 Price: $130
As the light version of the La Sportiva TX4 – the TX2 satisfies most climbers(and me) when it comes to performance, etc. The TX2 only weighs 20 ounces for each pair. So, it isn't bad for a long hour of hiking and climbing.
The TX2 has an elastic cord system that secures the shoes together. (Don't worry if you clipped the shoes to a harness.)
Our testers felt comfortable wearing the TX2 due to its breathable net uppers If it is really cold, these shoes offer not the best insulation, keep that in mind. The support is not as good as on the TX4.
But man, these shoes climb so well. They are the lightest and most breathable shoes we tested, and they felt like trail running shoes that also hike really well.
Fit is nice and snug, which is good if you need a lot of feel for technical terrain, and the toe box with the Vibram mix gives this shoe a great ability to climb.
Pros
A perfect shoe for climbing approaches
Breathable mesh uppers offer comfort
Reliable lacing system
Lightweight, easy to carry
Cons
Not durable as leather shoes
Not quite supportive as other shoes
La Sportiva TX4: Best Approach shoe for Big Walls, Long Approaches and Heavy Loads – Score 7/10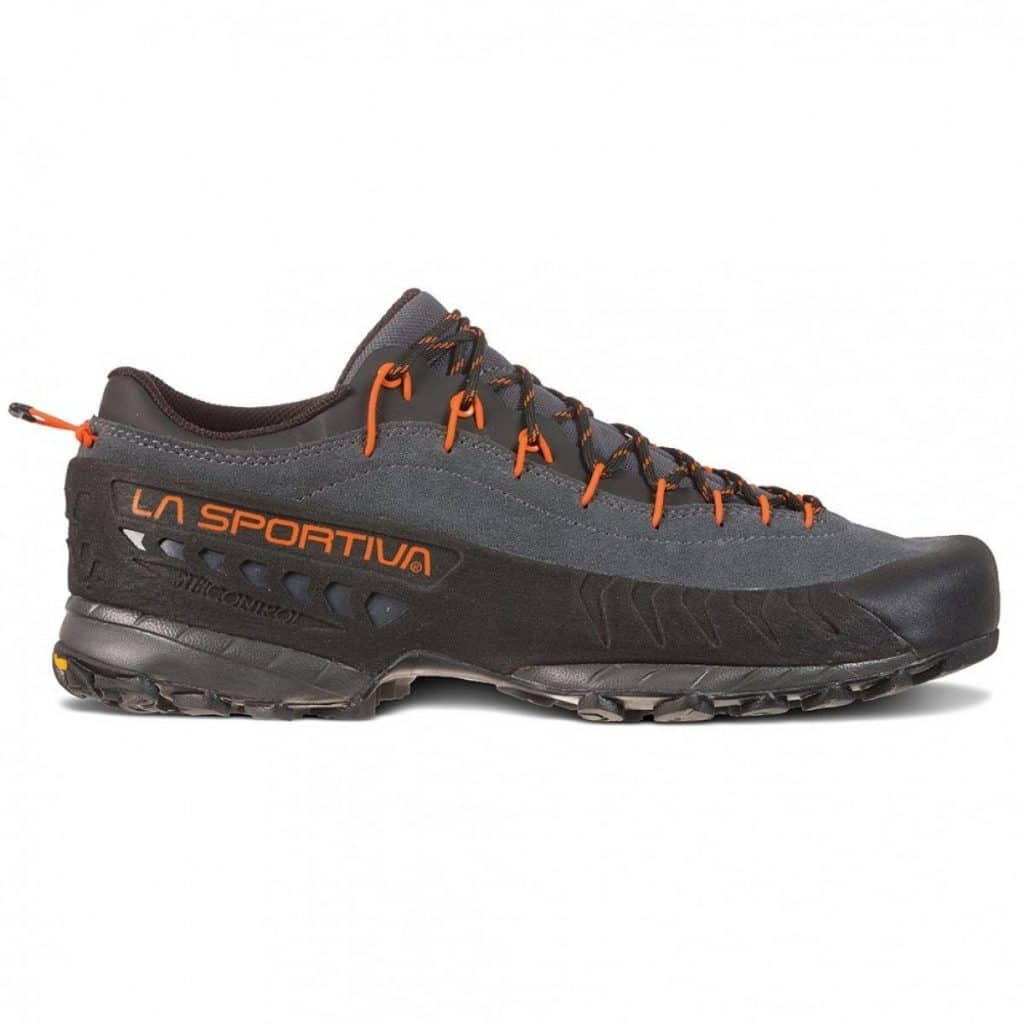 Price: $140
La Sportiva has a very climbing orientated shoe, the TX2 and a robust hiking oriented shoe the TX5 GTX. The TX4 is a good compromise. It's durable and still a good climber, making it perfect for long approaches. The leather is abrasion-resistant and water-resistant.
The upper leather is nice and warm in cool weather, and the shoe gives plenty of support without sacrificing comfort. The TX4 offers the right balance for both hiking and climbing activities. This shoe allows you to climb and enables you to carry loads easily. The leather uppers don't let you down when it comes to long hours of walking or hiking, as this shoe is comfortable.
The only downside: It's a tad on the heavy and bulky side.
Pros
Water-resistant
Good support
Comfortable
Great climber
Cons
Not lightweight
A bit bulky
Arc'Teryx Acrux SL: Very Light Approach Shoe for Long Descents and Approaches – Score 7/10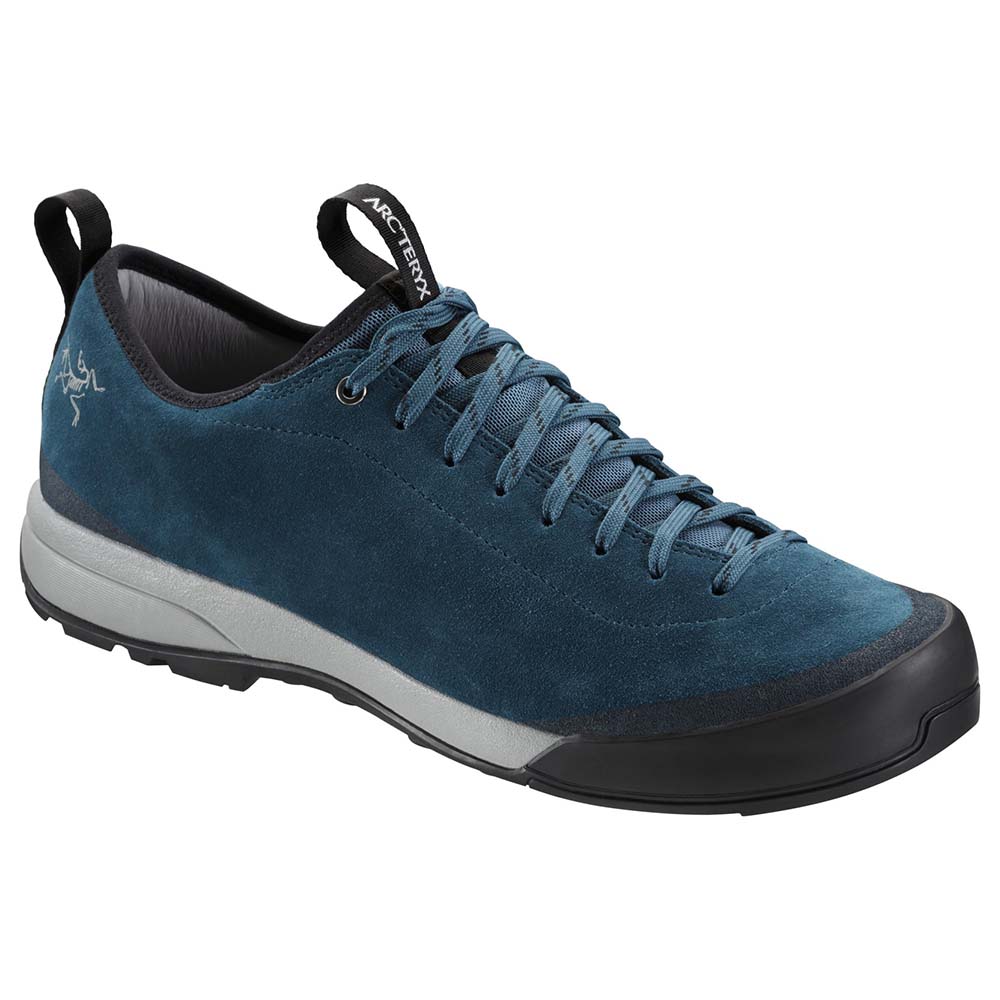 Price: $170
Arc'Teryx Acrux SL is a minimalistic shoe, that's both water-resistant and durable. As the Vibram soles give this shoe a lot of traction on snow, dirt, and rock, these light shoes are great to carry along as a backup option.
The design is interesting: The heel shape is very good for braking while descending, which makes it a great shoe to hike back down on long multi-pitch climbs. It's not exactly super supportive, so chose another shoe if you want to carry heavy loads. Climbing performance is good, and the shoe performs well on scrambles.
Pros
Water-resistant
Good for descents
Sole very sticky
Good for scrambling and climbing
Light-weight, perfect for carrying on your harness
Cons
Not good for heavy loads
Support could be better
Arc'Teryx Arakys: Good Approach Shoe for Mellow Approaches with Some Climbing – Score 7/10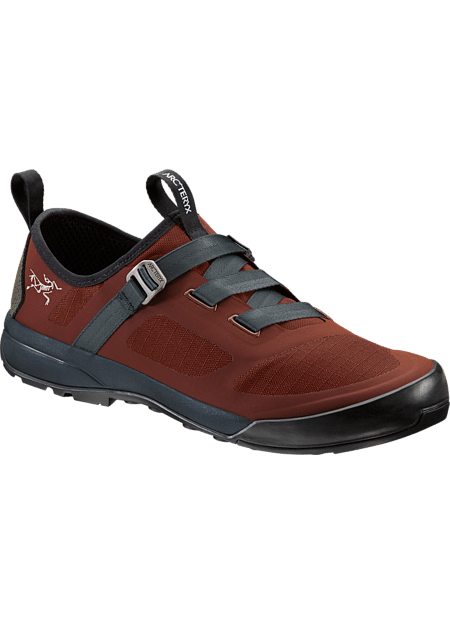 Price: $150
Lightweight, very packable Floppy, not very supportive These shoes are most suited to short, mellow approaches.
The Arakys is a lightweight shoe, which makes it perfect as a carry on for your harness. It keeps a low-profile, which makes it easy to carry it too.
But the shoe is not great for hiking with heavy loads, as it lacks support for the ankles.
Climbing is ok, but there are better options for technical climbing, which means they work best for short, easy approaches.
Pros
Light
Nice to carry
Comfortable
Cons
Only good for easy climbing
Support is not great
Evolv Cruzer Psyche: Not a Comfortable Approach Shoe, but Climbs Well – Score 6/10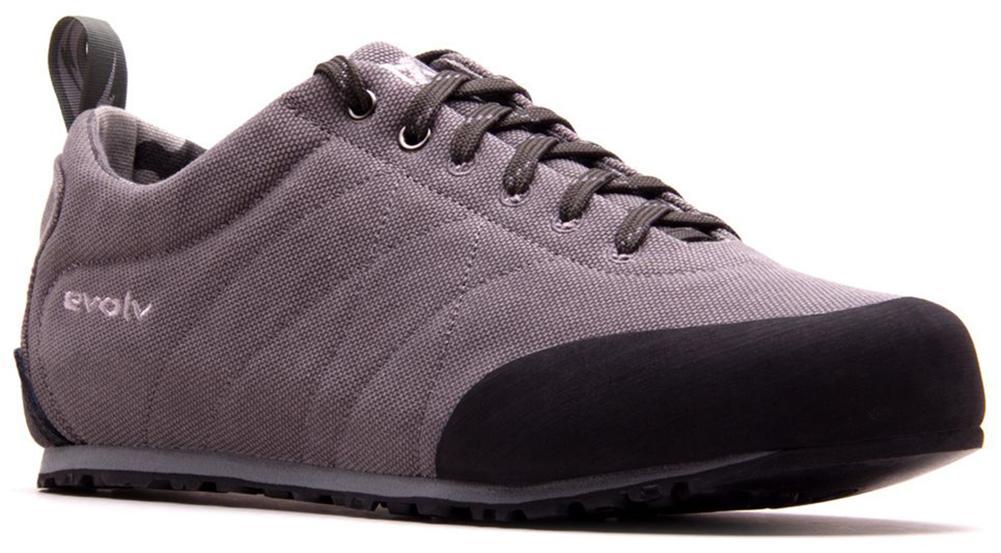 Price: $100
The Evolv Cruzer Psyche is an upgrade from the classic Cruzer. The brand added a liner and padding that provide more support when carrying heavy loads. The new model is stiffer, yet sensitive enough to climb rough terrain, and the wider toe box helps you maintain balance on uneven ground.
The fold-down heel is ideal for easy dressing and undressing when bouldering. The washed cotton fabric is breathable and keeps your feet cool on warm days. If you're looking for a shoe to wear to the rock and then into town, the stylish Evolv Psyche is for you.
Pros
Climbs well
Good support for trail runs and heavy loads
Good looking
Cons
Vasque Grand Traverse: Very Comfortable Hiking and Approach Shoe That Doesn't Climb Too Well – Score: 6/10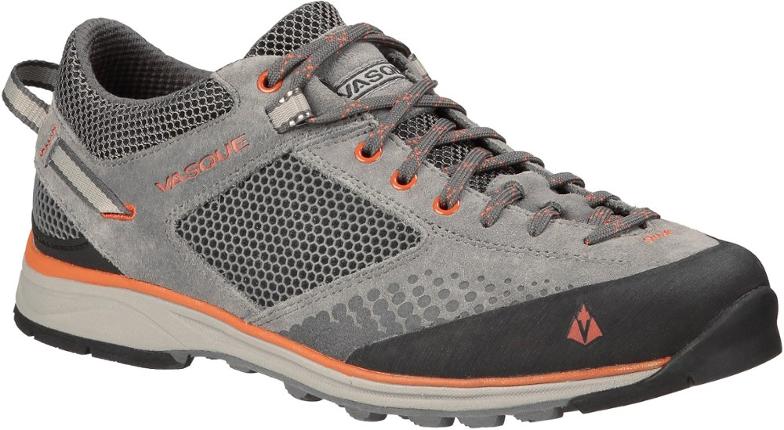 Price: $170
Vasques Grand Traverse shoes are super comfortable. And since the material breathes so good, these hiking shoes are very comfortable for long approaches.
But the support is not great in these shoes, so get another option if you need to carry heavy loads. It has some extra sticky rubber on the toe box, but that doesn't help it with its mediocre climbing abilities.
Pros
Very comfortable
Breathable
Cons
Not very supportive
Climb below average
Scarpa Gecko: Expensive But Supportive Approach Shoe That Fits Narrow Feet – Score: 6/10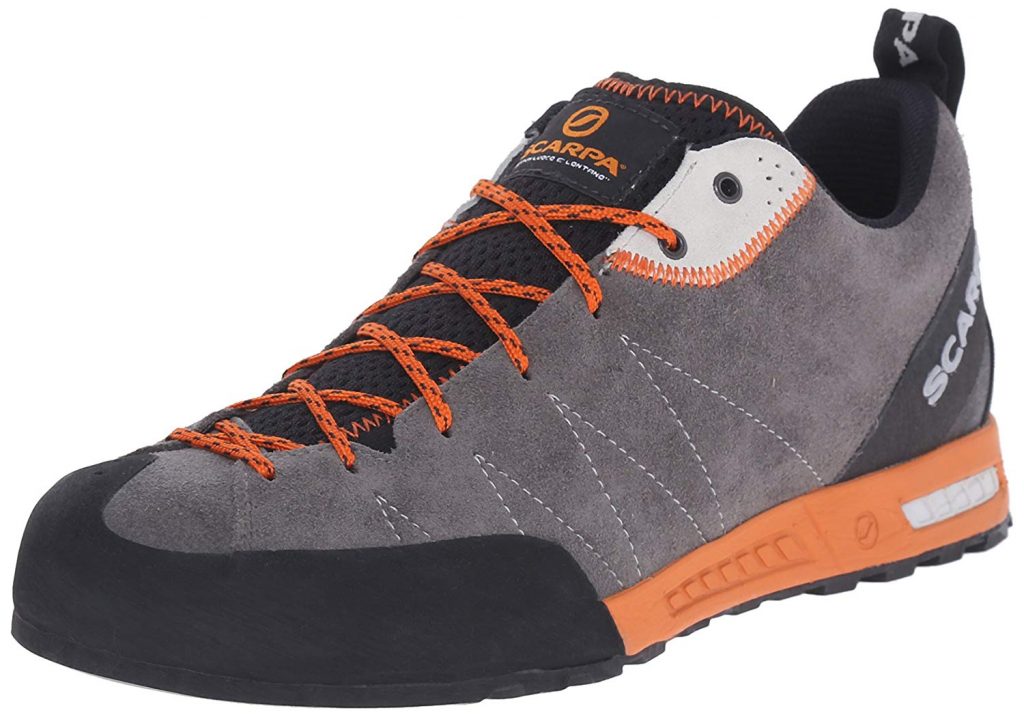 Price: $170
If you have narrow feet, the Gecko is one of the best options. They are quick to adjust, the laces work really well, and they have a soft and comfortable upper layer.
But the Geckos don#t edge well, so technical climbing is not great with these shoes. But they have good comfort and support, which makes them good at hiking. They are kind of pricey.
Pros
Good choice for narrow feet
Comfortable
Good support for hiking
Cons
Climbing not so great
Expensive
Salewa Mountain Trainer GTX: All-Weather Hiking and Approach Shoe, Doesn't Excel at Technical Climbing – Score: 6/10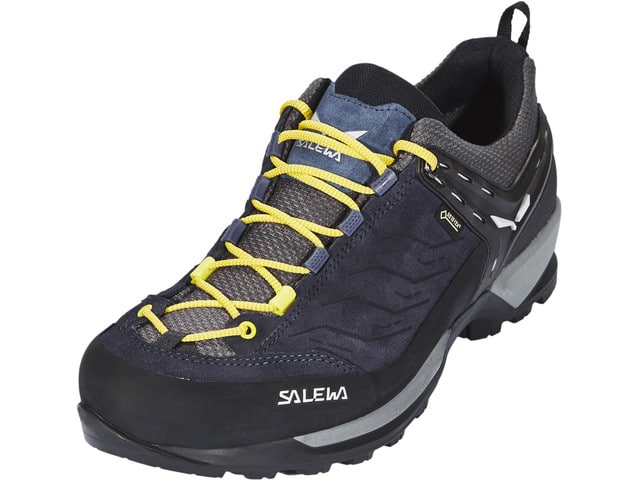 Price: $200
If you plan to include snowfields and slippery boulders in your approach or do a lot of scrambling, the Mountain Trainer GTX is perfect for you.
Thanks to the Goretex material, they are warm and waterproof, and they are rugged enough to let you enjoy alpine hiking to your favorite climbing spot.
But as these shoes are really rugged, they are not a great fit for edging and technical climbing, and are a little heavy.
Pros
Super sturdy
Water-resistant
Great for scrambling
Cons
Heavy
Not great for technical climbing
VERY expensive
Salewa Wildfire: Good for Long Hikes, Not so Great for Scrambling – Score: 6/10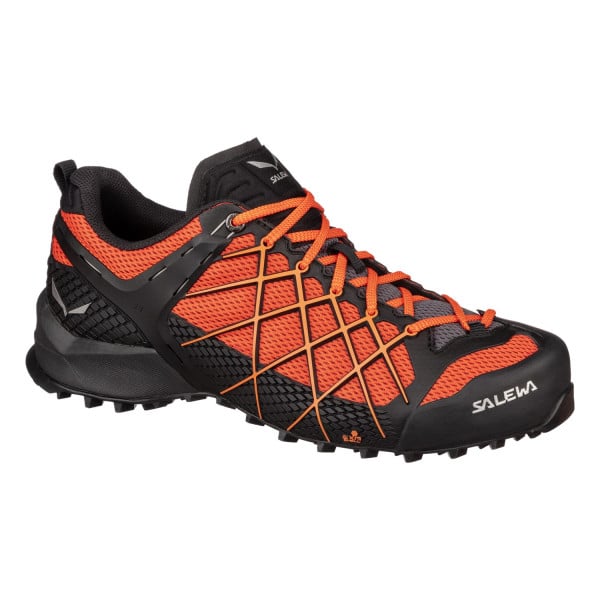 Price: $130
The Salewa Wildfire is a shoe that comes with good ankle support. It excels at hiking, as it is comfortable and walks really well.
But the climbing abilities of this shoe are only  average, and thanks to the bulky design and heavyweight they are not your best option as a carry on on the harness,
Consider them if you're planning to do longer approaches with lots of hiking and not much climbing, and avoid scrambling with these shoes.
Pros
Good support
Hiking is good
Cons
Climbing only average
Scrambling only average
Heavy and Bulky
Scarpa Vortex XCR GTX: All-Weather Hiking Shoe, That Is Too Heavy for Real Climbing 5/10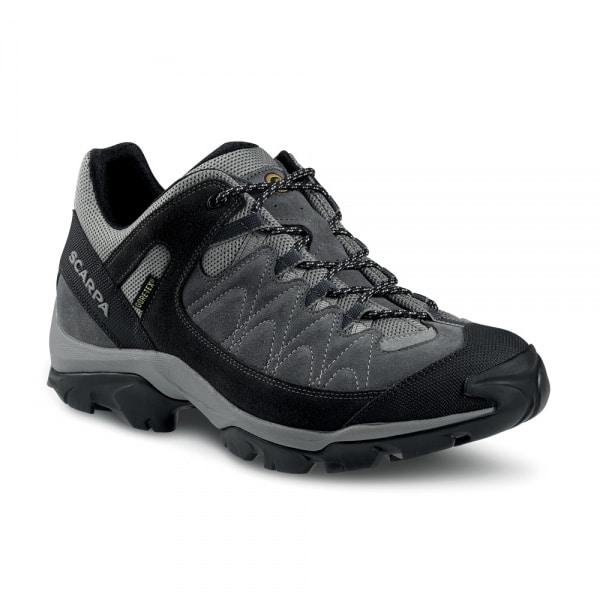 Price: $200
Scarpas Vortex is a heavy shoe. Build to resist wet conditions, this shoe is for rugged backcountry approaches. The shoes breathe good and keep your feet warm even in autumn and winter conditions.
They have a good grip even on slippery terrain thanks to the Vibram sole. The shoes are also robust and sturdy for rock and scrambling, and they do fairly well with a heavy load. But as they are not light, they are not great to carry on your harness and some might feel they are a bit bulky.
If you need to do real climbing, and technical approaches these shoes might be too heavy.
Pros
Leather uppers offer a satisfaction
Handless large loads
Allows you to climb walls successfully
Cons
Not lightweight
VERY expensive
Evolv Rebel: Casual Shoe Without a Lot of Support, for City and Easy Hikes – Score: 5/10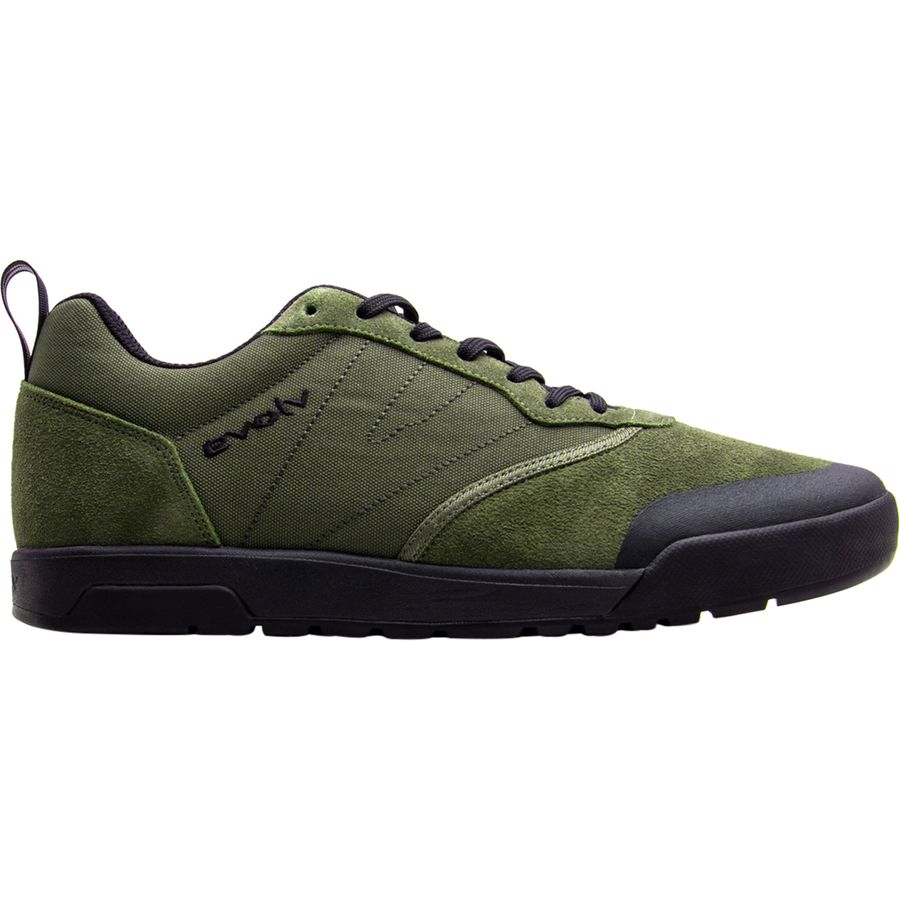 Price: $115
The Evolv Rebel is a good looking shoe. We would argue that you can wear these shoes to the pub and as casual shoes for work, as they keep a really low profile.
But they don't offer a lot of support, and they don't climb better than average. If you need a pair of shoes that you can wear to work and go on an easy hike to the crag, these shoes are a good fit. But forget about them if you carry heavier loads or plan longer approaches.
Pros
Comfortable and good looking
Cons
Only climb average
No good support
Five Ten Access: Only Good for Casual Hikes – Score: 5/10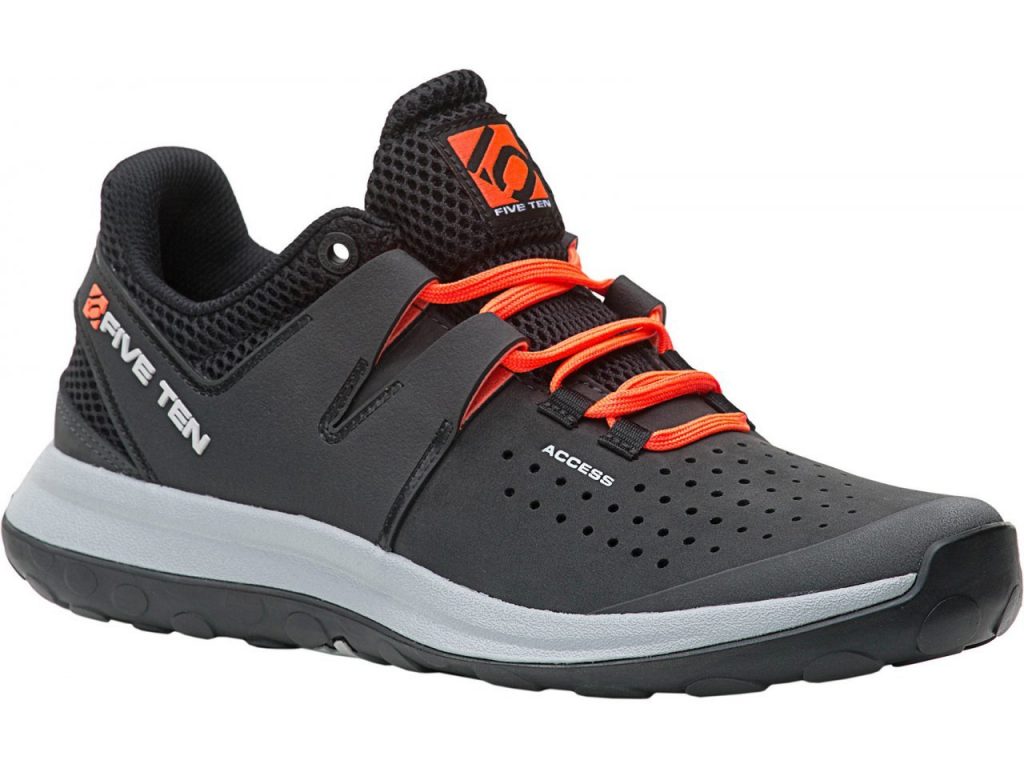 Price: $120

The Five Ten Access left us with very mixed feelings. On the one hand, these shoes are really comfortable and make for a good hike. They have good support. The rubber is not too sticky, which makes casual hiking very pleasant.
But they don't climb well. And that#s a problem. Approach shoes should climb reasonably well, that'S their main point, because otherwise you could get some hiking shoes. And these shoes don't climb well.
They might be good for a casual hike, but for serious approaches and long descents they are not a good choice, and that's why they are the weakest shoe in the review.
Pros
Cons
Not lightweight
Don't climb well
Now that you have a review of the top approach shoes in 2022, have you decided which of these shows to buy? If not, let's talk about the essential points climbers and hikers need to consider in purchasing and deciding which approach shoes to use.
Upper Materials of Climbing Approach Shoes
Pro hikers and climbers always consider durable upper materials before using a shoe. (Of course, top materials are essential in approach shoes.) Why? The stick rubber toe (that you see on the front of the shoe) protects the shoes while you smear or edge.
If the shoes' upper materials need improvement, climbers use a shoe goo or seam seal. (Climbers often do this if the upper parts of the shoes aren't leather.)
Remember: Make sure to choose a leather-made approach shoe if you don't want to use a seam seal or shoe goo to improve the upper parts.
Which Rubber Soles are Used in Climbing  Approach Shoes?
Don't worry about rubber soles because most approach shoes (including the shoes on this review) have sticky rubber soles.
So, why do think these rubber soles are essential in approach shoes?
The answer is simple – rubber soles allow the shoes to stick to rocks. Hiking and mountain climbing are fun activities, but they can be dangerous (if your shoes don't have rubber soles). The rubber compounds in approach shoes are softer than those on normal shoes and hiking boots. Hence, approach shoes generate extra friction when you step on a rock.
So, rubber soles play an essential role in keeping you safe. (that's good to know.) Don't be happy yet because here's the tradeoff:
Since rubber soles are softer than the rubber in boots, these wear down faster. Hence, don't expect to use approach shoes for eternity.
(Take note: all shoes mentioned in the review have rubber soles.)
How Much Money Do Budget Do Good Climbing Approach Shoes Cost?
You often hear the saying – "buyers get what they paid for." Well, the motto also applies in buying approach shoes. Let's admit it that most buyers would choose the cheap products than the expensive ones.
The idea is fine. Budget-friendly shoes don't always mean low-quality products. It depends on the consumers which shoes they like to buy.
For example, you choose an approach shoe that excels in hiking ability than comfort. Expect that two shoes don't have comparable prices. So, accept trade-offs in the product's features. (You can't have them all, right?).
If you chose a more affordable shoe, don't expect that you automatically get excellent comfortable shoes But you can still select a well-rounded shoe that's budget-friendly.
The La Sportiva Boulder X is the Top Consumer's Choice when it comes to value. No doubt. Boulder X has incredible features. Boulder X doesn't disappoint climbers when it comes to durability and versatility.
What Features Do Climbing Approach Shoes have?
Approach shoes come with a number of nice features, that all support you hiking up and down to your climbing spot. Some of them are light and easy to carry on your harness, some are weather-resistant, and some do climb very well.
Comfort & Support
Most climbers prioritize comfort in crossing a rock or gravel field or staying on the right trail. Your satisfaction in wearing climbing approach shoes depends on your choice. I recommend you try different models so that you decide which shoes to wear.
But don't end there. Don't only think of comfort in choosing the best climbing approach shoe. Support is also an essential factor so that you stay on the trail safely. Focus on how each approach shoe handles trail miles. Climbers also determine comfort when they're carrying heavy or minimal loads.
But here's a problem (and some climbers would agree with me): Hikers compromise their choice for comfort when they're choosing the shoe size. Experience an excellent climbing performance if you size down the full or half size of your shoe. But you'll feel uncomfortable when you're making long approaches.
Climbing Ability
A hiking adventure isn't only about enjoyment but also safety. With this in mind, we'll talk about the essential sub-metrics that are necessary attributes for exposed scrambling.
Edging – pertains to the ability to stand on rock edges from a matchbook's width to an inch.
Smearing – the climber's ability to stick to a steep rock devoid of features.
Crack climbing – your ability to stick your toe into a rock's vertical features and to twist your feet to lock it in place.
These attributes are essential for climbers, but it still depends on you, which among these you need to focus on. Don't forget that safety always comes first when it comes to hiking and climbing. So, always consider your safety in choosing and wearing a climbing approach shoe.
Buyers would be satisfied in buying the Five Ten Guide Tennie due to its excellence in climbing ability. The shoe earns an excellent reputation in smearing and edging. The La Sportiva TX2 ranks second place because these aren't so stiff, unlike the Guide Tennie.
Both the Boulder X and Evolv Cruzer Psyche (another model) give the same result in climbing ability. The Scarpa Crux has the Vibram Mega-Grip rubber like the TX2, so the two have the same climbing ability. But you the Scarpa Crux is reliable when it comes to slabby approaches and gives a moderate performance in slab climbing
Other models, such as the Five Ten Access and the Vasque Grand Traverse, are also comfortable shoes.
I have to commend the Vasque Grand Traverse and Salewa Wildfire as excellent hiking shoes, but these aren't as good as the guide Tennie or the TX series in terms of climbing.
Ankle Support
Ankel support is super important when trying to find the best approach shoes. Hiking with a traditional rack to a multi pitch climb will mean carrying a heavy load. And if you even tried a descent in sneakers with 10k+ on your back you know what lack of ankle support means. 
If you're serious about alpine climbing or traditional climbing, ankle support for longer hikes should be a definitive concern when searching for the right approch shoe.
Weight and Packability
Many climbers like to carry their approach shoe on the harness, which makes it easier to use a small backpack .That way the shoes are always accessible. But that only works if the shoe is lightweight and keeps a low profile.
Some of the models we tested are heavy and bulky, so if that concerns you, then you must stick with one of the lighter options.
Which do you prefer considering a shoe performance quality – the heavy or the lighter one? Of course, the light shoe is most handy in your journey.
One of the light shoes out there is the La Sportiva TX2. Compared to other shoes, the TX2 is excellent when it comes to supporting as well.
But you can also select heavy products such as the Boulder X and the Five Ten Guide Tennie because these are comfortable in climbing or hiking. Also, the TX2 is a must-have if you want balanced support and weight.
Conclusion
The best climbing approach shoes have distinct advantages and drawbacks, so it's up to you to decide which shoe to choose. Remember that besides the metrics, you also need to consider personal preferences and how comfortable a shoe feels. So get out there and try some one!
Read our other great reviews of 2022: