We put 16 of the best climbing and bouldering pants on the market through the wringer for 2022. Prana Stretch Zion (women's equal counterpart is the Prana Halle Pant) is our winner, closely followed by the AP pants of Mountain Hardware. We also included a low budget option to find the best climbing pants in 2022.
Climbing uniquely challenges clothing, especially once you climb on real rock. You basically use your pants in a way that would destroy regular clothing within a short time. An ideal climbing pants pair should be both very durable, breathable, and maintain mobility.
Our 2022 Review
These goals are usually going towards opposite directions, but thanks to excellent fabrics and smart design, there are many top-notch climbing pants for 2022. Our top 16 climbing pants of 2022 are mostly great picks, and if you stick to our recommendations you won't go wrong!
Some of the pants we tested won't be continued in 2022, but you can still get them at a huge discount online, and they offer the perfect opportunity for a bargain. We have marked these as discontinued, so you can go bargain hunting!
UPDATE
As new pants are released by the different brands, we reviewed these and continue to review new models, so this list will grow over time! That way you will always find an updated list of the top climbing pants in 2022 here. Some of the pants we tested have been on the market for some time but experienced minor or major improvements, so we felt it's worth to retest them in their current version.
Choosing the perfect pair of climbing pants comes down to what type of climbing you are doing in which climate and under what circumstance, that's why we included a little guide as well. Read more for details!
Use the quick list to directly jump to the review:
Prana Stretch Zion Pants /Women's: Prana Halle Pants – 97/100
Short Facts:
Material: 97% nylon, 3% spandex
5 Pockets: 2 hip, 2 rear, 1 zip thigh
Weight: 385 g (13.6 oz)
A built-in belt that is adjustable
Leg snaps can be rolled up
Prana Zion pants are well designated and crafted with perfectionism.  Being both functional and good looking, they have the potential to be the all-rounder pant for 2022. No matter if you go rock climbing, bouldering, traditional climbing or just hang out at the crag.
What we really liked about them is the stretchy material, which feels very polished and is abrasion-resistant. On top of that, it dries fast when it gets wet, which makes it perfect for spring and autumn climbing. They don't cost a lot and are both warm and breathable.
And they come with ventilated inseam gusset, a built-in belt, five pockets with mesh inlay to store whatever you need and some roll up legs for more ventilation in the summertime.
Prana made a real candidate for the best rock climbing pant with the Zion, this doesn't change in 2022. If you compare them to pants like the Arcteryx Gamma pant, they offer better value for the money
Pros
suitable for any type of climbing, bouldering
very durable and breathable
stretch a lot, thus comfortable
belt included
price is reasonable
dry quick, robust and abrasion-resistant
ventilation top notch
Cons
not as warm and insulating as some of the other pants
The best outdoor climbing pants of 2022: Outdoor Research Men's Ferrosi Pant / Outdoor Research Women's Ferrosi Pant
Short Facts:
Material: 86% nylon, 14% spandex
5 Pockets: 2 hip, 2 zip rear, 1 zip thigh
Weight: 345 g (12.2 oz)
Cuff closures with draw cords
A close follow-up to our top pick, the Ferrosi pants are a favorite of our testers. They feel ultra-comfortable, almost as if climbing naked. Thanks to the thin and light fabric, they offered perfect mobility and breathability.
They were the best pants in terms of breathability and mobility!
I personally would wear them even when relaxing on my couch in favor of sweatpants.
To our surprise, they also were pretty abrasion-resistant and durable, as well as protective. Weatherproofing was top-notch, and even when climbing outdoors in colder air, they felt warm and comfy. Ferrosi pants are reasonably priced too: If you can get them on a discount, they are a steal.
Plain and simple
Our only complaint is that they lack additional features. They do have a cinch system for the leg cuffs, but it works not so great, and the waist is non-adjustable, which means you need a separate. Some might consider this a plus, but the design was almost a little too simple for our taste. But if you prefer minimalistic, no-frills pants, Ferrosis are your go-to pants.
A debatable topic is their look – they are not very fashionable, but we think for a technical climbing pant, that should not be your main focus.
For the all-round best pant, the Ferrosis didn't make it by an inch. But they are the best climbing pant for outdoor climbing, no matter if you boulder, sport climb or trad.
Pros
best for any type of outdoor climbing, bouldering
most breathable pants in the test
large thigh pocket
cheaper price
lightweight and comfortable, almost like wearing nothing
surprisingly warm
ventilation top notch
Cons
style is not super fashionable
Best looking and fashionable climbing pant: Prana Axiom Jeans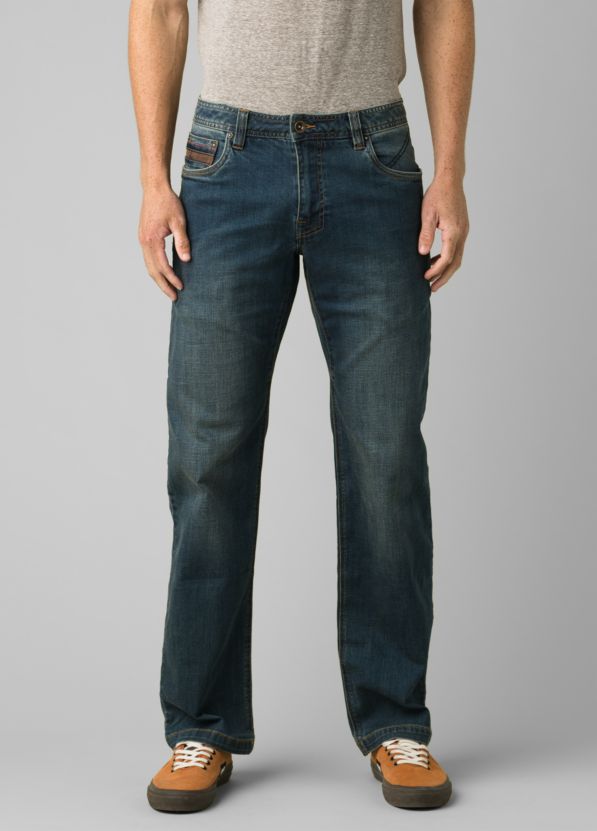 Short Facts:
Material: 99% organic cotton, 1% spandex
4 Pockets: 2 hip, 2 rear
Weight: 306 g (10.8 oz)
While the Mountain Hardwear AP Pant does look slick too, Pranas Axiom Jeans are still the best looking climbing pants.
Fitted, stretchy jeans are stylish, and there no way around it. And we have to admit that they excel in mobility too. It was almost surprising, but Prana somehow managed to blend denim with stretchy material. The result is pants that look like jeans but climb like every other good climbing pants. Thanks to the diamond gusset crotch, your legs are pretty movable too, and stepping high on a difficult boulder or when topping out of a route is easy and comfortable.
Their other big plus is the looks: If you take your time and try them on, they look pretty sharp thanks to their fitted cut.
Get the looks
The obvious additional strength is the looks. Appropriately sized, the Axioms have a straight but fitted cut that sits nicely and looks sharp. If you don't know it, you will not even be able to pick them out from normal jeans.
As they are denim, however, they are not as comfortable as regular climbing pants. And if you have thick quads and calves, or are overweight, you need to size them one size bigger than normal.
Everyone else should size them one size smaller than normal, as they are cut pretty loose.
When it comes to outdoor climbing and weatherproof, they are not that suitable. While they are still comfortable to wear when hiking, as soon as things become humid or wet, the denim fabric is mediocre. And it is not as abrasion-resistant as some of the nylon blends. As such,  we cannot recommend them as hardcore outdoor climbing pants. But if you need a versatile all-rounder to wear to the gym, bouldering and for the evening beer to your local pub, they are our top pick.
Pros
very flexible and stretchy material, although being denim
gusseted crotch area
best looking pants in the test
fitted cut is sharp and sizes well
lots of leg mobility
Cons
not so great weatherproofing, which is to expect for denim
abrasion resistance on the surface is only mediocre, although the inner part of the pants are durable
no reinforced knees
no length adjustment possible
Patagonia Venga Rock Pant
Short Facts:
Material: 73% organic cotton, 24% polyester, 3% elastane
5 Pockets: 2 hip, 2 rear, 1 side
Weight: 408 g (14.4 oz)
If you look for an eco-conscious pant, don't look further than the Patagonia Venga Rock Pant. This one looks so good, you can even wear it when going to the pub, but comes with a breathable and stretchy finish.  They are also good to climb in, although they lack an ankle cinch, which we think is a bit of a downer.
They do have a gusseted crotch, a toothbrush holding loop, and reinforced knees. Makes them an excellent choice for people who love to boulder and climb cracks, but not so great for long alpine routes due to the missing ankle cinch,  which means you cannot close them.
Pros
Great mobility and flexibility
Reinforced knees
Good pockets
Gusseted crotch area
Breathable
Toothbrush holder loop is practical
Robust and comfortable
Cons
No ankle cinch
Pretty expensive
So Solid Leggings
Short Facts:
Material: 78% RECYCLED polyamide
No Pockets
Weight: 200 g (7 oz)
These eco-conscious pants are made of 78% recycled polyamide. So Solid makes Leggings for boys and girls. Granted, you have to be a bit of an extrovert to rock these pants as a guy, but this is something we liked.
When it comes to performance, it cannot get any better than against-the-skin tight – they so comfortable and stretchy, that it's like you're climbing naked. As stretchy and thin the material is, it's still relatively resistant to abrasion, although you shouldn't expect it to work like a thick pair of pants from jeans fabric.
With their gusseted crotch and breathability, they also give you a nice level of breathing. It's up to you if you like the style and the colors, but these pants work!
Pros
stretchiest pant we reviewed
abrasion resistant for a leggings
you will make new weird friends when you wear them
gusseted crotch
warm for being so thin
suitable for indoor climbing and bouldering
Cons
a bit pricey
don't wear if you don't like attention
no pockets whatsoever
less warm and durable than the other "real" pants
Arcteryx Gamma Rock Pant
Short Facts:
Material: 84% nylon, 16% elastane
3 pockets: 1 rear, 2 hip
Weight: 362 g (12.8 oz)
These pants are a little bit heavier than some of the others but other than that they are fantastic. Water-resistant, flexible but warm and very breathable they tick many of the features we wanted.
The nylon material makes them also durable, and the designers cleverly implement features: A chalk bag loop, integrated belt, four-way stretch, gusseted inseam and lots of pockets work well in day to day climbing.
Thanks to the protective knee area, you have some protection here as well.
But they are expensive, and one pair of these pants cost you twice the amount of the other pants, so be aware.
Pros
Perfect for alpine and trad climbing
Mobility is great
Warmth is suitable
Gusseted crotch and integrated belt
Weatherproof
Chalk bag loop
Cons
Mountain Hardwear Yumalino Pant
Short Facts:
Material: 88% nylon, 12% elastane;
5 pockets: 2 rear, 2 hip, 1 side
Weight: 550 g (1 lb 3 oz)
This is the perfect pant for autumn and winter climbing. They're easily the warmest pants we tested, and are made with a super comfy soft fleece lining.
Thanks to the softshell exterior shell they're also water repellent and great for cool weather outdoor climbing. The gusseted crotch makes them mobile as well, combined with the stretchy material. For further protection, MH reinforced the knee area.
But they are the heaviest pants in our test, and the material makes them unsuitable for summer climbing.  If you're looking for a cold-weather, durable and warm alpine and trad climbing pant these are perfect for you. If you have the change to spare, they're pretty expensive.
Pros
best  for trad and alpine climbing
very warm
comfy soft lining
durable weatherproof exterior
reinforced knees
Cons
too heavy and warm for summer climbing or bouldering
expensive
La Sportiva Talus Rock Climbing Pant
Short Facts:
Material: 96% Nylon, 4% Spandex
4 pockets: 2 rear, 2 hip,
Weight: 420 g (14.8 oz)
La Sportiva's Talus pants look awesome and are functionally designed.
Including protected knees, gusseted crotch and integrated sleeve for a toothbrush, they also sport a handy loop for your chalk bag.
Made from 100% synthetic material, they're breathable and comfortable. As the elasticated waist has a string-tie included, they also fit really well with harnesses – no belt needed!
We liked these features a lot, but the pants are pricey, and the material felt a tad less high-performing compared to the Gamma, Venga or Zion pants from above. They also lack an ankle cinch.
Pros
comfortable
elastic and adjustable waist
integrated loops and sleeves for brush and chalk-bag
reinforced knees
gusseted crotch
Cons
La Sportiva Arco Pant
Short Facts:
Material: 97% cotton, 3% lycra
4 pockets: 2 rear, 2 hip
Weight: 360 g (12.7 oz)
Our secret tip for 2020. They've not continued anymore, but if you can get them on a discount, they're a hot tip. They have more flexibility and comfort than almost all of the other pants, and if you look for roomy pants, these are your best bet.
Coming with a foldable waist, reinforced knees, integrated toothbrush pocket as well as a gusseted crotch we think they're intelligently designed.
Fit is super relaxed, offering maximum movement range, and it makes them very comfortable.
Thanks to the bottom hem cinch you can also adjust them easily and while they are not really warm and water-resistant, we still can recommend them to boulderers, gym climbers and summertime crag climbing.
If you look for alpine and trad climbing pants, these are not the best choice. They come in nice and bright colors too!
Pros
foldable waist
reinforced knees
toothbrush pocket
awesome ankle cinch
gusseted crotch
roomy and comfortable
breathable
Cons
not warm at all
not water-resistant
not great for trad and alpine climbing
Ucraft Xlite Climbing Pants
Short Facts:
Material: 92% polyester, 8% Spandex
4 pockets: 2 hip, 2 side, zipped
Ucraft Xlite are a nice pair of pants, which are made from super light and stretchy material. They're priced affordably, and although they're not the most durable pants out there, our testers liked the features they had. For the money they pack a lot of nice extras: Elasticated waist, reinforced knees, zipped side pockets and breathy materials.
Ucraft also gave them a chalk bag loop and a sleeve for your toothbrush – a nice addition!
With the ankle drawstrings, you can also convert them to 3/4 length pants or even shorts in the summertime. We think these pants are solid all-round pants if you don't want to go alpine climbing.
Pros
reasonable price
gusseted crotch
integrated chalk bag loop and toothbrush sleeve
stretchy material
breathability good
low price alternative to Gamma or Arco pants
Cons
not warm enough for cold-weather or alpine climbing
not really rugged materials, fabric peels of easily
front pockets a bit too shallow for our taste
Topo Designs Climb Pants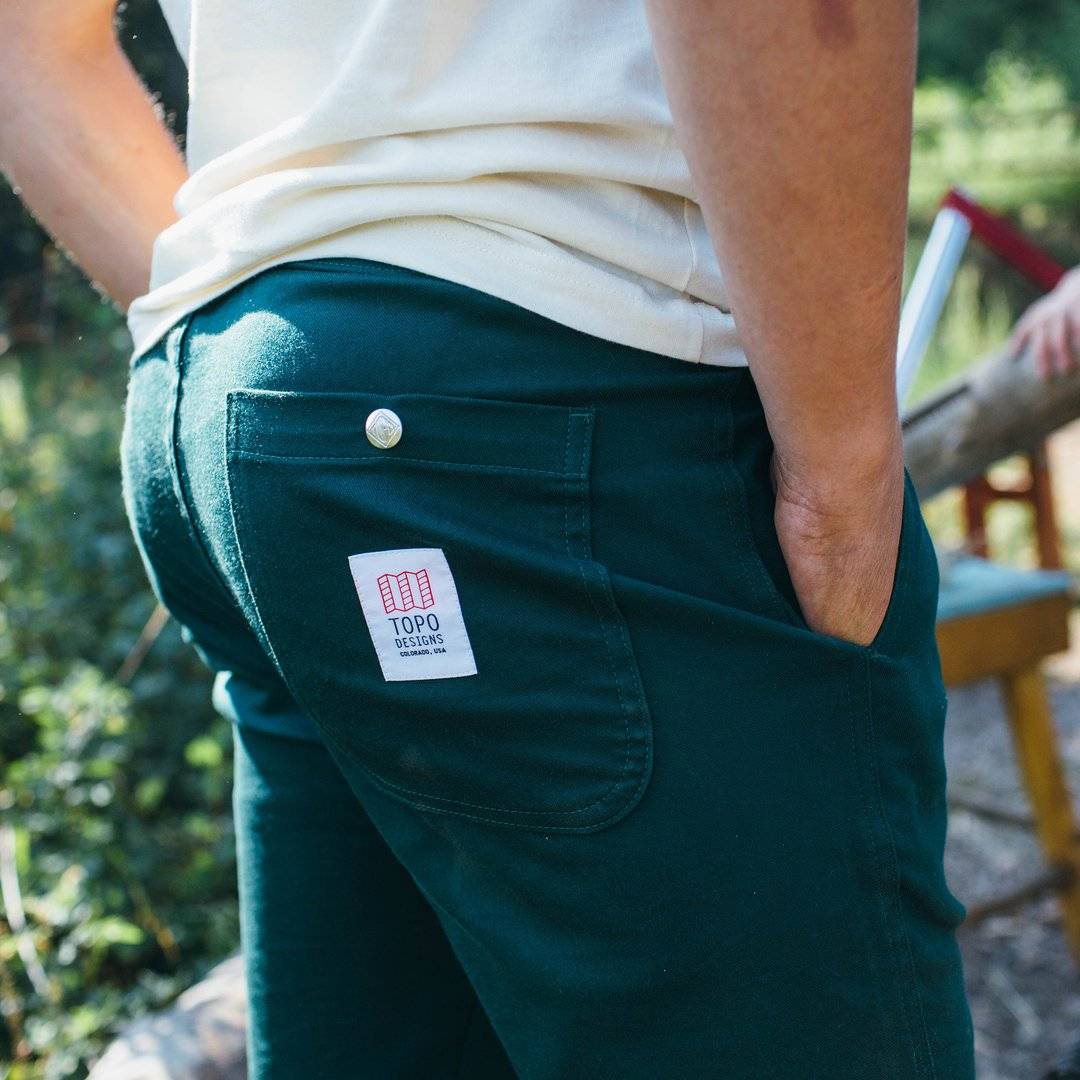 Short Facts:
Material: 98% cotton, 2% spandex
4 pockets: 2 hip, 2 side, zipped
Topo Designs' Clim Pants are another solid all-rounder. We don't see them perform on the same level as their competitors in terms of materials or stretchiness, but they are a bit cheaper too.
Features are good, with a gusseted crotch, lots of pockets, integrated belt and a nice chalk bag loop. Breathability and mobility are pretty decent too, but if you want to tackle really nasty boulder problems, you might want to look for other pants.
For long alpine and trad climbs, they are solid though, although they lack water repellency.
Pros
stretchy cotton-lycra blend
integrated belt with chalk bag loop
gusseted crotch
enough pockets
breathable and lightweight
warm enough for longer trad climbs
Cons
not as flexible  as similarly priced competitors
not water repellent
Almost number one: Mountain Hardwear Men's AP Pant / Mountain Hardwear Women's AP Skinny Pant
Short Facts:
Material: 75% cotton, 23% nylon, 2% elastane
Pockets: 2 hip, 2 zip rear, 1 velcro thigh
Weight: 204 g (7.2 oz)
leg snaps to roll up
These pants are not winning any particular awards, but they were strong in all areas and really versatile.
They look excellent, and the fabric feels durable and pretty technical. They're very warm and weatherproof and still look like slacks. In terms of fashionability, these are the close follow-up of the Axiom jeans. You can comfortably take a stroll around town in them.
Featurewise, they come with velcro thigh pockets, two zipped rear pockets. An exciting feature is the reflective stripes inside the calve area, which is really handy when you roll them up for cycling or hiking at night times.
Although they lack an adjustable belt, they still fit snug if you size them right.
Problematic is the stiffness, as it meant they sometimes rode up or down when climbing longer routes – we had to adjust them from time to time. Not a significant problem, but compared to the other pants, they were not as strong in terms of fit.
The fabric also felt a little less comfortable and breathable compared to some of the other pants.
Pros
excellent looking fabric, almost like wearing slacks
reflective stripes inside calves, great for cyclists when rolling them up
good weatherproofing
good warmth
velcro thigh pockets and zipped back pockets
Cons
mobility not as good as other technical pants due to stiffer material
fabric not super comfortable
E9 Rondo Slim
Short Facts:
Material: 97% cotton, 3% elastane
3 Pockets: 2 hip, 1 rear
adjustable waist with elastic band
cuff closures with cords, work well
E9 offers its classic Rondo pant as a slim version this year. They come with a chalk bag loop, 3 deep pockets, and offer premium flexibility. Despite the slim cut, they are still roomy enough to tackle hard boulder problems and challenging sport climbing routes.
They are not the warmest pants out their, although they are very breathable. And if you plan on climbing outside in humid conditions, stay away from them, as they are made from cotton and not waterproof.
But if you need a reasonably priced (they can be founder under 50$), boulder and sport climbing band with an awesome ankle cuff system and sporty slim-cut offering good mobility the E9 Rondo Slim might be the right pick for you.
Pros
great mobility and comfort
lightweight
breathable
cheap
ankle cuffs work really well
durable fabric
Cons
no closure on pockets, not so great for alpine or trad climbing
not really warm
not water repellent
Long-Term Test Notes
I, Arne Henricks, owned my personal pair of E9 Rondo for years. I actually have 3 pairs of them and wear them on any occasion be it in the alps on via ferratas or my local crags and to the gym.
They still hold up, even after years of abuse, and I haven't treated them really good, tearing over rock, scraping on boulders or plastic. I love how they are super comfortable and get the job done without being pricey.
The deep pockets are tight enough to fit a phone snug, and while they're not perfect for alpine climbing or wet conditions, they pretty much can do anything else. In winter I wear some thin panties to stay warm, it works for me. I even have a pair of shorts from E9.
Patagonia Men's RPS Rock Pant / Patagonia Women's RPS Rock Pant
Short Facts:
Material: 52% nylon, 48% polyester
Pockets: 2 hip, 2 rear, 1 zip thigh
adjustable waist
cuff closures with drawcord that do not work however
We didn't really know what to think about the Patagonia RPS pants.
Yeah, they might be comfortable, but Ferrosis way more comfortable. They are mobile, but the Zions were way more flexible and offered greater mobility.  In terms of style, the Axioms and AP pants looked better.
The Patagonia RPS are not bad pants, they have good features and ar well designed. But they don't excel in any area. They are protective and breathable, but they lack a good cuffing system. The cinch on the ankle could not keep our testers ankles free of dangling fabric.
And they are not cheap, so as a result, they range somewhere in the middle of our contenders. We cannot recommend them as the first pick for any category, however.
Pros
mobility good, but not perfect
breathability good, but not perfect
durable fabric
Cons
won't really excel in any area
price is not really cheap
cuff system won't work too well to keep cuffs away from ankles
Black Diamond Notion Pant – Men's / Black Diamond Notion Pant – Women's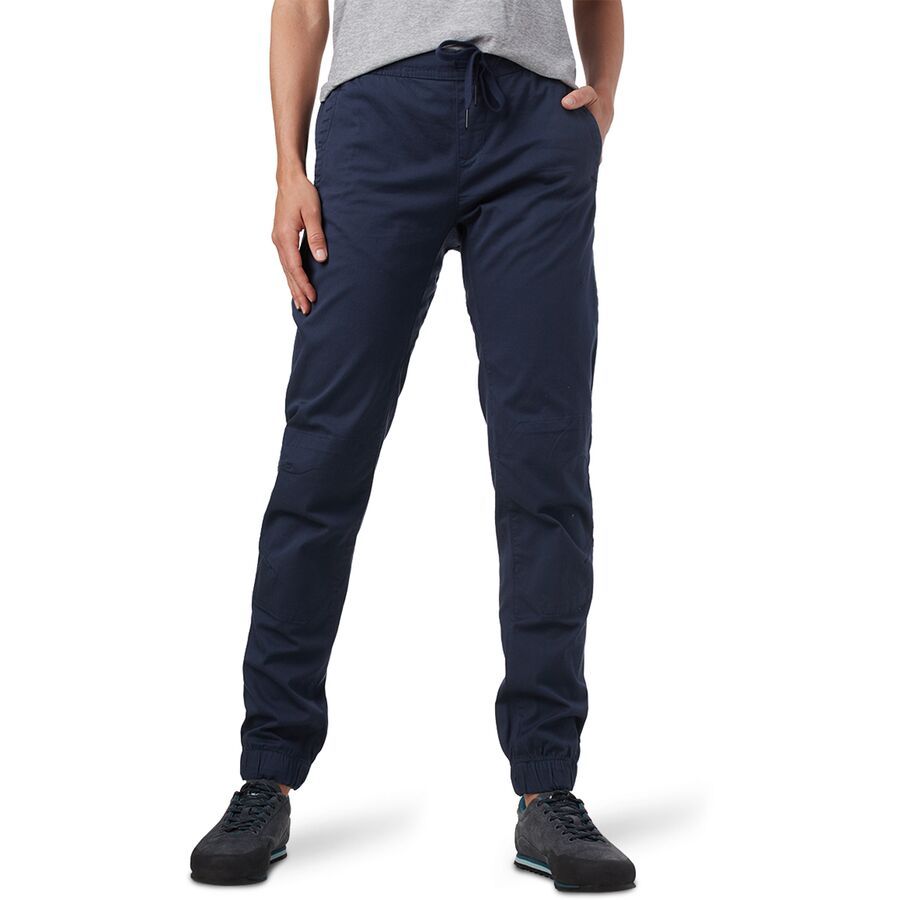 Short Facts:
Material: 98% cotton, 2% elastane
Pockets: 2 hip, 2 rear
Drawstring elastic waistband
Elastic cuffs
Black diamond created a weird pant here, using soft cotton and a drawstring waist. There are no zip pockets, which makes them not suitable for longer outdoor climbing or hiking in our opinion, and the cuffs are simple one-size-fits-all elastic.
These pants want to live indoors. For gym climbing, the stretchy cotton is fantastic and offers great flexibility. If you want, you can also use them for yoga or any fitness class. Breathability: Check! Comfort: Top notch!
But that's it, they're neither waterproof nor warm, and we wouldn't recommend to use them for longer trad or alpine climbing – the soft material would just rip – the Notions were the least durable pants in our review. And the missing pockets might be nice indoors when you don't need them, but outdoors the lacking zip pocket is a real problem.
Pros
mobility really nice
comfortable
Cons
not really suitable for outdoor climbing – least weatherproof pants of the test
not really durable
cuff system won't work too well to keep cuffs away from ankles
Budget Option: Carhartt Washed Duck Dungaree Work Pant
Short Facts:
Material: 100% cotton
Pockets: 2 hip, 2 rear, 2 utility, hammer loop
We included these work pants as a budget option, and in fact, you won't need to buy them from Carhartt, but any other brand will probably work.
But to be honest: They are no match for the other pants. The fabric doesn't stretch, the fit is not forgiving nor cut in a way that suits climbing moves, and they have no breathability.
Looks are not great either, with wide thighs and calves you will look bulky even if you're athletic. They come with six pockets, which are all utterly useless as they have no zip, no closure and tend to loose whatever you store as soon as you go vertical or overhanging.
Since they are not particularly comfortable, their only strong suit is durability – as they are working pants, they won't rip easily. The lack of a cuff system is annoying as well, given the wide cut on the calves.
If you look for climbing pants, don't buy them. They might be good for work, but even for the price they come at we cannot recommend them as climbing pants.
Pros
cheapest pants
durable, as it's a working pant
Cons
not that mobile, as they are not really made for climbing
heavy fabric does not stretch
fit is restricting motion
utility pockets are not really much use when climbing
no cuff system
Match your climbing pants to your climbing style
Sport climbing, bouldering, and indoor climbing
All the above types of climbing involve moves that are fast, dynamic, and athletic. And these moves require a greater range of motion from the climber and thus the pants. Pants for these types have a gusseted crotch and maximum flexibility by using materials with high elastane percentage.
Alpine and trad climbing
While you need flexible and stretchy pants when you go climbing alpine and traditional routes, these features are not the most important ones here. On long traditional or alpine climbing routes, you need warm, comfortable, and breathable pants. They can be a bit heavier but should feature closable pockets, maybe even microfleece lining and a durable, water-resistant finish.
Materials for the perfect climbing pant – things to consider
The materials decide how your pants will perform. Besides the cut and features like gusseted crotch area, materials are your number one thing to consider.
1. Flexibility
If you try to go cycling in a ballroom dress, you will fall. Same goes for climbing, if you wear the wrong pants, you won't have a good time. Flexible pants are king, and if you have pants from a flexible material, it will allow you to make super stretchy moves. Levis 501 might look cooler but trust us: When you bomb your project because you lack 5 inches of movement on the last move, you'll quickly consider climbing plants.
Stick stretch Cordura and lycra or elastane.
2. Breathability
Not just in summer, but also warmer spring days need breathable pants. If you're on the wall on a longer route, things quickly become warm when exposed to the sun. Good climbing pants offer a high level of breathability and come with smart ventilation features.
3. Durability
In the past, you had to choose either heavy, durable pants or lightweight linen style pants that ripped easily. Today, this changed, and you have both lightweight and durable pants thanks to synthetic materials
But the general tradeoff of a stiffer, heavier and more robust or ultra-flexible and thin pant is still there. Trad and alpine climbers usually prefer less flexible but more durable pants, and boulderers and sport climbers like their pants more flexible.
4. Comfort
How comfortable your pants are, come down to the discussed points above as well as features like gusseted crotches, ankle cuffs, and elasticated waists. Another factor is built quality – wrongly placed reinforcements or seams can chafe your skin after long climbing sessions. In general, if you want comfort, go with stretchy pants.
5. Main materials of the pants we tested
All the pants we tested had a wide array of different fabric types and material blends used, and they behave differently. Most pants were however made from either nylon or cotton or some mix of both. It makes sense to discuss the differences between these two material types.
Nylon is the gold standard of outdoor clothing. It comes in all kinds of different proprietary mixes, but nylon fabrics usually offer low weight, excellent breathability, and a high level of elasticity. They also dry easily, and many are waterproof. It is a synthetic material, so this means it starts to smell if it's not washed correctly.
Cotton, on the other hand, is natural and softer than nylon. It's also very breathable and relatively durable, although there are many blends of nylon that offer supreme durability compared to cotton. Cotton is also heavier than nylon. You can also dry it in a commercial dryer, which is an advantage.
If you need breathable pants, you should try a lighter pant like the Ferrosi or Notion. If you need a very functional pant with lots of features and protection, you should try the Prana Stretch Zion or the AP pants.
Keep in mind that the fabric will also change the fit of the pants. If it's possible, try the pants on in person, and refer to our fitting guide.
The warmth of the pants
Hypothermia sucks, even if you save some weight in your pants. Don't skimp on weight if you tend to feel cold. Climbing outdoors is a serious sport, and hypothermia is no fun. If you go trad and alpine climbing in colder weather, stick with warm pants and forget about weight savings.
If you go crag climbing and bouldering, it's ok to opt for thinner pants, but for alpine climbers, we recommend fleece-lined pants, unless you climb somewhere really hot. Mountain weather can change quickly!
Features on climbing pants
These handy features are nice to have and can be really helpful. Also if you still wonder why climbing pants are a good idea when you boulder or climb, read my post or watch this video.
Gusseted crotch
A gusseted crotch means added material in the crotch area, which is fantastic for male climbers – as it's anatomically better. Especially when you do yoga moves or dynamic climbing moves.
Drawcord or ankle-cinch
This is needed to adjust the length of the pants, and you can also use it to convert them to shorts or 3/4 length pants.
Toothbrush holders/toothbrush pockets
A brush is perfect for cleaning footholds and handholds in a route, which is important on some more frequently climbed routes. A holder for your brush is handy.
Zippered pockets and/or closable pockets
If you climb alpine routes or multi-pitch you definitely want a closable pocket of some sort, be it zip, velcro or buttons. Searching for small items in your backpack quickly becomes cumbersome otherwise. All of the pants we tested to find the best climbing pants 2020 had at least two pockets in the hip area and one in the rear. Except for the leggings, but they kind of run in their own league.
While some of them had zippers on the pockets, this is actually a debatable feature, some like it, some hate it. We think closable pockets are a must for alpine or trad climbing pants.
What we find essential is the thigh pocket, this pocket adds safe storage for cellphones or keys by having a closure system. A feature all of our testers loved, as it keeps valuables safe and does not interfere with a harness.
Cuff system
A cuff system keeps loose and too-long fabric away from your ankles.
This can be to ventilate, but also if you want to avoid to step on your pants all the time when precise footwork is needed. And it's also nice to see your feet without flaps of fabric blocking the line of view. Pants like the Zion, AP Pants and some others have cuff snaps. Other pants like the Rondo slim or the RPS and Ferrosis sport cinch systems, with is nice. Other pants have roll-up cuffs, but no closure system. While the Stretch Zion pants and the RPS pants have an integrated belt, some other pants have either elasticated waist or drawstrings.
If no fitting system is given, you need to try them on for exact fit.
Chalk bag loop
An integrated loop for chalk bags on the rear or the side is very nice, especially if you boulder or free climb without a harness.
How to find the Best Climbing and Bouldering Pants for Your Needs
Climbing and bouldering pants are no magic, the manufacturers usually take some very flexible and mobile pants which are made from a durable material. Then they add some pockets and things like loops and cinches and change parts of the pant like the crotch area for even more mobility.
We would choose a very mobile and flexible pair of pants with lots of freedom of movement over a stiff and clunky pair of pants any day. But the next priority should always be the comfort and good features. When it comes down to these aspects, there are some differences to keep in mind.
How We Test Climbing Pants
When we test pants, we usually wear them doing routes and problems in the gym. That's our first line of testing, to see how the pant performs in a controlled environment but without the environmental influences like cold weather, rain, and real rock.
After the gym test, we wear them bouldering outside and doing some sport climbing and/or trad climbing. This is our test where we also test how warm the pants are if they are rainproof and how abrasion resistant they are when you do crack climbing etc.
We also wear them for other activities sometimes, such as hiking, walking, mountain biking, and yoga, to see how they perform in day to day activities. Then, after testing, we rate them in these three categories.
Freedom of movement & mobility performance
Could we move easily wearing the pants? Did they resist certain moves when climbing or bouldering? Was stretching the legs possible without the pant interfering?
Level of comfort and breathability
Were the pants comfortable even when wearing them for longer periods? Did they breathe, or did we feel clammy or stiff when wearing them? Did they cause rashes on certain parts like the crotch area, ankles, etc.?
Bonus features, versatility, and practicability
Good pants should be versatile, so we review and rate how easy you can use the pants for different styles of climbing, bouldering, and so on. Bonus points if they hike and approach well. We also adjust the rating if they make our live exceptionally easy or hard, for example, if they need special care when washed.
Summary
Here are the best climbing pants with their score:
Happy climbing!