Disclaimer: This article may contain affiliate links. If you make a purchase through these links, I will earn a commission at no extra cost to you. Thanks!
Climbing shoes are one of the essential climber gears. That is why you need to make sure you buy the best pair for your style of climbing. On the other hand, with tons of different styles of climbing shoes available to select from, it can be overwhelming to choose the best pair that will suit your preference and budget. To help you pick the right climbing shoes, here are the tips you need to follow. We also put the best climbing shoes for 2022 for boulderers and climbers to the test!
Climbing shoes have a  short history, they were only invented in the second half of the last century. But they have gone a long way from there, and for 2022 there are some interesting new concepts like 3D molded climbing shoes with inlay socks and really aggressive beginner shoes, targeted for gym climbers.
What Sort of Climbing You Do Most?
The first and perhaps the most essential factor to consider when buying a climbing or bouldering shoe is to know what kind of climbing are you into. Are you into bouldering, alpine climbing, or sport climbing? Crack climbs, face climbs, or slab climbs?
Different kinds of rock climbing need different types of equipment. What is more, they also need various features and properties in bouldering or climbing shoes. Like for instance, boulders often use tighter shoes which they can pull off fast between climbs.
Choosing the Best Type of Closure
The most popular shoe closures are Velcro and lace, even if slippers are slowly becoming a new style. Selecting the best kind of closure is a personal choice and somewhat about fit. Start by choosing a type of closure and then searching for bouldering shoes which fit your fit. You can also try on many shoes and from the ones which fit, pick the type of closure that meets your needs and preference.
Velcro
Advantages
For those with an average foot, ho big toes or crazy archers but the small middle section, this type of closure fits excellent.
Velcro is faster than lacing, and three straps will provide further adjustability
Velcro's that has split tongues help fit a wider foot.
Disadvantages
Often, this material can be loose when you are climbing at a high grade for a continued amount of time.
Sometimes Velcro's can loosen (compared to a lace-up) when you're climbing at a high grade for a sustained amount of time.
The closure of Velcro might add bulk while climbing and cause pressure points
Who Can Benefit from Velcro Shoes?
This is ideal for everyone, most especially boulders because of the speed in putting on and taking off.
Lace
Advantages
This type of shoe is useful when you have oddly, fussy shaped feet as you can customize the fit, like tighten the lace at the toe. You can also loosen in the mid-part to have a room for high volume feet or high arch feet.
Disadvantages
It takes time to put on and take off
Who Benefit from Wearing Laced Shoes
This is ideal for trad climbers who need a versatile fit. This is also perfect for sport climbers who climb aggressive routes.
Slipper
Advantages
Extremely fast to put on and take off
It is an automatic fit, so there is no closure to stress about
Some models come with a strap made of Velcro, which adds more safety to keep your heel in the right place and lessen slipping.
Disadvantages
Climbers with wide foot might find restrictions to the elastic
If the only closure is made of stretchy material, you may find limitations in performance during aggressive maneuvers because the shoe might stretch or slip.
Wide-footed climbers may find restrictions to the elastic.
When the only closure is stretchy material, one may find performance limitations during aggressive maneuvers as the shoe may slip or stretch.
Who can Benefit from Wearing Slipper Shoes?
Boulders love the quickness of this shoe in getting it on and getting it off. While trad climbers enjoy less bulk as well as pressure point while rock climbing.
Choosing the Best Material
Boulders shoes are available in various materials, so it is important to choose one that meets your needs and preference. Some of the best materials are:
Leather
In case you have fussy or oddly shaped foot which does not seem to like a climbing shoe, then leather might be the best choice. Leather expands when there's pressure so that it can provide a comfortable fit as this match to your foot over time.
The disadvantage of this expanding is that it makes it challenging to know the right size. It depends on the kind of leather, and it will be more or less stretchy. In general, the leather shoe will expand .5 to 1 shoe size. However, there is an exception, and the LA Sportiva Mythos are renowned for quickly stretching additional 1.5-inch sizes. How big the shoe stretches depend on how tightly it is fitted to start with- a tighter one will expand or stretch more.
Leather is breathable compared to synthetic components. So, your foot minimizes sweats and the shoe airs more, which reduce the smell. This doesn't alleviate all odors. However, it helps. This material can smell just as gross when aren't aired out properly after using. So, carry and store your climbing shoes in an open area with lots of fresh air to dry out properly.
Important Considerations
When your shoe does get disagreeably smelly, it is harder to clean a leather model as it stretches when wet. Lined leather climbing shoes do not extend as much. However, they are less breathable.
Synthetic
A synthetic bouldering or climbing shoe is more accessible to size compared to leather models as it has minimal stretch. If you are looking for a boulder shoe which will not alter sizes in due course, then synthetic is the best choice. On the other hand, the lack of stretch does not mean it is vital to get a precise fit-out of the box.
Even if this material can get smells caught in them easier, they are easy to maintain. Most synthetic boulder shoes available will not acquire water damage. Like for instance, the famous LA Sportiva Oxygym's, this were made to be submersible and washable. A lot of synthetic bouldering or climbing shoes are vegan-friendly as well.
Hybrid
A hybrid climbing shoe can be a good choice because it is easier to size with less stretching. However, it conforms to the exceptionality of your foot in specific areas. However, it all depends on the situation as well as the ratio of leather to artificial materials.
The way you will take advantage of this type of climbing shoes is to look for a model which fits well all through your feet, but could be a bit tighter in the leather parts. This is perfect as those leather parts are able to stretch in order to have a room for knuckles and wider hear.
Sizing Tips on Climbing and Bouldering Shoes
Bouldering and climbing shoes must feel completely snug in your foot. There should be no spaces or dead gaps, which will lessen sensitivity. Spaces or gaps under the arch or in the heel can cause your shoe to slide and slip in when your cam your toes or heel hook into a splinter.
Try-ons should be done around the time when the feet is a bit bigger.
Pay attention to concise climbing shoes. The upper part will stretch; however, the shoes will not get longer as you get them in.
Keep your mind to the rear of the heel. Stand on your toes to ensure the shoe does not press devastatingly on Achilles tendon.
Every model or brand has its sizing. Begin with your standard shoe size down or up to get a comfortable fit.
Try on many different styles and brands. The best bouldering and climbing shoes are those which fits you perfectly. Therefore, take time and try out many pairs.
Unisex Climbing Shoes
A lot of bouldering shoes available on the market today are unisex. When the female's specific version is on hand, the choices usually are less. Some manufacturers provide women version available in purple and pink color, whereas other manufacturers market a gender-neutral low volume option. Men have low volume feet and decided to buy bouldering shoes for women for a perfect fit.
Top Climbing and Bouldering Shoes Available
The best climbing shoe depends on your chosen fit, closure preferences as well as climbing styles. It is extremely hard to choose, so we have made it simple for you. Below are the top picks for the best climbing and bouldering shoes for 2022. Check this out!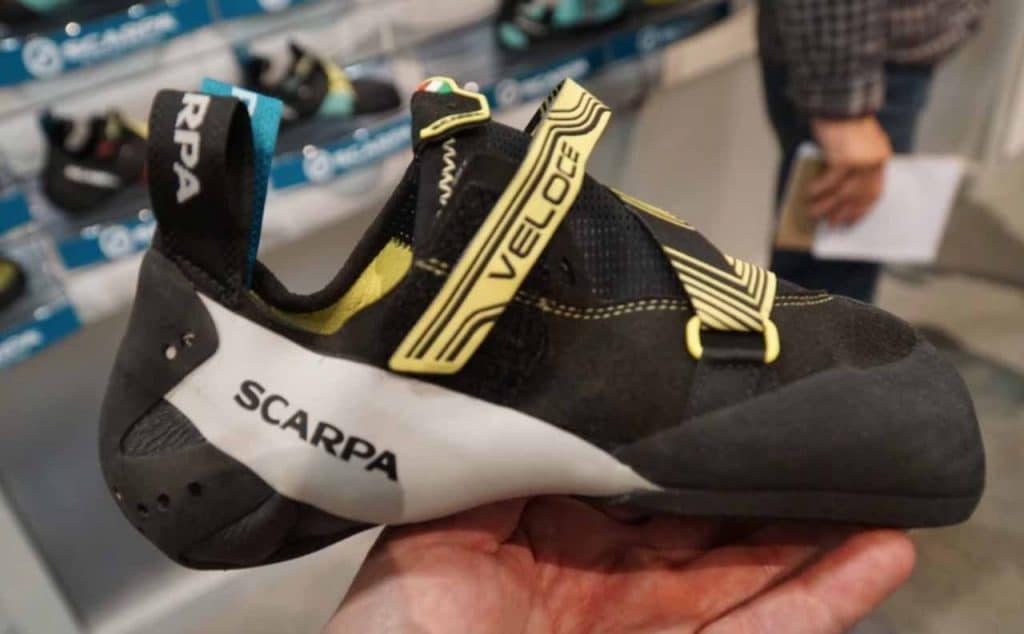 This is among the top climbing shoes for 2022. After going a lot of shoe demo's SCARPA figured out something interesting, first time climbers would attempt on the most progressive climbing climbing shoes and like those best, although they would be using those advanced shoes sized much too big.
Conventionally, beginner climbing shoes have been reasonably stiff without downturn and asymmetry. This is better when a climber is learning to climb outside on tall concrete walls. The stiff sole helped to feet keep on the smaller holds.
As of 2021 and 2022 however, many rock climbers start to climb at climbing gyms indoor. The holds there are usually much bigger and on overhanging walls— climbing shoes which are downturned and flexible help for these kinds of grips. Therefore, SCARPA made a shoe intended for this type of beginner climber. Also, they made a new last which will encourage climbers to acquire the right fit in this comfortable and softer downturned shoe.
Pros
Downturned beginner shoe – one of the rare ones!
Comfortable even for beginners
Good for overhangs and boulder problems
Cons

Mad Rock Vision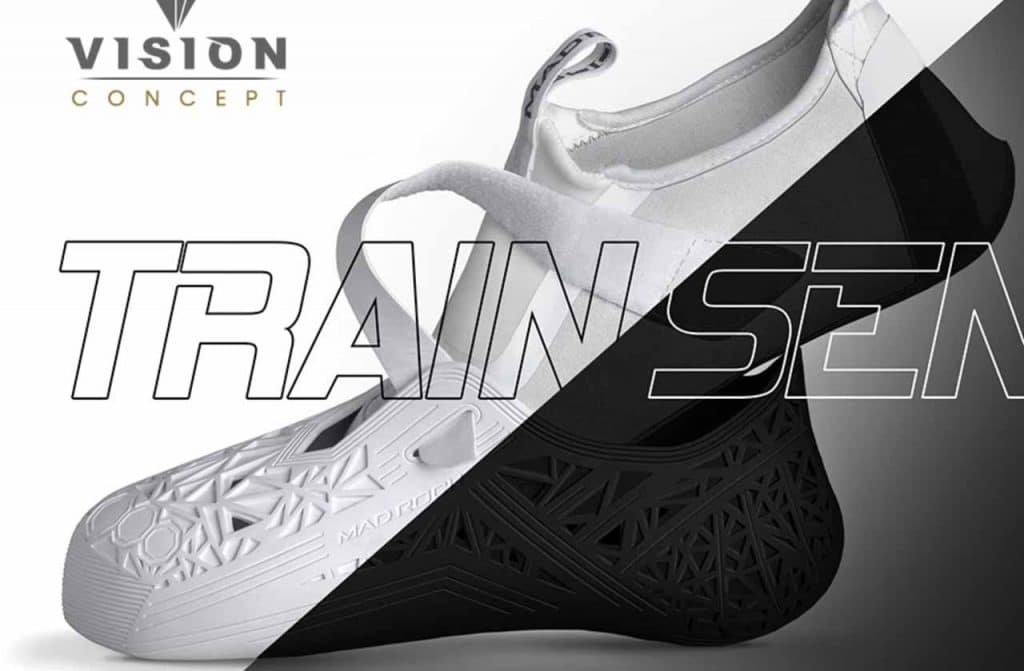 For many years, Mad Rock has been creating compression-molded pieces in their climbing shoes, from three dimensional molded rubbers which cover big toe-patches to three-dimensional molded heel cups. At this point, the company has taken a big step and has created a climbing show with an outer layer that is 3D molded. This essential feature allows for a considerable reduction in wasted rubber. What is more, it also allows the designer to move the rubber easily if they want to make thinner and thicker parts on the shoe to make sure a right and comfortable fit. This results in a more comfortable shoe that performs well too.
To have a room for this rubber construction, there is an inner sock which will integrate the midsole. The inner sock offers either a hard or soft midsole option. It also comes with closure made of Velcro. Still, there are lots of special details to come like the price and the release date.
Pros
Cons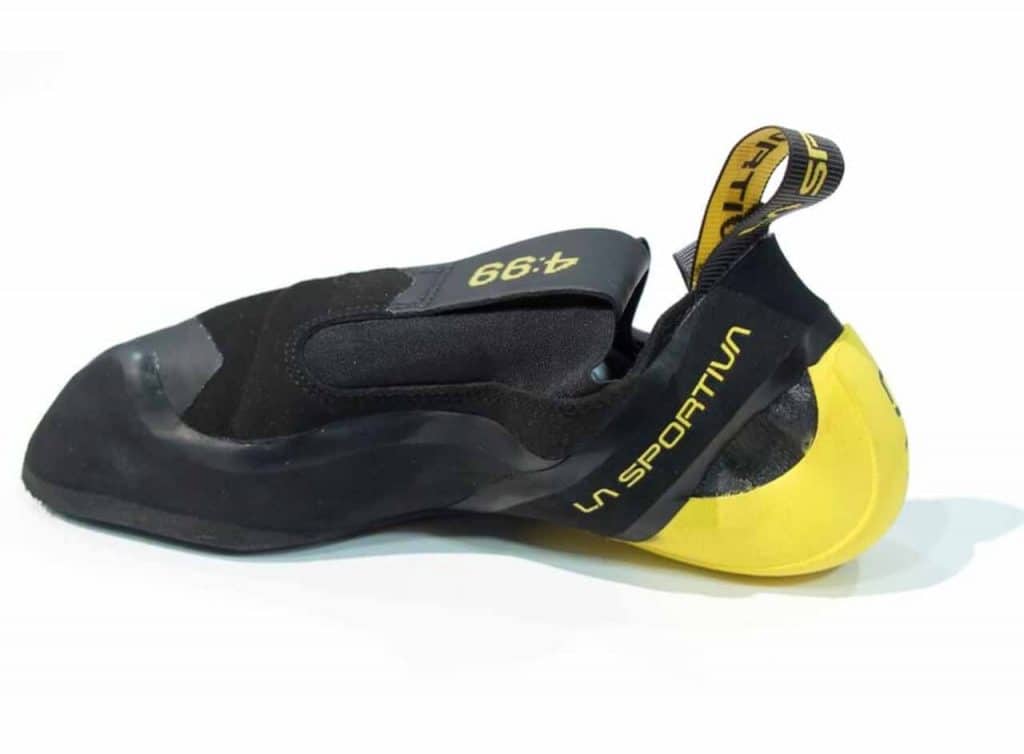 La Sportiva Cobra 4:99 is the first shoe ever made intended for speed climbing. This began from the La Sportiva Cobra, and the company cut down all the bulkiness. The 4:99 is extremely light as the sole rubber goes halfway. The rear has been stripped to have small structure because this is not needed for climbing the speed road. It also comes equipped with less heel pressure, super-soft heel for an ideal and comfortable fit. It also comes with non-sticky rand on the side to avoid catching on holds.
Pros
Comfortable and good for speed climbing
Super soft
Cons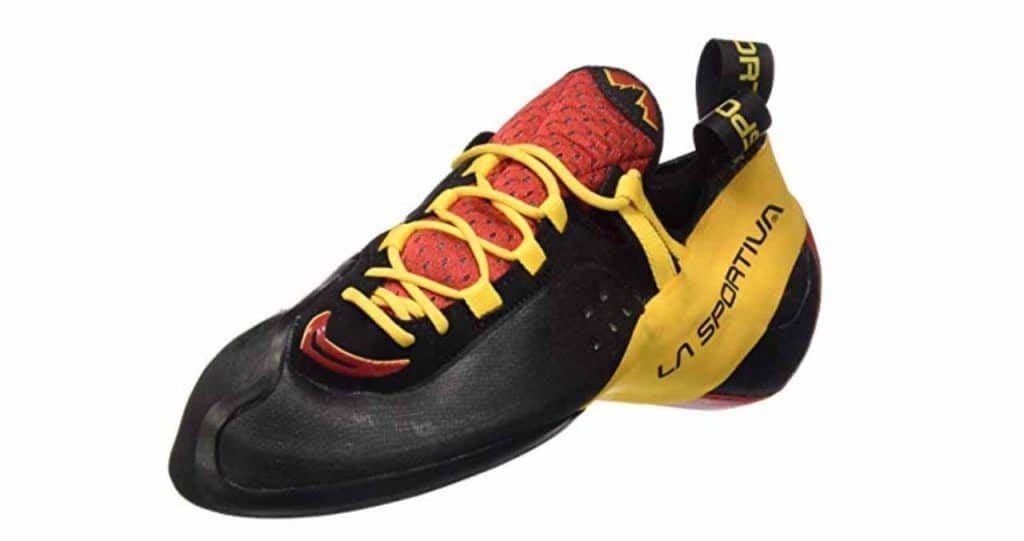 From the people who initially brought you climbing shoes, this La Sportiva Genius is indeed the result of climbing shoe technology's many developments and ingenuity. More than just the advancement of the No Edge idea, this Genius model lends the best characteristics from the arsenal of La Sportiva for its style and design. The outcome is a climbing shoe which can edge with precision and support while providing edges as well as barely-there nubbins. On the other hand, this is also perfect for steep climbing.
A lot of shoes made for steep climbs are sensitive and soft but doesn't have enough fit for its incredible softness when it comes to techy on-feet-styles. For La Sportiva Genius, it does outstandingly well at both.
Pros
Supportive and very sensitive
Offset lacing style for a glove-like fit
Most excellent edging performance
Cons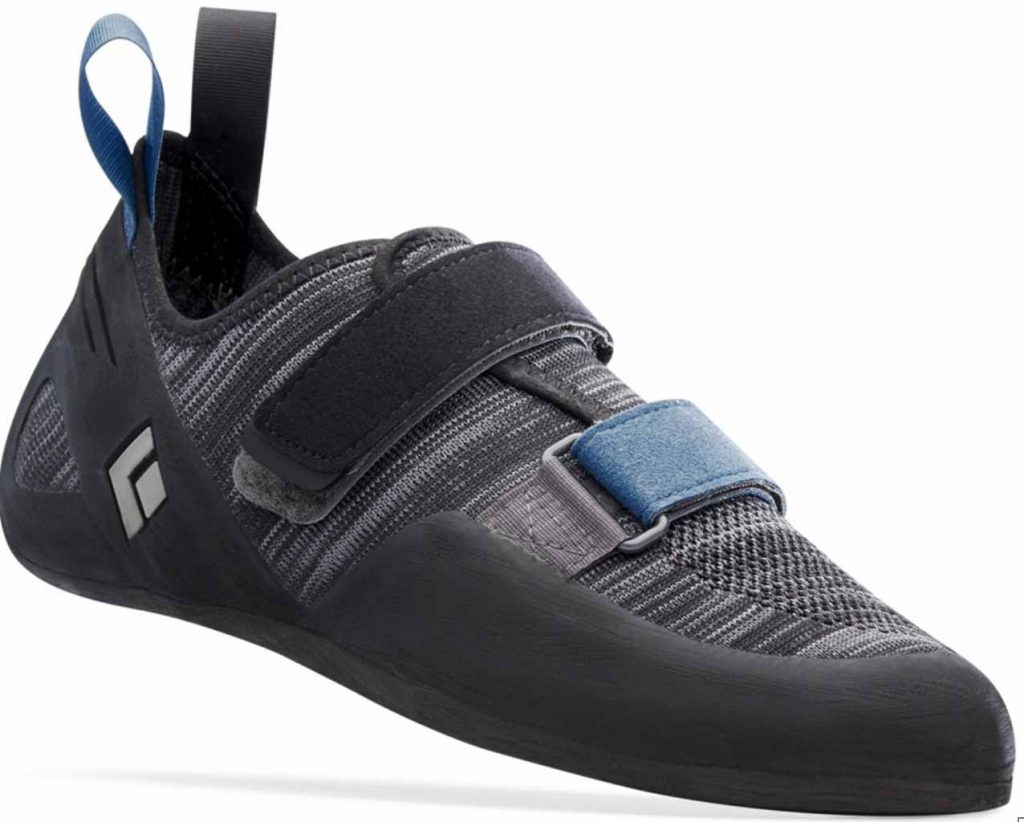 Black Diamond is one of the best makers of climbing. In fact, they have been in the business for many years and recently released a new model, the Black Diamond Momentum.
This shoe is intended for beginners- providing an easy on and off style, flat shape design as well as superb breathability. It comes with exceptional knit uppers- helpful where you want is and loose when you want to breathe. It is made of synthetic materials which mitigates stretch. Therefore, sizing will be not a problem opposed to climbing shoes made with leather uppers.
Loop and hoop tabs make this shoe easy to get on and off. It comes with soft midsoles flex, which allows the wearer to get familiar with the sense of holds under the feet whether you are smearing or climbing . The outsoles come with Neofriction rubber, which provides for the same sensitivity and thickness. You can wear this climbing shoe all day without pressuring your feet.
It has Velcro closure that might not be perfect for all, however for a newbie gets the task done. It is cheap, which makes it appealing for newbie climbers who are buying their first-ever climbing shoe.
Pros
Very comfortable
Cheap
Sizing is not a problem
Cons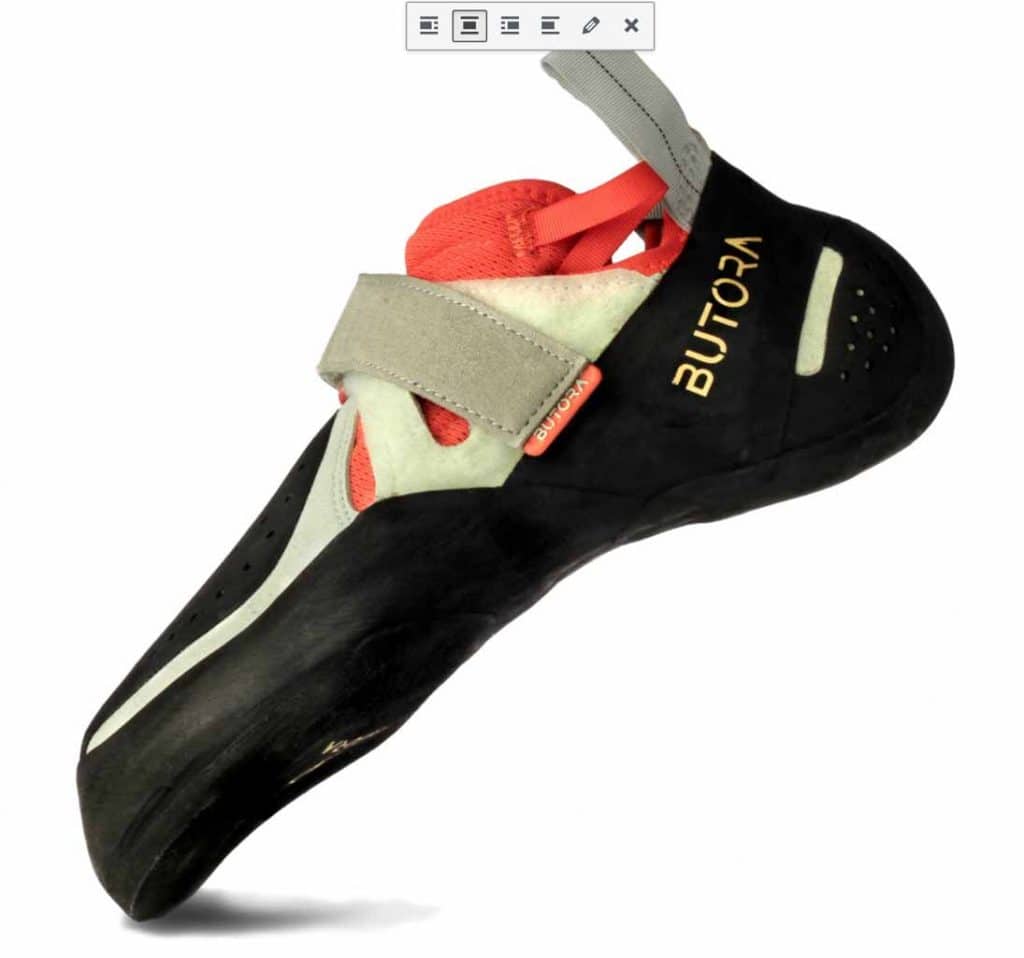 Are you searching for a climbing shoe which is not only convenient and high performing, but also available for a reasonable price? Then look no further than Butora Acro. A lot of climbers praise the box fit of this model. A lot of users are noting that there is a similarity with La Sportiva Solution. Butora integrates "F5 rubber sticky" to harden micro features as well as slabs to make it superb.
This shoe has unwanted space in the heel. Butora Across is not as sensitive as many of the boulder shoes available; on the other hand, the stiff integrated sole offers an excellent edging platform. No pain when climbing rocks!
Pros
This is available in two types: narrow blue and wide orange
Amazing toe hooking prowess due to the integrated sticky rubber uppers
Good price
Cons
Less sensitive
Too much space in the heel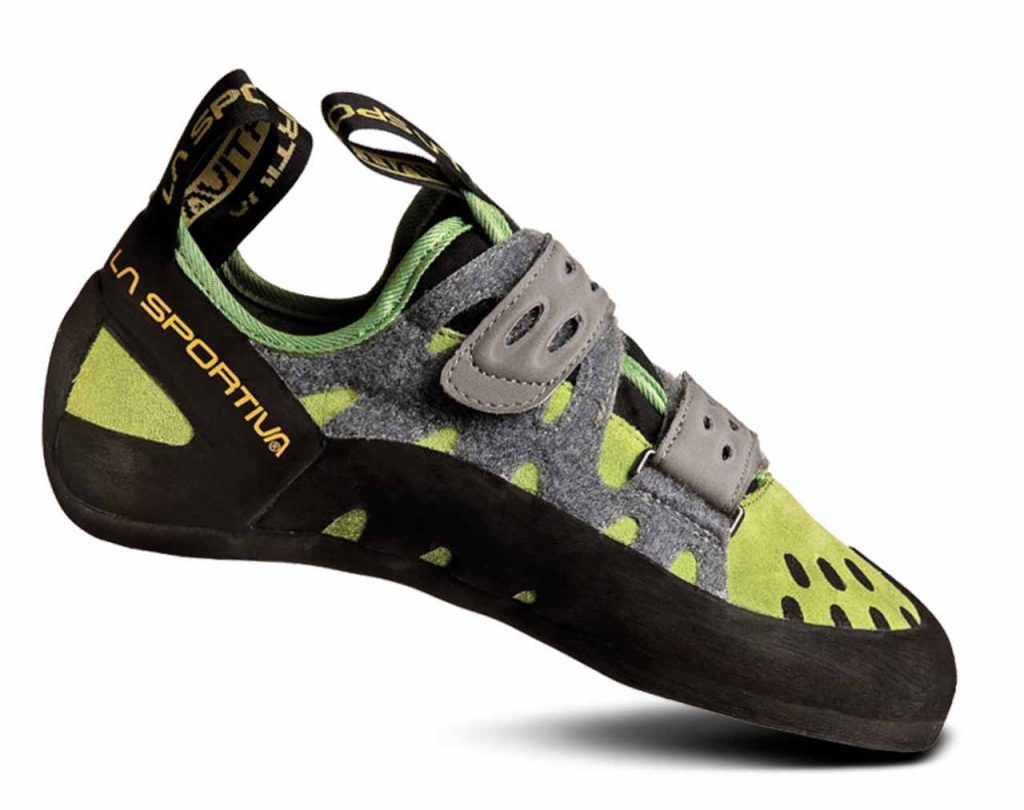 For those starting rock climbing, La Sportiva Tarantula is the best choice. Few climbing shoes are reasonable at similar quality as well as versatility. A lot of advanced climbing shoes place your foot in a hostile position, which is painful as well as not necessary if you are only starting. Even if this shoe does not have the accurate style of the other expensive models, that can be a benefit. The La Sportiva Tarantula climbs almost everywhere; cracks, gym as well as multi-pitch routes.
Pros 
Reasonable
Symmetrical shape
The flat style keeps your feet in a calm position
Cons
Too soft
Not an accurate fit
Take the Time to Do Research
Reading this guide emphasizes the idea of how to look for the best and perfect climbing shoes.
On the other hand, you have to ensure that you do a bit of research, as well. Keep in mind that climbing shoes are considered a big investment. Take a look at the nearest gym or crag. Ask climbing partners or friends what they are using and why they choose them.
You are encouraged to read previous clients' reviews (climbing shoe companies provide customer reviews on their website) for the designs you are considering.
Buying climbing shoes is a time-consuming task. However, it will be worthwhile once you get the best pair.
Keep on reading our other review for the best climbing pants for 2022, and our post that shows you how to build a  hangboard set up inside your apartment without drilling walls.