Around for over ten years, the Black Diamond Positron quickdraw has been updated with new colors and a better and thicker dogbone. They now last even longer. In our Black Diamond Positron quickdraw review, we tested this inexpensive and durable entry-level quickdraw. Bonus: It comes with dual keylocking carabiners.
The Black Diamond Positron Quickdraw was originally released over ten years ago but was continually improved and updated. The newest version offers cool new colors and a better and thicker dogbone, but also comes at 18$ list price. The Positron is a great beginner and intermediate quickdraw with flawless clipping, perfect handling, and great durability plus it's inexpensive. Only downside: It's a bit heavy. 
It is a fairly heavy draw with 3.9oz (110 gram, 16cm sling), but as it is reasonably priced, it's a perfect match for many beginner sport climbing racks. And it's still a lot lighter than a steel quickdraw. For this test, I tested the Black Diamond Positron quickdraw with the 16cm sling during my 2018 and 2019 Winter and Summer season. I used it during both training and personal sport climbing sessions. While the Black Diamond  FreeWire Quickdraw offers a better price, it it doesn't come with dual keylocking design, so that's a point to consider.
Our Verdict In short
The Black Diamond Positron Quickdraw is a high-quality quickdraw, that is made from aluminum. It comes with anodized colors, has a high-quality finish, and has solid gates on both carabiners with key locking noses. In the test, rope abrasion was fairly low, given that there are no defensive mechanisms like steel inserts. While there are lighter quickdraws on the market, this one is still OK for its durability and has a very good price. If you need a long-lived quickdraw for a very good price with two keylocking carabiners they are perfect. The Black Diamond Positron is a great all-round quickdraw for sport and crag climbing. Especially if you are not optimizing your rack to the last ounce of weight.
2016 Product Recall
Some years ago these quickdraws had a product recall. If you have one of the current black and yellow style color configurations shown in my review you are on the safe side. But read more here if you're unsure: Safety recall from Black Diamond.
Specs
Weight of the complete quickdraw: 1
12 cm version: 107 g (3.8 oz)
16 cm version: 110 g (3.9 oz)

Strength when Gate is closed: 

25 kN 

Strength when Gate is open: 

8 kN

Cross load / Minor Axis Strength : 

8 kN

Gate Opening :


[Top] 22 mm (0.86 in)

Dogbone Width: 18 mm
Dual Keylocks
Straitjacket on lower carabiner to keep in position for rope clipping
Straight gate carabiner on top and bent gate carabiner on the bottom
Available in 12 cm and 16 cm length sling
Black Diamond Positron Quickdraw Review of Components
The carabiners of this CE- and EN-certified Black Diamond Positron Quickdraw have a 3-dimensional H shape, which results in high material efficiency. Both carabiners have a keylock, which is nice to have a snag-free clipping experience. One carabiner is painted with a glossy finish, one comes with an anodized finish.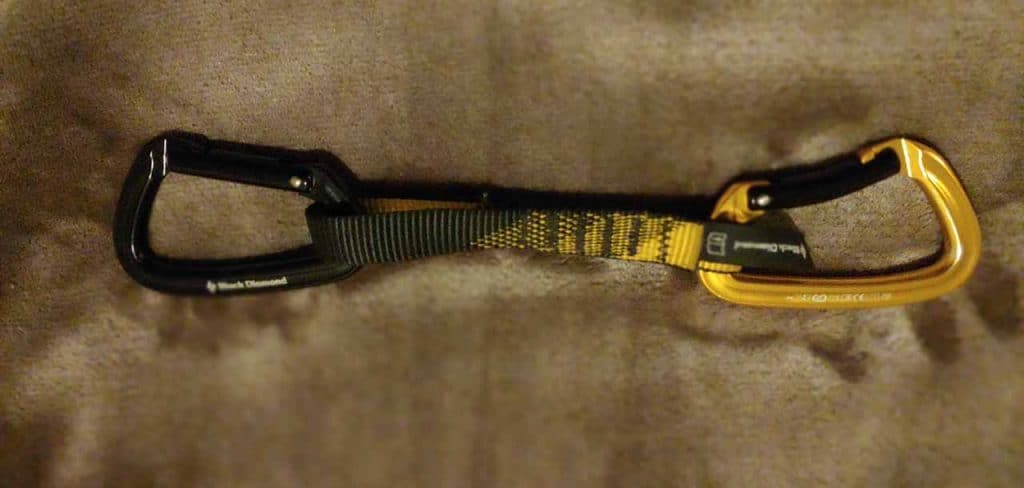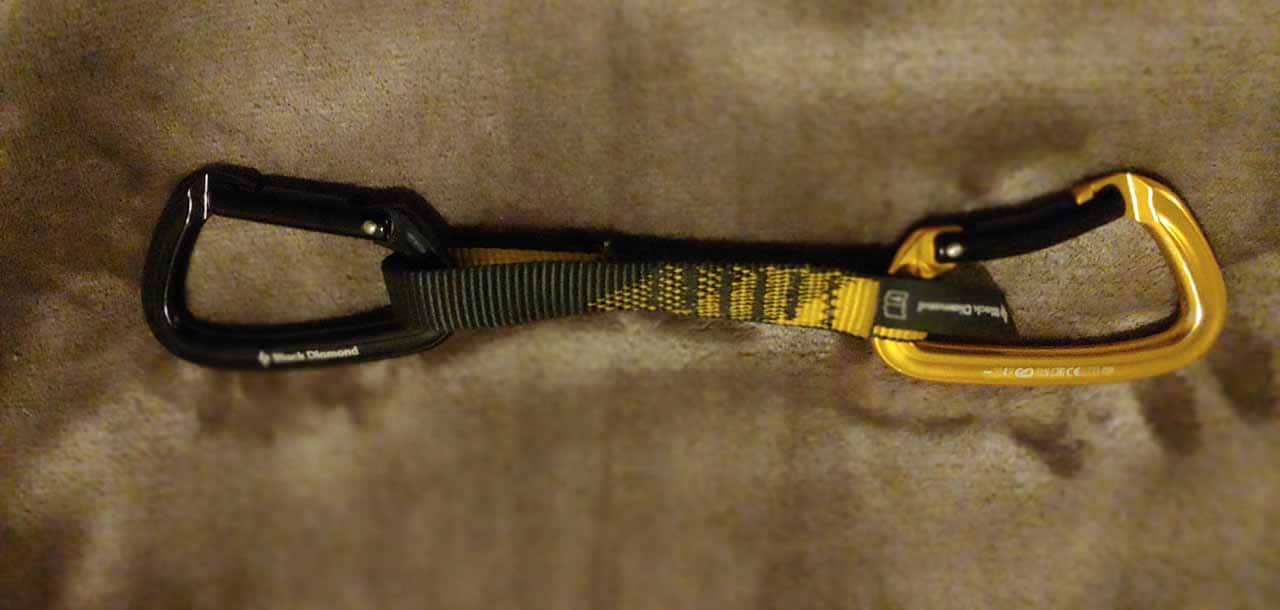 Both carabiners on the Positron Quickdraw are Positron carabiners. The top carabiner is a Positron painted black with a straight gate and 22mm (0.86 in) opening. The lower carabiner, facing the rope, is a Positron with yellow anodized finish, and a bent gate and 26mm (1.01 in) opening.
They're both  rated to 25 kN (5,620 lbf) closed gate, 8 kN (1,798 lbf) open gate, and 8 kN (1,798 lbf) cross-loaded. The straight gate is a bit rough in performance. Bent gate offers the same kind of gate tensions and springiness like any other high-end carabiner I possess.
It comes in two versions, a 16cm and a 12cm sling version, with the weight of the 12 cm version being 107 g (3.8 oz) and the weight of the 16 cm version 110 g (3.9 oz)
The lower Positron carabiner has no steel inserts at the rope bearing side, but wear and tear was still good during the test with no visible aluminum deposits on my rope.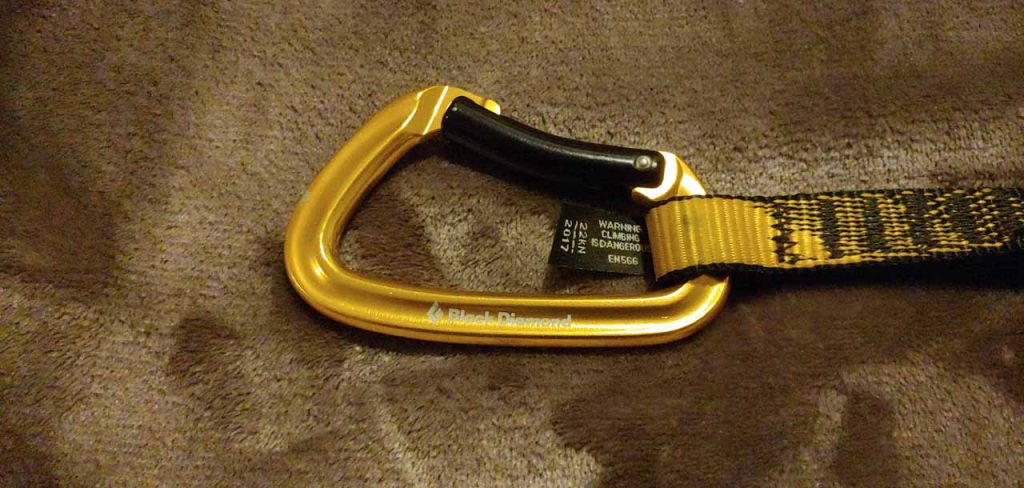 On the bottom Positron carabiner, there is a straitjacket insert that keeps the bottom carabiner in the optimal clipping position, which is a nice feature, although fairly common nowadays.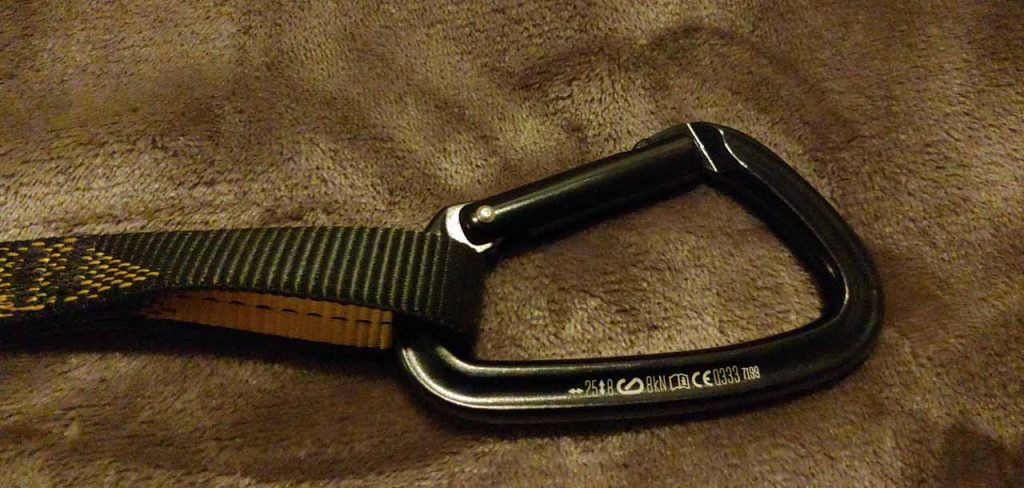 Positron Quickdraws Performance at the Crag and Gym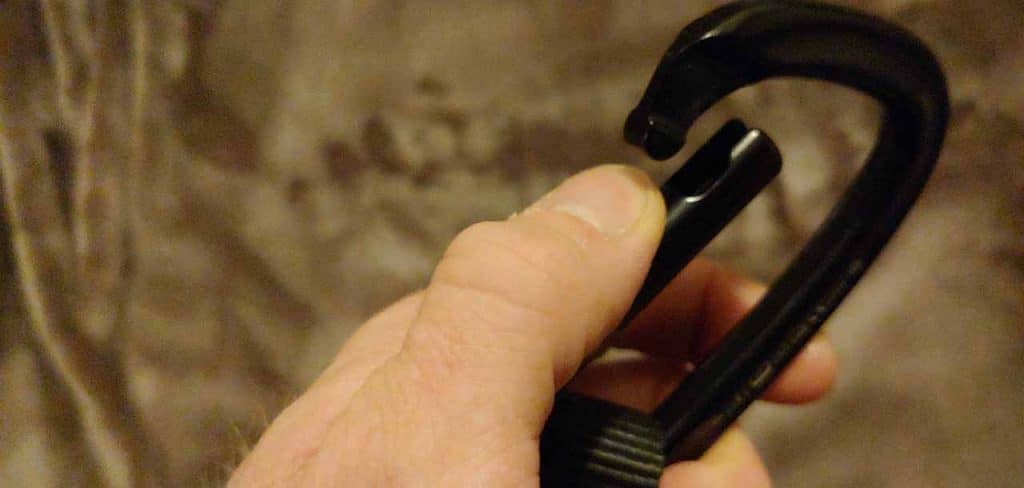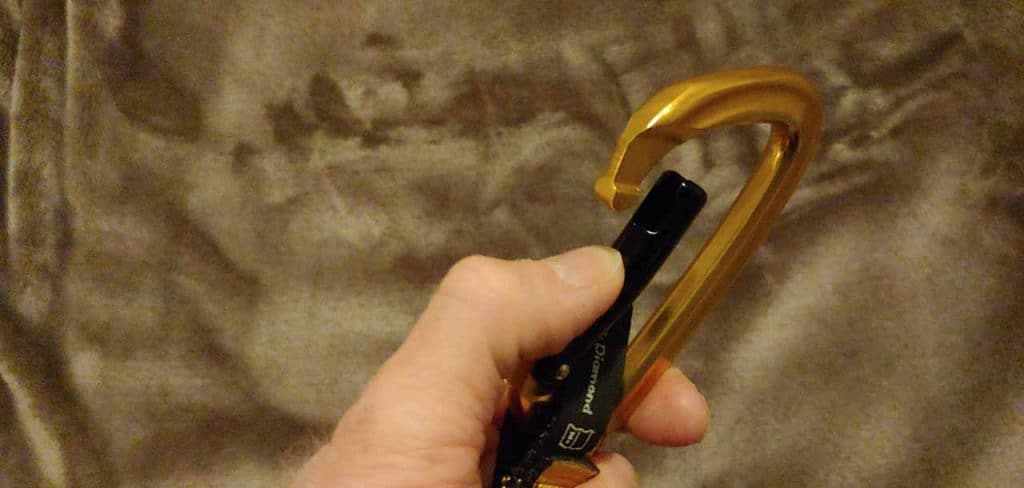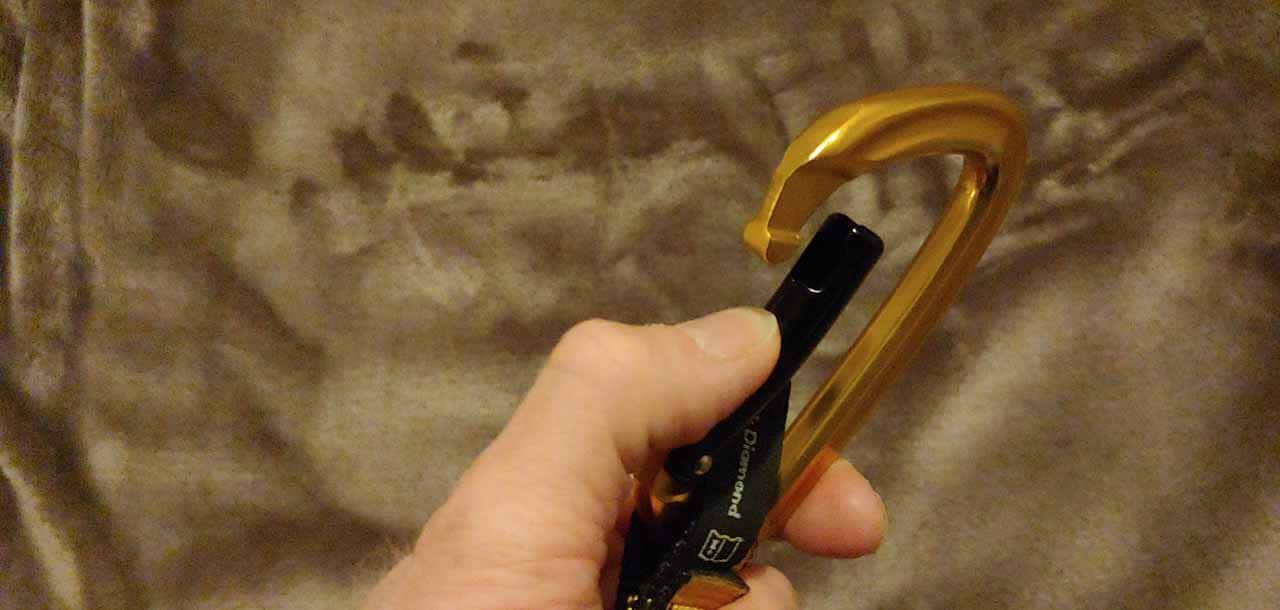 Let's have a bit more detailed look at performance now. During our Black Diamond Positron Quickdraw review we did both gym and outdoor climbing on sports climbing crags in Germany.
Ease of Clipping: Flawless
This quickdraw clips surprisingly good given the small price— it was never hard to clip no matter what situation. Plus the carabiners have a good size, the sling is nice and thick and stiff. It is a lot stiffer than it was in the past, which makes it easier to clip in hard-to-reach climbing situations. I never found myself fumbling with the gates of the carabiner on the bottom. When clipping the rope, this is a definite plus point.
Ease of Unclipping: Even better
The Positron really performs well in unclipping, thanks to its great keylock solid gate. As there is no notch or nose to catch on bolt or rope, it slides of sooo easy and fast. A breeze when you're in a steep route. I know there are other models like some Petzl quickdraws, which are even easier. But that's just because they have wider openings for the rope to go out. If you need easy unclipping, the Positron quickdraw is perfect thanks to its keylock design.
Portability: The Positron are Heavy Quickdraws
Portability is probably the main area where the Positron has some upward potential. As they weight a healthy 3.8 oz in their shortest sling version, they are among the heavier models made from only aluminum. Keep in mind, that Black Diamond actually improved this issue! The older models weighed around 4.2 oz – even heavier!
Other quickdraws like  17cm Petzl Spirit Express only weights 102 and the shorter 12cm Edelrid Bulletproof Quickdraw comes in at 118 g WITH steel inserts.
Why are the Positrons so heavy you might ask. Well, they are both equipped with solid cold-forged gates and they carry a lot of material. The advantage of cold-forging and lots of material is that these won't wear down fast, making them more durable. So, if you need ultra light-weight onsight carabiners or a trad rack for multi-pitch routes, the Positron is not your first option. But for a typical sports climbing rack for crag days it's still good enough.
Ease of Handling
Me and all the other testers, aka my buddies, that I exposed to this quickdraw had zero concerns about the handling. Neither did the quickdraws cross-clip on our gear, like some wire gated carabiners have a tendency. They never felt weird to big-handed climbers.
The wide and stiff sling facilitates reaching of a clip, especially with the 16cm version, and the profile is still slim enough to fit your gear loops easily if you carry 10 of them.
Ease of Grabbing
The Positron sports an 18mm dogbone in the current version, up from 16mm in the last version and a meager 14mm in the original version. That's a third more width, which makes for a huge difference if you need to grab the quickdraw. With the 18mm dogbone, they are still slimmer than the modern 25mm dogbones, but we felt they were easy enough to grab.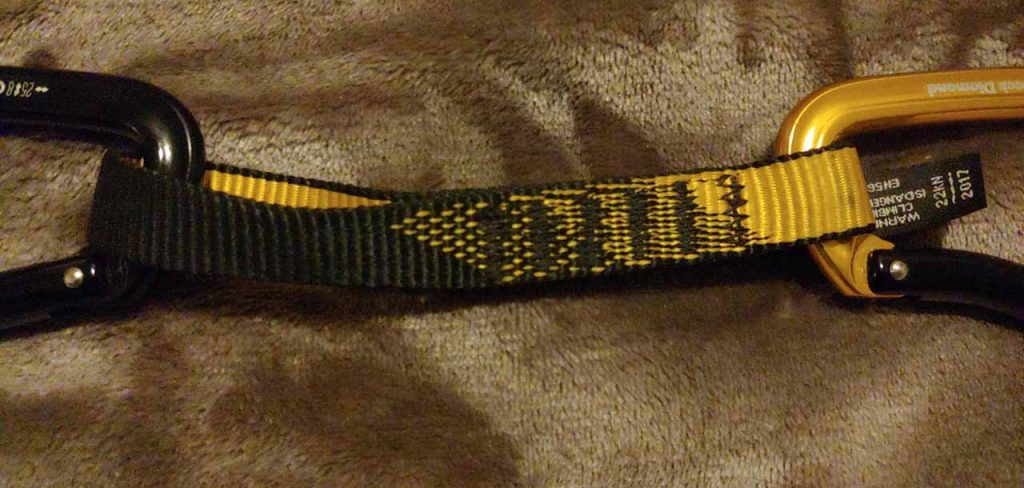 Our Performance Verdict
The Black Diamond Positron Quickdraw worked fairly good and like you would and should expect any high quality quickdraw. Most of the time we forgot about their duty, and I personally think this is how a good quickdraw should perform. Clipping and unclipping where good, material quality was nice. And the thick dogbone makes reaching the quickdraw easier than ever before on this model.
Final Thoughts: Our Black Diamond Positron Quickdraw Review Conclusion
As my two seasons of sport climbing season ends, the rope-end carabiners on the Black Diamond Positron Quickdraws show slight wear. The bolt-side of the quickdraw collected some scratches and gouges from bolt hangers. But this is to expect on full aluminum quickdraws.
In the end, the Positron quickdraws work like a high-end quickdraw should work. I can forget about it until I fall, then it catches my fall and I'm happy. Yes, they do weigh a bit more than other expensive carabiners, but they are really durable, have a good quality of construction and easy to grad. And clipping and unclipping were flawless. I can give them a clear recommendation for any sport or crag and gym climbing rack. Trad and multi-pitch climbers should think of some lighter options.
For more interesting articles like our 2020 climbing pants roundup, and our 2020 climbing and bouldering shoes review, keep on reading.