Conventional wisdom has it that climbing shoes either hurt and are made for performance or they are comfortable but lack edging and pointiness for pockets. While this is true in general, there are some shoes that promise qualities for both beginners and pros that look  for a versatile all round shoe. La Sportivas Tarantulace is such a shoe. Described by the manufacturer as a "super-comfortable, high-performance solution for any climber looking for one shoe to do it all" this is a pretty big mouthful of marketing terms. Bold statements right? Time to do a La Sportiva Tarantulace climbing shoe review.
Let's see if these shoes live up to their hype, and many testers think these are comfortable all rounders with good performance qualities, so i put mine to the test and had them on for the better part of this seasons, be it outside on the rock or inside the gym.
My verdict?
These pair of shoes are living up to their name! I also had some friends who are beginners test them and one of our coaches had them on too, and we all agree: For most climbing these are very durable, comfortable shoes that have great performance even for advanced climbers. Pros might feel they're are a bit too soft and flat, but for their price, these shoes are hard to beat. Certain areas are only so-so, but that's a small price to pay for a real all-rounder shoe.
Specs
Weight: 7.7 oz (per shoe)
Shape: Flat (comfort)
Construction: Slip Lasted
Last : WRN 45 This means the last has a round toe
Fit: Arched with low asymmetry.
Upper: Leather / Synthetic Leather
Lining: unlined
Midsole: 1.8 mm LaspoFlex
Sole: 5.0 mm FriXion® RS­
Sizes: 33-44 including half sizes
Color: Blue
Performance
Edging  
These shoes perform well on edges. But they are not ultimate weapons. There will be sections, when you have tiny edges or undefined lines where these shoes have only OK edge grip. It's still ok, but just keep in mind that you pay a slight price for the comfort. So if you need ultimate edging they're not for you.
Pockets 
The Tarantulaces are not really pointy shoes, and they are also rather flat and not very stiff either. So unsurprisingly they do not perform really great in pockets. Most of us found them to be ok, but if they have limitations in one regard, than it's this. Due to the rounded toe it's kind of hard to slam them into narrow pockets, and where we climb this has been an issue sometimes (Frankenjura)
The stiffness allows you to trust your toes when you can fit them, but the TCs aren't the pointiest of shoes. The relatively rounded toe doesn't lend itself to small or narrow pockets, although you have to get onto some pretty specific terrain before it really becomes a problem.
Heel Hooks 
The Tarantulaces are pretty good for heel hooks. Like all La Sportivas now they have a big wide stripe of extra rubber on their back heel, and it works just great. Allthough they're not super stiff, heel hooks work great, while not being super precise.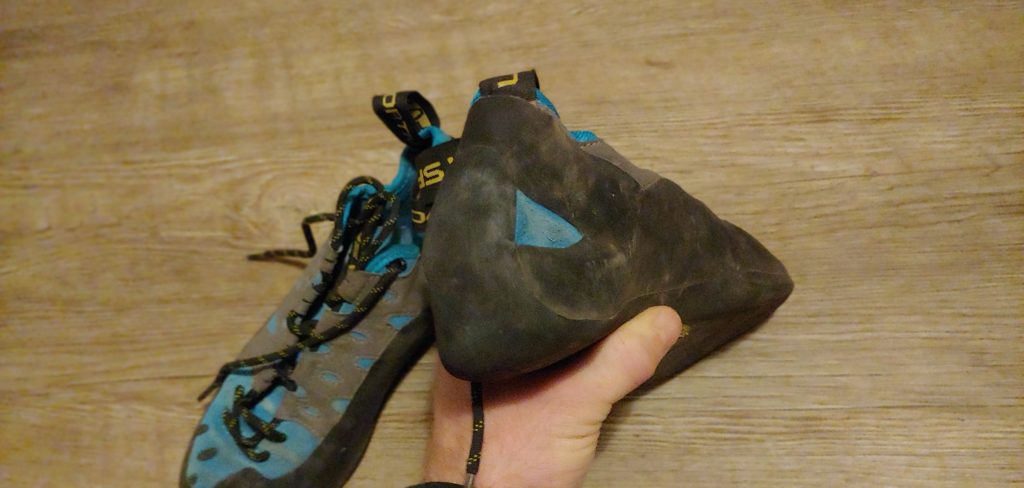 Toe Hooks 
Tarantulaces are no shoe for competition or hardcore boulder problems, so toe hookes work only so-so. There is some extra rubber in the front, but this is definitely not the speciality of this shoe. You can probably squeeze out some stabilizing hooks every now and then, but no extreme rooftop climbing.
Sensitivity 
Due to their flexible sole and soft material these shoes are pretty sensitive, and that's why they perform good in this regard.I could even wear socks inside them and still have OKAY feeling, during some winter sessions. No matter what you do feel is always great.
Precision 
Another great area for the Trarantulaces.Given their flexibility and comfort they are pretty precise. Edging works well, toe precision is good to a point where you can toe down small edges and they will always give you this nice feeling of trust. As said already, the toe is not super pointy, but effective enough for mid to small footholds.
Smearing 
The Tarantulaces work super nice for smearing. As they're so flexible you get super grip on slick terrain, better than most stiff counterparts. They're like suction cups, as one of my friends described them. And as they're soft you get a great level of feedback on smears too. What you lose in edging power you definitely gain in smearing abilities.
Cracks 
Crack climbing works well with the Tarantulaces, but they're not super stiff. So don't expect wonders. They do a pretty decent job in thin finger cracks due to their low profile, as you can jam them inside the crack pretty good.
I wouldn't recommend them for multi-pitch crack climbing, as they have no real ankle support for wider cracks, but they do pretty well on your daily crack needs!
Steepness (Slab to Slightly Overhung)
The Tarantulaces work pretty good on slab routes due to superior smearing qualities. You can also get vertical and slightly overhaning with them, but if you need to doe hard toedowns on steep footholds or power toe hooks in harcore overhung roofs they start to limit. But anything moderately overhung, even boulders, work good.
Sizing & Fit
I have fairly wide feet, and La Sportivas are usually a great fit. The Tarantulaces are made in the wider side, so if you have super narrow feet they might have little too much real estate.
My friend who has wide feet said: "I really like that they are so wide, makes them so comfortable"
I size them exactly my European street size would be. For me, being a 42, this is a 9 US street shoe size. And with this size i can touc hthe end of the shoe, and my feet are pretty flat. Hits the spot for me, as i can wear them all day long  – i sometimes even keep them on when i belay.
Good thing about the La Sportiva heel form is that they fit lots of different feet and sizes. And the lacing works super convenient too. they never opened up on me by accident.
Durability
Yup, like a true allrounder you can abuse these shoes. Even if you take them through the wringer multiple times, they will continue to point and edge well. And the smearing works super good, even after a fullseason of slab climbing. Since i wear mine for belaying sometime too, they have seen all kinds of wide terrain and rock abuse.
The outer synthetic leather works great, and mine have seen some deal of abuse due to hectic footwork and changing weather conditions, i.e. mud and water too. They still shine!
The FriXion® RS­ rubber is a good blend of performance and durability. It's probably more on the softer side, which makes it great for smearing, but still holds up pretty well. Overall they are maybe a bit less durable than super stiff shoes with the more stiffer mixtures, but i haven't really felt this in reality.
There have been some users reporting ripped lace holes, but it never happened to me or my friends. And from what i heard they should also be pretty easy to resole too, so if you really use the sole up get a new sole and voila, they're almost like new!
Comfort
Wow, well comfort is one of the reasons you buy the Tarantulaces. If you go climbing for a whole day, you basically want climbing shoes which feel like sneakers. It really sucks to have hurt feet after only 3 or 4 routes, and that's why even advanced climbers go with comfort shoes.
When it comes to comfort, these shoes are the shit. When you finish a long pitch, you will probably not even take these shoes off, as they're so comfortable. I sometimes forget i am wearing them, and start belaying my friends and realize i'm still wearing them.
If you ask me, their comfort is one of their bigges benefits, and as long as their performance is enough for my day to day climbing i will happily wear this type of shoes 90% of the time.
Price / Value
Unlike most of La Sportiva's top shoes, these shoes are aimed for beginners too, and that's why they are a bargain of around 70$.
For this price, their value is almost unreal, a beginner shoe that can be worn even when you advance, does great on any slabs, performs good in overhangs and feels super comfortable.
Final Thoughts
If you're just beginning to climb, or are a seasoned pro, these shoes can be your daily driver. They perform on most routes, are very nice to wear, are durable and cheap. For the price it's also hard to find another option that is as versatile as these.
If you're trying to send your hardcore project route, then this shoe might be not your best fit, but for good performance with top-of-the-line comfort these are very high on my list.
When it comes down to just getting your climbing in, me and my friends have always been glad we bough them, and we have been rocking them inside the boulder gym, climbing gym, outdoor pitches, boulder problems in winter and summer. A great all-rounder!
For more climbing articles like how to get better bouldering, and how to train more effectively keep on reading!