Looking for the best and most reliable backpack for climbing is not a simple task. It doesn't matter if you are out with colleagues for a few days of cragging or settling in for a bouldering session, you will require the best backpack to efficiently and snugly carry your important accessories or gear. However, how will you know if the backpack in front of you is the best option?
Gone are the days of climbing consisted of swami pants, a hobnailed boot, and weeks spent nailing pitons in granite swaths. Today's preferences in climbing gear have changed to durability, simplicity as well as careful style, and bags have followed suit.
Juts the most excellent climbing bags, like the ones listed below, can provide that combination of simplicity, lightweight, as well as comfort needed while climbing. A climbing backpack like the harness is an extension of your body and provides the freedom of movement needed while holding precious tools closer to you. Please join us as we review the best backpacks for climbing available on the market. This gives you an assurance that you are buying only the best and most reliable one.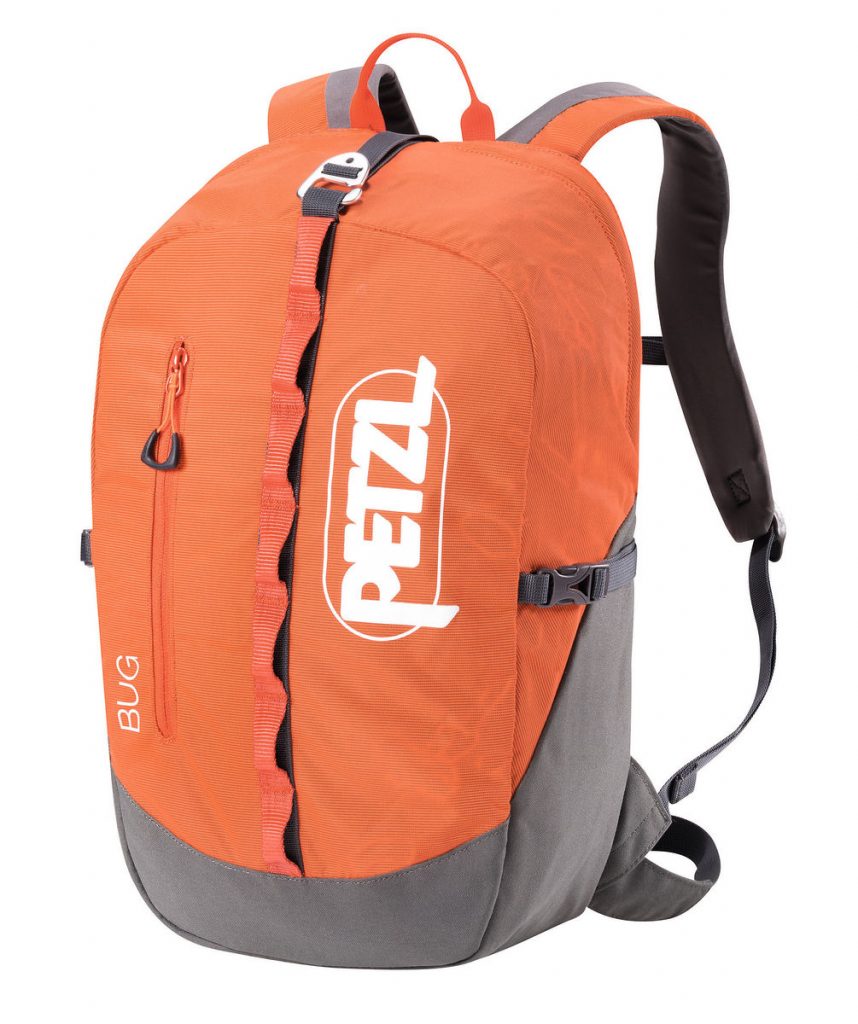 1. PETZL – Bug Climbing Pack, 18L / 1098 Cubic Inches, Gray: Best Follower Backpack
Key Features
Lots of essential features

Durable

Climbing oriented
If you are searching for a superbly well-featured, well-made climbing backpack, look no further than PETZL bag. It does exceptionally well on the approach as well as the climb and will hold all your gears easily for a long day on the ice or rock. This is the most reliable follow backpack and shines once it used along with another minimalist, light pack.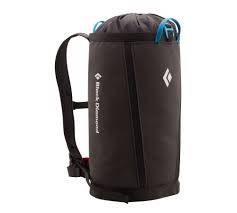 2. Black Diamond Unisex Creek 20-Pack: Ideal for Cragging
Key Features:
The front flap is zippered with internal organizer pockets 

Top loading style with drawcord closure 

Tuck-away rope belt and stowable rain hood which serves as a storage of rope and a helmet 

1200d polyester coated with TPU

The flat base keeps this bag standing for fast loading 
If you are into cragging and looking for a backpack to maximize the experience, Black Diamond Unisex Creek 20-Pack is the best option. This is a straightforward crag backpack with the hardiness or haul bags, as well as the versatility of groundbreaking packs to secure the requirements of on-route essentials. This crag bag is made of lightweight and durable nylon. It has a standing shape as well as a top drawstring with comfortable dual purposes shoulder belts as well as waist belt, which include a thermoformed back panel for additional comfort on long climbing.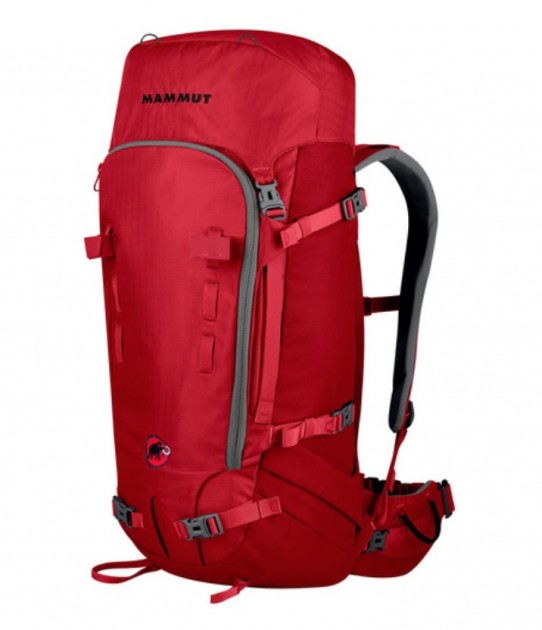 3. Mammut Trion Pro 50+7: Easy Access Backpack 
Key Features 
Detachable 7 L lid to lessen and ease the backpack or just bring a small daypack

The external water bottle container 

Belt under the lid to keep the rope secure and safe 
This climbing backpack is made by a Swiss Company, so you assured of durability and toughness. This is a perfect backpack for people who enjoy climbing on ice with easy access pockets in many points. It has a zipper on the base of the bag that enables you fast access to bigger gears packed away first, without the need of taking the whole thing out. It is also integrated with side zipper pockets that can accommodate smaller items such as snacks. Thermos and water bottles can be accessed fast once they are kept in the exterior bottle pockets. The Mammut bag comes with a tiny pocket located on the waist belt to store small stuff like keys and cellphones to avoid misplacing. 
It also comes with a zipper pocket at the front, which opens wide enough to hold crampons. For carrying tools, this bag has ice pick tool panels located at the lower portion of the bag, which picks easily to suit into with tabs on its side to keep the handles secure and safe. To lighten or reduce the volume and the load, this climbing bag comes with a detachable lid. And underneath the cover, you will find a cinch belt that can be utilized to secure a cord on top, so you don't need to store it in the backpack. This is considered the lightest backpack. However, it will keep things organized.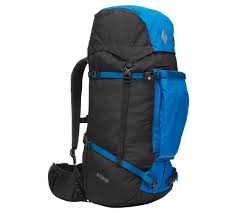 4. Black Diamond Mission 55: Ideal for Ice Climbing 
Key Features 
Ice tool attachment 

Detachable hip belt 

Front crampon pouch 
Black Diamond is a leading provider of tools for climbing, and their latest offering is the Black Diamond Mission 55. This climbing backpack offers climber with the state of the art features needed for a successful and memorable ice climbing. This backpack is made for holding ice tools with the tabs located on the front intended to secure handles. It also equipped with ice pick tip panels located at the bottom to avoid falling off. 

5.
Arc'teryx Alpha FL 30 Backpack
: Best Alpine Backpack
Key Features
The tough made back panel offers support and structure at the same time keeping comfortable against your back.

Seam-sealed for water resistance

The collar is extendable with drawcord for extra capacity

Removable, adjustable sternum belt

Thermoformed shoulder belt
If you are looking for an alpine backpack, look no further than Arc teryx Alpha FL 30 Backpack. This is fast and ultralight, weather-resistant, alpine strong as well as a sterling example of sophisticated, use specific design. This is made for climbers. There is an intense focus on the realities of moving quickly in alpine settings led to this streamlined, versatile backpack that combines leading edge.
This backpack is made of weather impermeable, extremely tough N400-AC fabric, RollTop closure, and taped seamed combine to keep out elements as well as secure the contents inside. Without extraneous aspects or materials, this bag sheds gram, however, doesn't sacrifice vital features. It has external bungee attachment secures tools, belay parka, sleeping pad, helmet as well as crampons. A simple belt located at the top ensures a wire, and the exceptional laminated shoulder belt construction provides a comfortable carry without needless weight. There is an external safety pocket where you can store some of your small essentials like keys and hand sanitizers.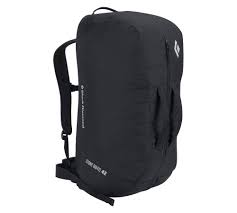 6. Black Diamond Stone 42: Best Bag for Long Approaches
Key Features
Super lightweight framesheet that has back panel for extra comfort

Tuck away cushioned shoulder belts as well as a webbing waist belt

Full-length zipper access

It has a detachable rope tarp with a dimension of 1.2 by 1.5m

Dual internal zippered organizer pockets
If you are searching for a backpack ideal for long days climbing or long approaches, look no further than Black Diamond Stone 42 Duffer Backpack. This amazing climbing pack blends all of the conveniences in a climbing backpack with easy access as well as durability of the duffel bag. As a result, Black Diamond Stone 22 is an ideal backpack for long days climbing and long approach many single pitches.
This type of climbing backpack was made keeping in mind the comfort and lightweight. This is integrated with a back cushion panel as well as a super lightweight framesheet to fit your comfortably and snugly. It is also combined with tuck-away cushioned shoulder belts as well as a basic webbing waist belt for better flexibility if you are on the crag.
It has full-length zip and carrying handles that provide stress-free and simple carrying options, and the fastest access to your gears while sorting out is ideal and easy with the integrated dual internal zip pockets. What makes this backpack for climbing exceptionally is the detachable 1.2m by 1.5m rope tarp for extra versatility.

7. Black Diamond Bullet 16 Backpack: Offers Lots of Storage Space
Key Features
Couture fit for excellent comfort

Hydration nose port

Durable and tough due to the superior ballistic nylon build.
Aside from being thin and sleek, this backpack for climbing offers lots of storage space as well as toughness. This is a superb all-rounder, which will surely please professional and first-timers' climbers. Sporting a respectable sixteen-liter capacity, this backpack has external zippered pocket what is more to the main, cushioned one and detachable foam back panel.
It also comes with a 20mm webbing waist belt that can be detached with ease if required. It has a hydration hose port that allows you to drink water regardless of your position, without getting rid of the bag on your shoulders. The integrated straps are made to fit in your without affecting the movement comfortably. The shell is made of high-quality ballistic nylon materials offering sufficient toughness.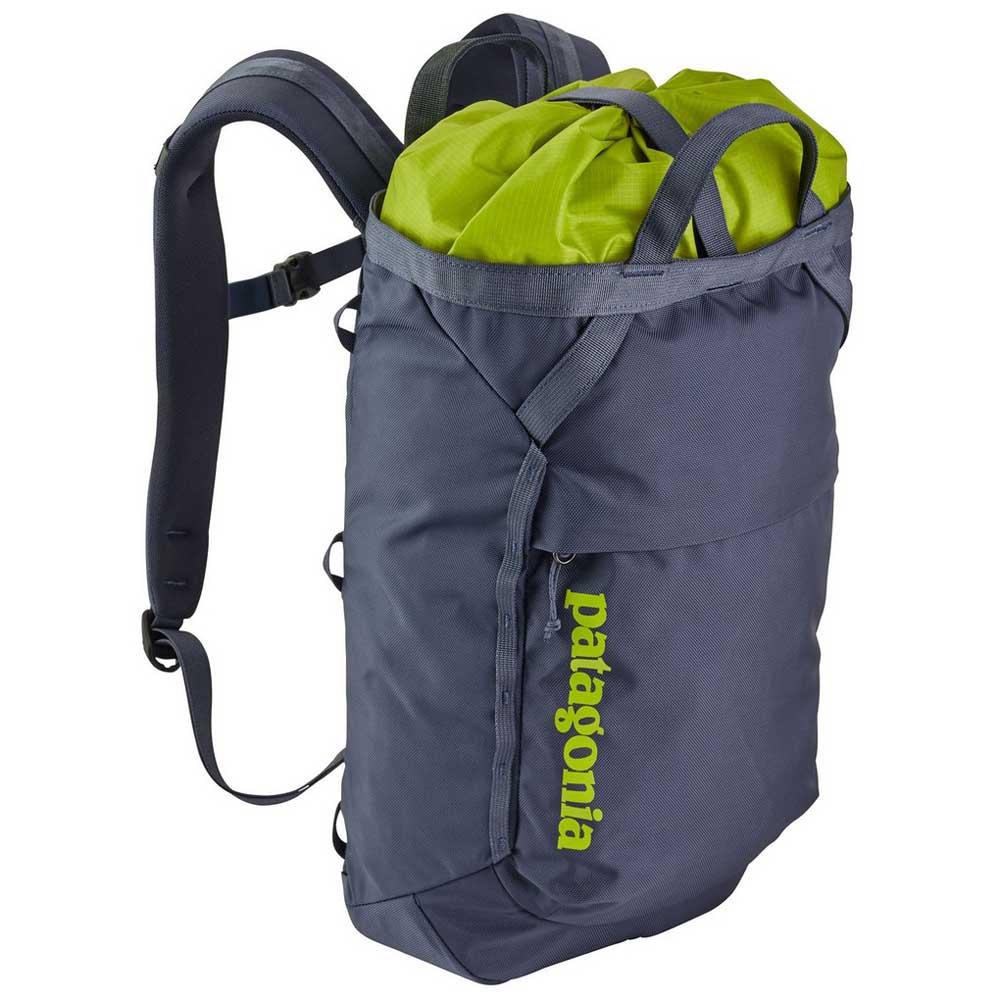 8. Patagonia Linked 18L: Reliable Backpack for Climbing
Key Features
Comfortable

Fast access

Durable
From climbing to hiking, the company is synonymous with reliability as well as toughness. This backpack for climbing is sturdy, well-made, a climbing-specific backpack that does just as well on your shoulder and back as linked to the end of a haul line. It comes with a tapered build that sits high and close to your contour and is secured with soft but comfortable shoulder belts, while the tough nylon fabric, as well as reinforced haul, handles, make it sufficiently strong to drag up the coarse rock. This pack hangs with ease from the anchor by two loops, which allows it to open extensively and offer fast access without dropping the gears inside. This backpack weighs 3.7 ounces, which is more substantial compared to other models of the same capacities.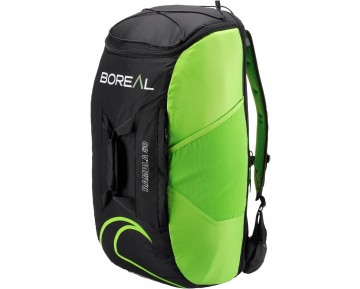 9. Metolius Crag Station: Cheap Crag Backpack
Key Features
41L capacity

Weight 10oz

Very durable

Cheap
Combining the convenience of duffel bags and carrying comfort of backpacks, this backpack for climbing from Metolius boasts exceptional styles and designs. It zips open wide, so you can easily access the gear inside. It also comes with a reinforced side with Duathane, a similar component utilized on haul bags- to improve durability. However, it just comes with one size suspension system, meaning it will not fit people with small or large builds. What is more, the style does not give access to a u-shaped zipper. There is no padding to give a wall between the sharp gear and your back.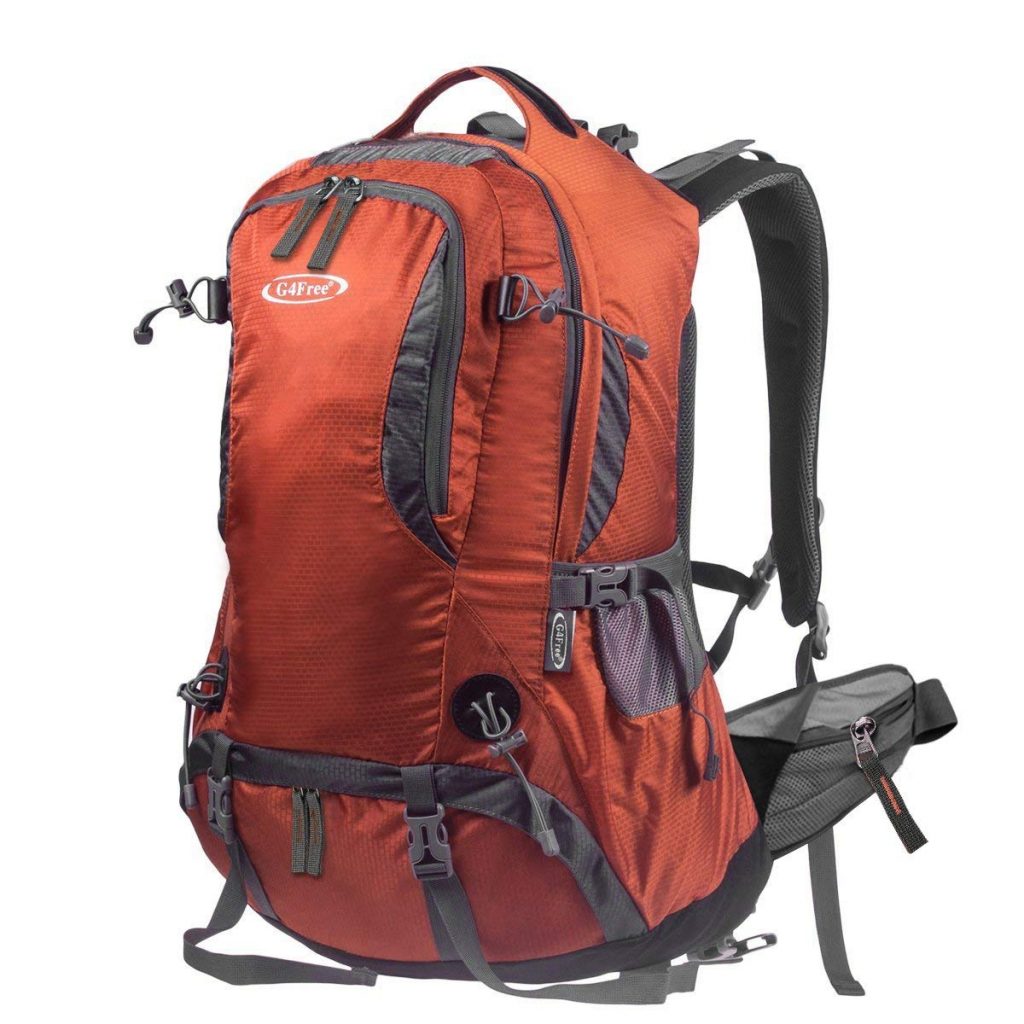 10. G4Free 50L Climbing Backpack: Toughest Backpack for Climbing 
Key Features 
Los of storage space

Waterproof material

A rain cover is included.

Numerous available small pockets for small gears
If you are one of the many climbers out there searching for a backpack with lots of storage spaces, then G4Free might be the best option. This pack is made of hard and water-resistant nylon materials. This stays its shape no matter what gear you place inside and has lots of additional wallets to store small belongings. Inside the bag is a shoe compartment and sufficient space to keep garments as well as tools for many days. 
There is also a hydration bladder, a rain cover, in order to complement the superb water-resisting features. You will also find waist belt pockets for keys and phones, dual side pockets for tissues and umbrellas, as well as a big zipper pocket for fast access to gears. 
How to Find the Right Climbing Backpack – Your Buying Guide
If you don't know how to pick the right climbing backpack, or if it is the first time you purchase a backpack, there are many factors you must think of. Picking the right backpack is essential. You carry your backpack during the whole duration of hikes, bet it many days or few hours; it holds all your needs; hence you want to be of the right size, not too small or not excessively big.
Finding a good climbing backpack for your needs requires thorough research, spend some time and spot deals. Here are the essential factors to consider when buying a backpack.
Fit/Comfort
Comfort and fit may be the most vital features to consider when buying a backpack. A lot of backpacks available are integrated with chest straps, waist belts as well as adjustable straps, and this allows you to modify the feel and deal out the weight as best as you can. When choosing a backpack for climbing, make sure to move it around in a loaded backpack prior to heading anywhere near a rock wall, and bring the backpack bag when anything does not feel good.
Stability
This goes along with comfort. How you put the accessories inside your bag will affect the feel of the backpack. However, having bands or belts to loosen or tighten is a feature which expert suggests having if you have a plan of going on a long trip. Your objective will be to have a backpack that not just fits comfortably on your back but does not sway around while you are moving. Therefore, you need to check for the design and well-placed belts when making a choice.
Size and Storage
Different backpacks have different capacities. A crag pack is likely to be bigger as it needs to accommodate more things, while a follower pack is smaller. Pick cautiously prior to setting out, since a bag which is just half-full is annoying and risky to carry on the rock walls. It is advisable to stuff a smaller backpack to its limit, instead of leaving it empty. The dimension has to be balanced to your body, enabling you to move without stress and hindrances and without causing distort.
Durability
A lot of backpacks for climbing are made of nylon materials; however, you have to pay attention to the number next to it to get an idea of its durability. A durable backpack is required for climbing as it often comes in contact with unforgiving thorns as well as sharp rocks. What you must do is to look for ballistic nylon, as it offers superb toughness while keeping the weight low.
Weight
Ounce matter when climbing, and this is the reason why alpine backpacks look simple and plain from the exterior, without outside pockets. As they are made for a particular task, this is made to suit the needs of such a task. However, a crag pack comes with many pockets as well as storage compartments given that it is able to afford to be heavier.
Material
Nylon is an extensively utilized material in backpacks for climbing. It keeps the weight low at the same time offering a good toughness and durability, features which are absolutely required in a piece of climbing accessory. When the nylon is thick, the backpack will be stronger and tougher, so this is what you need to aware of if you need reliability and strength. However, if you opt to agility and speed, you can give to shave off some nylon layers, keeping in mind that extra care is needed.
Support
It is highly advised to pick a bag for climbing, which has sternum belts as well as waist belts. These additional belts initially might seem to get in the way; however, once you know how important in distributing the weight, you will not want to be without these traps. Your back and joints will be saved from pressure, thanks to these sternum belts and waist straps. 
Closing Systems
When purchasing a crag backpack, then you will take pleasure in a bit more freedom in your option of closure systems. The fact that it does not endure alpine bags you can bring one shaped and get pleasure from your time. However, when climbing, you have to stick to backpacks, which have one top opening as it will keep away your gear from falling out when you opt to open your bag while you are hanging.
Exterior Gear
Fastening your accessory to the exterior of your bag can prove dangerous since an excess of tools will begin swinging around and perhaps change your balance. Once you take with a backpack, you must find lots of space, but ensure to fasten only items that you'll be wearing.
Organization and Pockets
A crag pack features the most choices for organization and sorting out. This bag also comes with an array of side pockets as well as internal pockets that allow you to sort out your belongings neatly. A follower backpack does typically away with lots of pockets since their objective is to be user-friendly and fast to access. You have to keep this difference in your mind so you will not be astounded when perusing in climbing bag reviews.
Hydration Compatibility
A hydration bladder is a matter of choice. Some climbers do not want to hinder with surplus weight or fear that the bladder may get broke. Some take pleasure in having water close all the time, so many backpacks for climbing will have space to accommodate one, and anyone you pick perhaps you will get one.
FAQ
What exactly is a crag backpack?
This is a kind of backpack intended to carry all the required accessories to the base of the wall. Then the pack stays next to one who is holding the belay and normally will be tougher and bigger than other forms of bags or packs.
What is the importance of a backpack for climbing?
A backpack for climbing is an essential fear for those who love going to the mountain to carry the accessories required when climbing, such as water, food, and clothing. If you are a serious climber, you must have this one.
How many types of backpacks for climbing are there?
There are many types of backpacks for climbing available on the market today. You can choose from a follower, alpine as well as crag backpacks. A crag backpack keeps all the needed accessories for your hiking, serves as your portable home for the tools, and is more prominent as well as more cushioned. A follower backpack, on the other hand, is made to be utilized on multi-pitch routes and can accommodate many supplies. An alpine pack withstand both climbing as well as hiking and is a bit bigger compared to the two mentioned and ideal to use when climbing for a few days.
Conclusion
An ideal and reliable backpack for climbing is one of the best and essential pieces of equipment that climbers both skilled and newbie must-have. In this review, we have shown the top ten best choices, the ones which combine lightweight with durability as well as user-friendliness. Follow this guide to make an informed choice and find one that meets your needs and, of course, your budget. Good luck in your search!
Follow our guide to make the best decision and find yourself an excellent ally for those but rewarding days on the rocks.
For more reviews:
Best Crashpad in 2022 for Bouldering