Rock climbing shoes are one of the items in rock climbing that you cannot substitute for, and when you are beginning with rock climbing, a pair of cheap rock climbing shoes can be a good investment. Running shoes, for example, are not good for climbing, and if you ever tried to do rock climbing with hiking shoes, you probably felt that it's simply not possible.  As with most new hobbies, it's usually a good idea to take it slow with the money spending, as there are many parts of climbing where you can spend hefty sums on. There are many reviews that claim to have cheap climbing shoes reviewed, but honestly, a pair of $150 costing climbing shoes are not cheap if you ask us.  If you want a pair of cheap climbing shoes, they better cost less than $100! Time to search for some really good climbing shoes under $100!
What are the best cheap rock climbing & bouldering shoes under $100 for 2022? Read our review; we put together the best deals to help you find a cheap pair of rock climbing shoes that will still serve you well. The quick answer: La Sportivas "Finale" is the best cheap rock climbing & bouldering shoe under $100 shoes we reviewed so far.
Why Good Rock Climbing Shoes Are More Important Than You Think
When you start out, you might not even know it, but footwork is super important for climbing. Yes, your arms are doing a lot of work, too, but having a strong core and knowing how to use your feet properly is one of the most underestimated skills in climbing. If you want to know more about this, read my article about footwork in climbing, you can find it here.
No matter where you climb: Gym with plastic holds, rock slabs or overhangs, and even boulders, you will always need your feet to get a good hold of the features of the wall. We also put together a little guide that makes it easier to pick the right climbing shoes for you to get you started.
Review – The Best Cheap Climbing & Bouldering Shoes for 2022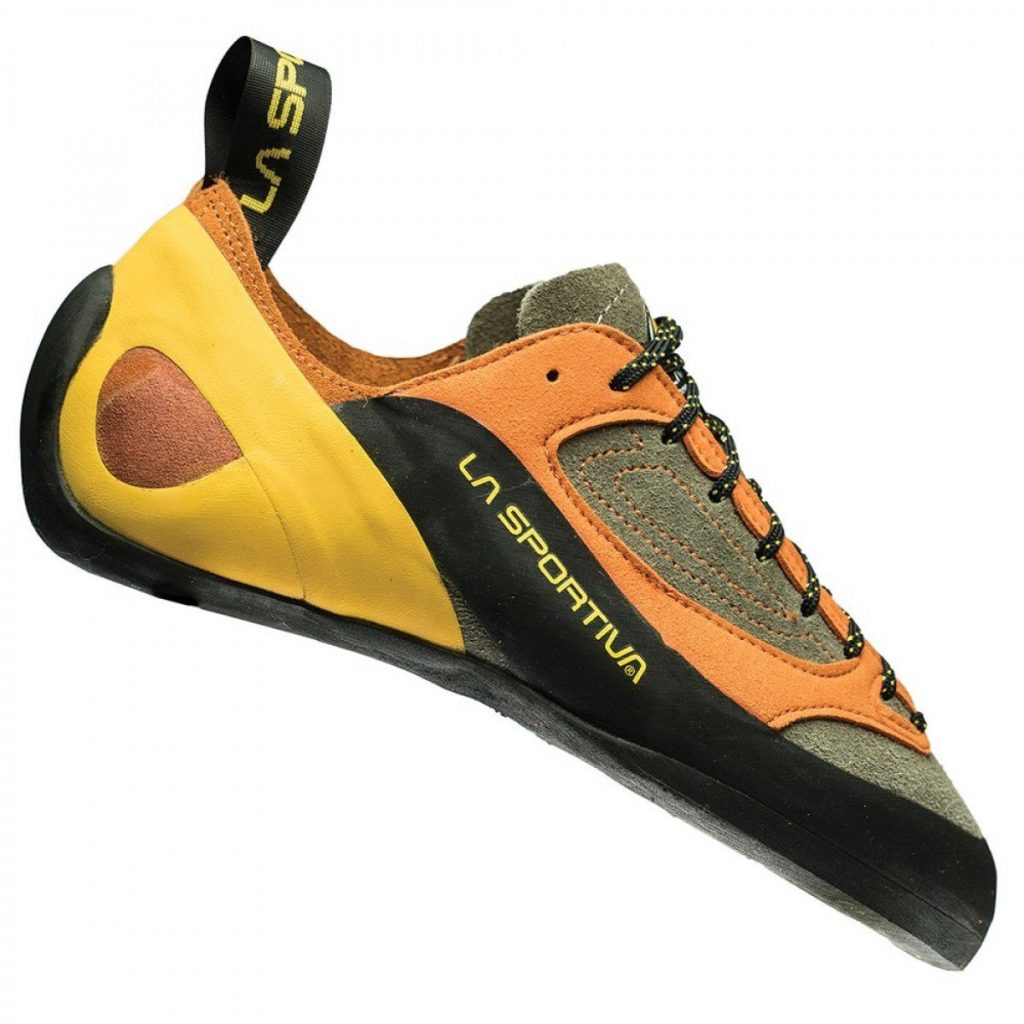 La Sportiva Finale – Price: $95 – Rating: 4.8/5
Quick Facts
Closure: Laces
Liner: No
Upper Material: Leather/Microfiber
Weight: 1 lb (450gr)
Outer Sole: 5 mm Vibram XS Edge Rubber
Notable Features:
Slip-lasted feels more sensitive and less stiff
Can Be Resoled
Tensioned Heel Edge: Thicker heel for more support
Best for: Allround Climbing & Bouldering
The Finale is on the beginner end of La Sportiva's shoe selection. It is still a super solid shoe, not only for beginner climbers. The sole is nice and sticky, made from Vibram XS rubber, and performs well on edges. This makes the shoe a real comfort builder for beginners, giving them confidence in their footwork. The fit of the Finale is surprisingly good for a cheap climbing shoe, thanks to its tensioned heel. The back of the shoes does stretch a bit.
As the upper material is completely unlined, the shoe feels really comfortable. You can still easily adjust the shoe thanks to the laces, and while the shoe is more expensive than some other cheap climbing and bouldering shoes, you can still find it for less than $100. Versatility and durability of this shoe are more than worth the added cost.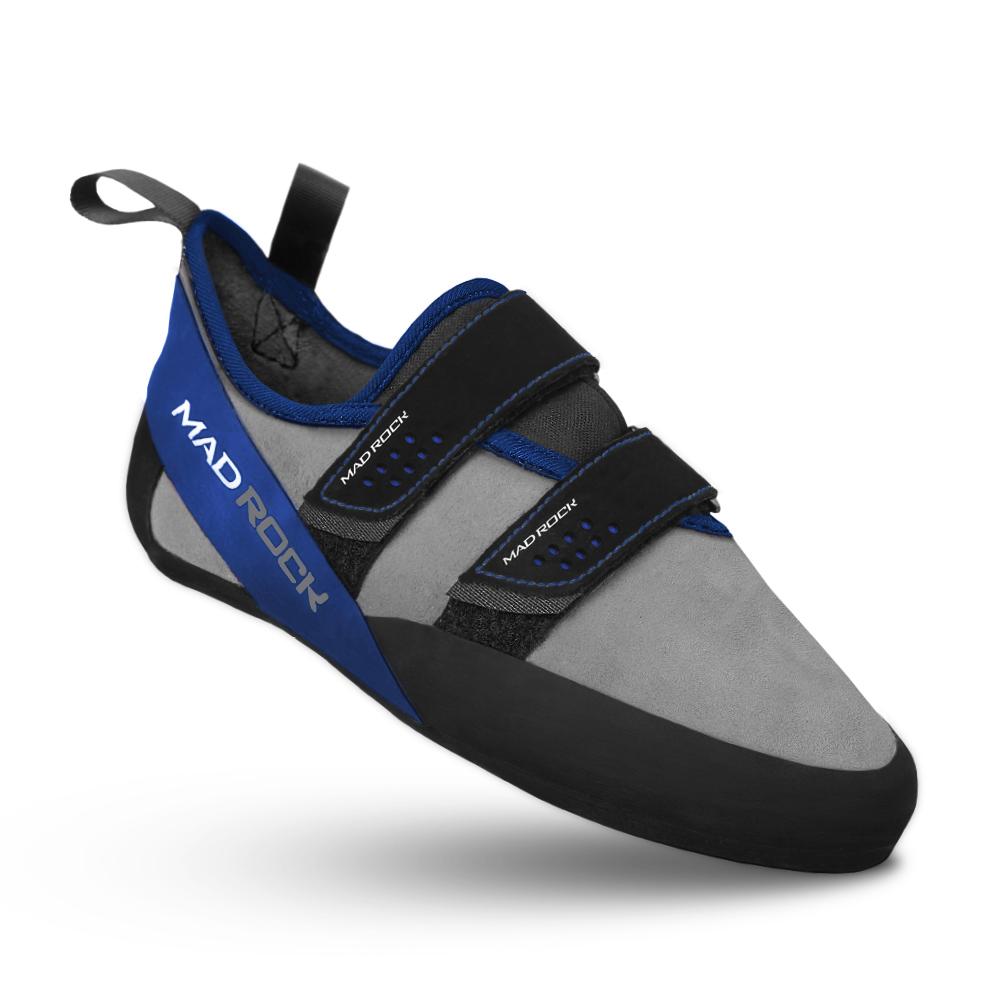 Mad Rock Drifter – Price $95 – Rating: 4.4/5
Quick Facts
Closure: Velcro Strap
Liner: Polyester
Upper Material: Leather
Weight: 7.9 oz (ca 250gr)
Outer Sole: Science Friction 3.0 Rubber
Notable Features:
Slip-lasted feels more sensitive and less stiff
Asymmetrical Curvature for moderate edging
Lined Toe Box means more comfort
Best for: Best Value for the Money
This shoe is a gym shoe, no way around that, with it, 's simplistic flat profile it performs super well on hard gym problems. But even if you like to tackle hard boulder problems outside, it works well. Sure it won't keep your feet warm when it's cold outside, but the double velcro closure fits tight and makes it very easy to remove the shoes between climbs. The upper section is leather and provides a high level of comfort while the lined toe box helps to prevent overstretching of your toes.
Mad Rock uses their own rubber mixture that they call Science Friction, and it's really good. Beginners can rely on high traction, which gives them confidence. Advanced climbers will love the material too, but take note that it wears down faster than some competitive shoes, especially if you wear the drifters on rough outside climbing routes. Then again – at their price point, you cannot really go wrong!

Scarpa Helix – Price $99 – Rating: 4.3/5
Quick Facts
Closure: Laces
Liner: None
Upper Material: Leather
Weight: 15.2 oz (ca 500gr)
Outer Sole: Scarpa 3.5 mm XS Edge Rubber
Notable Features:
Stiff, board-lasted sole means this shoe is not that sensitive
Resoling possible
Light heel cup: It has some padding but still feels flexible
Best for: Climbing in comfort
If you want shoes that feel almost like socks, the Scarpa Helix might be for you. The Italian company provides this shoe with a nice cushioned heel cup, which makes it super comfortable to wear for long periods of time. You can even keep them on between climbs. The lacing goes to the very end of the shoe, giving you a very good fit for any type of feet.
This shoe is just below the $100 mark – which means they barely made it on our list of cheap climbing shoes for less than $100. But the 3.5mm XS Edge Rubber sole is very durable and works for anything outdoor climbing related. You can send edge and crack climbing as well as granite multi-pitch climbs, which makes this shoe a good choice for both beginners and advanced climbers.

Evolv Nighthawk/Skyhawk – Price $75- Rating: 4.2/5
Quick Facts
Closure: Laces
Liner: None
Upper Material: Leather
Weight: 1 lb. 2.8 oz (slightly above 500gr)
Outer Sole: 1.4mm full-length MX-P midsole, and 4.2mm Trax SAS sole
Notable Features:
flat-lasted sole means this shoe is not that sensitive
Resoling possible
Toe not super asymmetric – this shoe is not the most precise one out there
If you need a good pair of shoes for climbing gym and outdoor for less than $80, the Nighthawk and its low-volume companion Skyhawk are the best choices. Both feature a laced closure, making them tight-fitting shoes, and an unlined leather upper side. The tongue is made from a synthetic antimicrobial material, preventing smells. Testers found them comfortable to wear for a long time. No matter if you climb smearing routes, pockets, or trad. routes, they work very well.
The toe is not super aggressive and asymmetrically shaped like some other more high-performance tiered shoes, so this shoe is not the most precise, but it still works well for day to day climbing. If the holds become smaller, you just need a little more force to squeeze your toes on them. For hardcore overhung climbing, these shoes are not really suited either, understandable given the flat last. Evolv offers a pair of super comfortable, good climbing shoes with great durability and a lack of performance for hardcore technical routes.
Things to keep in mind when buying cheap climbing shoes or bouldering shoes
Costs of climbing shoes
This list consists of shoes costing less than $100, and some of them are great for indoor climbing, bouldering and some of them work outdoors and indoors. You can wear these shoes for bouldering as well, but some will not work that good on bouldering problems, as bouldering problems are often very overhung.
While there are models that work super good for advanced climbers, you should keep in mind that most of the reviewed shoes are not geared towards super difficult routes. More expensive climbing shoes offer far better performance when it comes to overhanging routes, aggressive small footholds, or hardcore slab routes. But if you just start out, and want to keep investment to a minimum, these shoes will serve you well for the first 2-3 years, until you become more advanced. They are perfectly well suited for daily training in the gym, and for extended days at the crags. Just remember, there will be a time when you outgrow these shoes, and then you should upgrade to a more expensive pair of climbing or bouldering shoes.
Profile and shape of bouldering and climbing shoes
The profile is one of the most important aspects of the shoe. The profile is defined by the shape of the shoe, and a neutral profile tends to work very well for beginners or for advanced climbers that want comfortable shoes.
More aggressively shaped shoes are usually more downturned and fit tighter. They work better on hard boulder problems, overhung routes, and they are a good choice if you want to climb hard routes and boulder problems. But these shoes are not comfortable – you pay for the extra bit of performance with a lack of comfort. Beginners sometimes even describe these shoes as painful, although your feet will get used to the squeezing. It's normal to ditch these shoes between climbs, so if you go climbing in colder weather, make sure to keep a comfortable set of hiking or approach shoes with you, to quickly change shoes between climbs.
It's easy to identify aggressively shaped performance shoes, as they usually have an asymmetric shape and curvature
The fit of the climbing or bouldering shoe
Climbing shoes are not so different from normal shoes when it comes to fit: Your heel shouldn't slip or rise up when you move towards the wall. Fit them on in the shop by starting with your street shoe size, and gradually increase this size until the model you like fits. Climbing and bouldering shoes should fit snug but not painfully tight. Your toes will curl down, especially in aggressively asymmetric performance shoes, but this is only to maximize grip on rocks and pockets.
Traditional climbing shoes
These shoes are often more comfortable, as trad climbers often climb long multi-pitch routes where they keep the shoes on between pitches.
Bouldering/Difficult climbing
Boulderers usually wear really asymmetric aggressive shoes, as they tackle hard overhung problems, often with minimal holds. These are not shoes you can keep on your feet for long times, so be prepared to feel uncomfortable when you get a pair of bouldering shoes!
By the way, climbing and bouldering shoes come in half sizes, and a half size can make a huge difference. As many climbing shoe companies like Scarpa, La Sportiva, and MadRock come from Europe, they are sized in UK or European sizes, so better be careful and do some conversion before you buy them. The size of your street shoes should only be the starting point – you won't get around trying climbing shoes on to find the perfect pair. Evolv and FiveTen work best with street shoe sizes, while others like Scarpa and La Sportiva might need some trying and error to find the right size.
Stiffness and Stretch
If you buy new climbing or bouldering shoes, also cheap ones, they will need some time to break in. Especially leather made shoes like the Mad Rock Drifter or the Scarpa Helix, and Evolv Blackhawk and Nighthawk will stretch for a considerable amount. Synthetic shoes tend not to stretch so much, so you can fit them a bit more snug than leather shoes. As most leather climbing and bouldering shoes are also unlined, they stretch even more compared to synthetically lined shoes
The sole – rubber for traction
The rubber is the secret sauce of a climbing shoe. It's what makes climbing shoes climbing shoes. Usually, sticky rubber is soft and wears down faster than stiffer rubber that is not as sticky. If you need high levels of friction for smearing, you need soft rubber. Edging works better with stiffer shoes. If you are new to climbing or doing multi-pitch climbing, its a good idea to get a stiffer shoe with more durable rubber and less traction. Keep in mind, you can usually resole climbing and bouldering shoes, and it saves you a lot of time and money as you won't need to buy new shoes and break them in again. If you want to know more about climbing shoe soles, read this article here!
Types of closure: Velcro or laces work on both bouldering and climbing shoes, slippers are usually not so good of an idea
You can buy climbing or bouldering shoes with 3 basic types of closure mechanisms: Velcro, Laces, and Slippers.
Laces are great for adjusting the fit, and they will give you the most amount of control over the fit. But they take on longer to put them on and off, which makes them a better choice for all-day climbing and multi-pitch traditional climbing routes.
Velcro can be tightened a lot, almost as good as laces, and provides you with a mechanism for faster putting the shoes on and off. This makes them perfect for crag climbing or bouldering, and when used on aggressive asymmetric performance shoes – as you will want to get them off your feet once you are done with climbing. But keep in mind, velcro gets dirty easily, and if you climb in muddy areas, or have a lot of dust around your belaying base point, then you are in for some cleaning. Velcro closure can also be used to open up the shoes on longer climbs to get some air on your feet without taking them off – nice for multi-pitch routes!
Slippers are the easiest to remove, and most comfortable. But they also often won't fit very well, and most slipper shoes are basic and unlined. They tend to be used in specialized climbing methods like crack climbing.
Weight
Weight is an important aspect to consider when you want to climb hard and fast, so keep it in mind. A robust thick sole and thick materials on the upper and liner will increase the weight. The Mad Rock Drifter is a good choice if you want a lightweight shoe.
Features of the reviewed climbing and bouldering shoes explained
Outer sole
The part of the shoe touching the wall. This is your main contact point with the climbing route or bouldering problem. Made from rubber
Inner sole
This is the part of the climbing or bouldering shoe where your foot rests. Some shoes include an antimicrobial lining inside the shoe.
Edge of the shoe / Rand
The part of the shoe that wraps your toes and the sides of the shoe.
Toe Box
The front portion of the shoe, where your toes rest. Toe boxes can be asymmetrically shaped, making it easier to find grip on small pockets of rock.
Heel Cup
The section of the shoe where your heels are resting. It's a part of the shoe that becomes super important when you like techniques like heel hooks.
Conclusion
Hopefully, this review works well for you, feel free to comment and post and tell us if you want us to review another pair of cheap climbing shoes!
For more reviews:
Best Winter Climbing Pants 2022