Suitable for climbing and conditionally crampon proof, comfortable, robust, and as light as possible: The expectations of all-round light mountaineering boots are high. We have tested 5 light mountaineering boots.
Qualities of a good  light mountaineering boot
When it comes to combining comfort with climbing performance in high alpine terrain, on snow, ice, and in combined climbing with crampons, the demands on mountaineering boots are high. Especially since the ascent to these regions of rock and ice also needs to be done with pleasure and without blisters.
A completely stiff sole designed for fully automatic crampons greatly impairs walking comfort on meadows and paths, which is why we have only tested "conditionally crampon-resistant" boots with a stiff but not rigid sole for crampon fastening with basket and rocker. This is not the right choice for a WI6 icefall, for glacier tours, classic ice walls, pimple-hard, steep snowfields – and with rigid crampons also for moderate combined climbing, all the more so.
This is how we have tested: Criteria and terrain
Weight and freedom of movement were taken into account, both when climbing and walking. We tested the walking comfort on paths, meadows, rugged terrain, and scree, on steep ascents and descents as well as crossings. Then we also took a close look at the details, whether it was a practical tightening loop on the shaft or a functional fixing eyelet to be able to lace up the boot in a measured way. And we have tested the climbing suitability on high alpine climbs in rock, ice and snow: on the Monviso East Ridge, in the Maritime Alps, in the Basodino Group and on other high alpine peaks – from spring until the editorial deadline at the end of September.
The five mountaineering boot models in detail (with technical data & individual evaluation)
Asolo Freney Mid GV light mountaineering boots
The Freney Mid GV offers the best forefoot fixation in the test field. A slim, flat toe box and the effective cross lacing on the simple but fine fixation hook make it possible. The climbing performance on rock gets very precise, and thanks to the relatively soft sole in the front, also sensitive. The support for the calves is still good, as is the use of crampons. Thanks to the sensible loop, it is easy to get in.
Rating Asolo Freney Mid GV:
Climbing: 5/5
Comfort: 4/5
Details: 5/5
Construction: Schoeller K-Tech & Microfibre, Gore-Tex Performance Comfort Footwear, Sole: Vibram Mulaz
Fit: flat, slim forefoot, strong contouring; turns out very small
Sizes/Colours: Men: UK 6.5-12.5, black/red/silver; no women's model
Weight: 1255 grams (pair, UK 8.5)
Price: 280$
Conclusion
The climbing professional: robust, precise, with plenty of room to move in the joint and, on top of that, decent walking comfort.
La Sportiva Trango Tech GTX light mountaineering boots
A soft, well rolling sole provides a lot of walking comfort on any surface, cushioning and padding are excellent. Unfortunately, the advantages of the flat toe box do not come into their own when climbing, because the forefoot cannot be firmly fixed in place due to the poorly metered lacing. In combination with the rather soft sole, the start is, therefore, relatively power-intensive and spongy.
Rating La Sportiva Trango Tech GTX mountaineering boots
Climbing: 3/5
Comfort: 5/5
Details: 3/5
Construction: ThermoTech Injection fabric, Gore-Tex Performance Comfort, Sole: La Sportiva Cube by Vibram
Fit: very flat forefoot, little contouring; falls out normally
Sizes/Colours: Men: 38-48, pumpkin, black/yellow; Women: 36-43, aqua/opal
Weight: 1224 grams (pair, men 42)
Price: 270$
Conclusion
Solid, comfortable hiking and light mountaineering boots, but more for meadows, scree, and glaciers than for climbing.
Lowa Alpine SL GTX light mountaineering boots
The lightest model in the test field has the highest toe box. In addition, there is a lacing with fixation function. The laces may rub against the deep draw hook above. The sole is the second stiffest. The calf support is good when climbing. However, you have to fight against foot rotation. In general, the fit is a bit spongy, also because of the slight contouring of the shaft. Climbing with crampons is great for this.
Lowa Alpine SL GTX Rating
Climbing: 4/5
Comfort: 3/5
Details: 4/5
Construction: Synthetic with injected PU scree protection, Gore-Tex lining, Sole: Vibram Alp Trac SL
Fit: relatively high toe box and relatively wide, hardly any contouring; turns out big
Sizes/Colours: Men: UK 6-13, orange/black; not for women
Weight: 1198 grams (pair, UK 8)
Price: 400$
Conclusion
Quite expensive lightweight, which must fit the foot. Then it is a solid companion for rough, rock, and ice.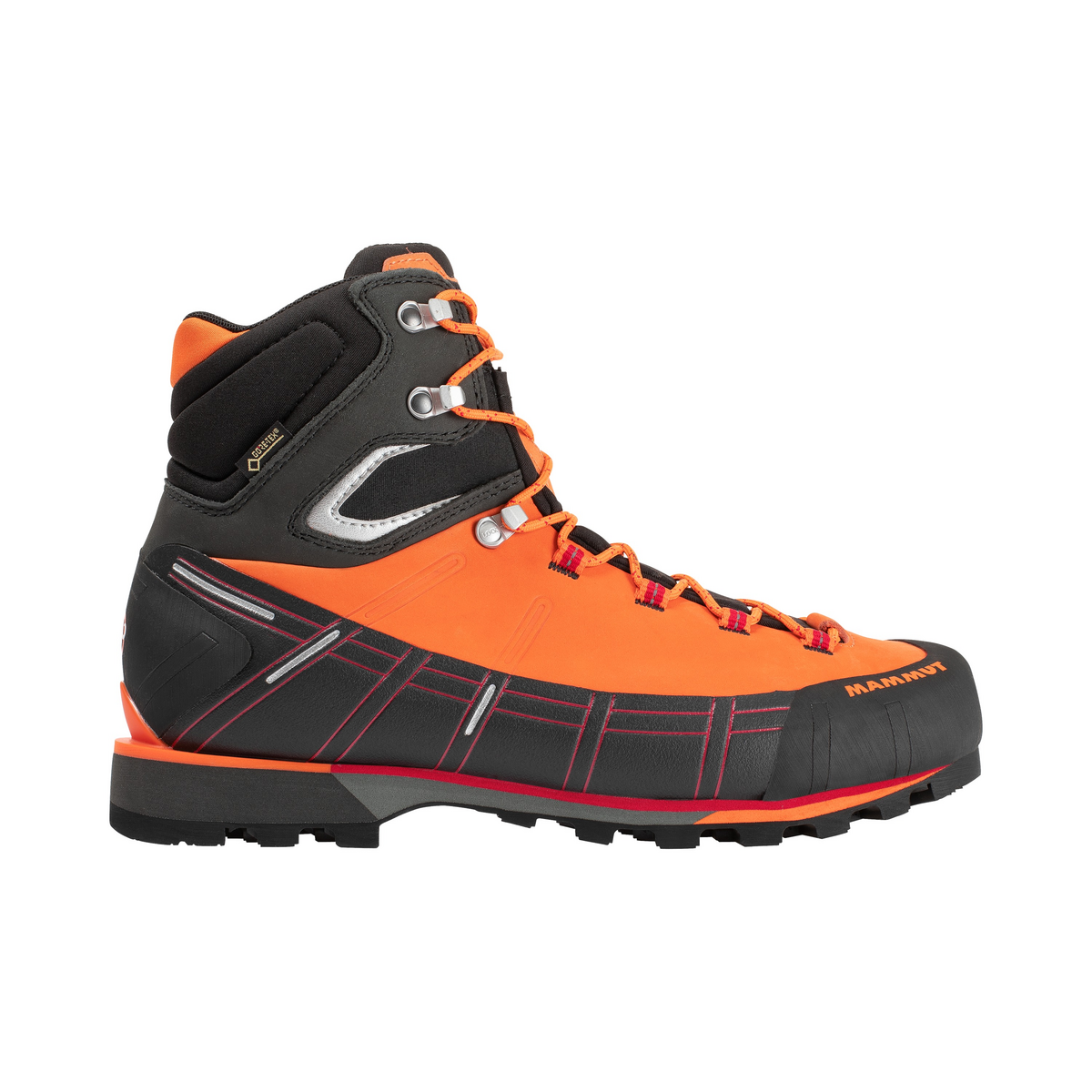 Mammoth Kento High GTXlight mountaineering boots
Once inside (no loop on the shaft), the Kento High GTX receives the forefoot with a slim, flat toe box. Even without a fixation eyelet, the lacing can be dosed properly, but it can rub the ankle. The stiffest sole in the field and the good grip provide the best support when climbing and the best crampon performance compared to the five models, but also the lowest sensitivity.
Mammoth Kento High GTX Rating:
Climbing: 4/5
Comfort: 3/5
Details: 4/5
Construction: Nubuck leather & softshell, Gore-Tex Performance Comfort, Sole: Michelin Alpine Lite 3970
Fit: slim, flat forefoot, little contouring; turns out small
Sizes/Colours: Men: 40 – 48 2/3, 3 colours; Women: 36 2/3 – 42 2/3, 2 colours
Weight: 1364 grams (pair, men 42)
Price: 230$
Conclusion
A stiff boot that can save weak calves from bursting. But it is not the most sensitive and comfortable.
Scarpa Ribelle Lite OD light mountaineering boots
Thanks to the well-positioned loop, the entry is smooth and supple, and a pleasantly padded and contoured lining awaits you inside. The walking comfort is accordingly praiseworthy. The shoe can also be laced to suit requirements without a fixing eyelet, but despite good fixation, slight foot rotation cannot be completely avoided. The transmission of force to small steps is still neat but good with crampons.
Scarpa Ribelle Lite OD Rating:
Climbing: 4/5
Comfort: 5/5
Details: 4/5
Construction: Scarpa Sock-Fit-XT with Tech Fabric, Microtech and Outdry membrane, Sole: Vibram Mont
Fit: normal, medium toe box, clear contouring; turns out normal
Sizes/Colours: Men: 40-48, tonic/black; Women: 37-42, ceramic/black
Weight: 1279 grams (pair, men 42)
Price: 320$
Conclusion
Robust mountaineering boot that offers a successful compromise between climbing and comfort.
Review conclusion
None of the light boots disappointed us. None of them has been able to gain its low weight by significantly reducing its robustness, and despite isolated points of criticism, all of them combine comfort and climbing at a decent level.
Nevertheless, two models have convinced us in particular: the Ribelle Lite OD by Scarpa and the Asolo Freney Mid GV.

For more reviews, check out these posts:
Best Winter Climbing Pants 2022