When bouldering on rock, they are the most important piece of equipment: crashpads. In Ticino, with its often sloping or blocked terrain, you often need several pads in Fontainebleau with its mostly flat landing areas one is usually enough. Here we give an overview of everything worth knowing about crashpads, so you can find the perfect bouldering crashpad in 2020. We also have the top 5 bouldering crashpads of 2020 reviewed!
What constitutes a good bouldering crash pad
The purpose of a crashpad is to minimize the impact energy on the falling body when falling from a boulder. In other words: to cushion falls as well as possible. With a 1.20-meter-jump onto a soft, level meadow – no problem. On the other hand, if you want to survive a three-meter fall over rocky ground with sharp edges without damage, you need some engineering skills and high-tech.
After all, the mat has to be brought to the blocks, which means it should not be too heavy. Crash pads are folded or kinked for transport, and the carrying system may well resemble that of a good trekking rucksack.
Also, under the block, the mats have to be moved quickly to adjust their position to the potential impact point of the boulderer. After all, the shell of the crash pad should be able to withstand rough rock contact for a long time, and its interior should be able to withstand as many falls as possible without being impressed.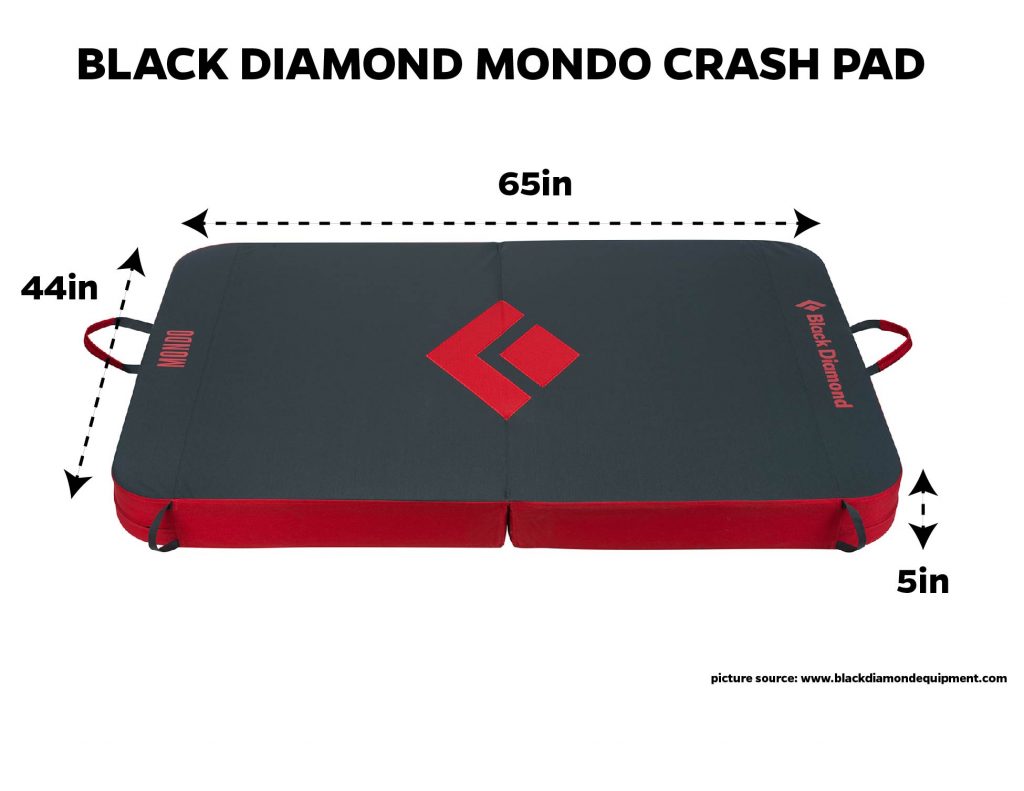 The foam of a crash pad makes the difference
1) Two or three, thin or thick: the number of foam layers and their matching depend on the intended use. 2) The outer skin suffers, particularly at the corners. Rounded and reinforced, it lasts longer. 3) All corners should look like the Black Diamond Mondo: equipped with positioning loops. 4) Almost like a rucksack: With the Petzl Alto, the carrying system provides a lot of comfort on the approach.
In 99 percent of all crash pads, this interior consists of several layers of foam. On top is a hard, closed-cell layer that distributes the crash energy, then a softer, mostly open-cell layer that provides cushioning. Often there is another closed-cell foam underneath, which is supposed to prevent the crash pad from hitting the ground. However, whether there are two or five layers is not decisive, it depends on the quality and coordination of the foams. Ultimately, it is just as important to cushion small falls with a back landing as it is to cushion foot landings after three-meter departures. Of course, the weight of the boulderer also plays a role. Compromises have to be made.
High-quality foams do have not only their price but also bring some weight. A 1.80m by 1.20m (2ft x 3ft) giant mat can weigh more than six kilograms (12 pounds) with high-quality, durable foams. But even the best foams cannot eliminate the construction-related weak points of a crash pad: at the edges and in the fold, whether folded or creased.
For the approach, the luggage (rucksack or bag) is usually stuffed into the crash pad, a belt strap on the underside prevents the loss of the load. Some mats have a flap that holds even small pieces of luggage on board. Burritos are generally easier to load than tacos. With mat and luggage, you can quickly reach 15 kilograms.
The format of the closed crash pad plays a role, especially in dense forests or on steep steps. Otherwise, the carrying comfort depends primarily on the weight of the load and the carrying system of the crash pad. Ideally, the latter is equipped with height-adjustable, padded shoulder straps, and a hip fin. For positioning the crash pads – especially with thick mats – there should be loops on all sides or at all corners. Even the best crash pad is of little help if you hit the ground next to it.
How long does a bouldering crash pad last?
The quality of a crash pad only becomes apparent over time – for example, when the mat still absorbs enough impact energy after 100 days of bouldering. At the same time, the cover and carrying system should also be able to withstand the strain. An abrasion- and tear-resistant nylon, as well as solidly fixed shoulder straps, are mandatory!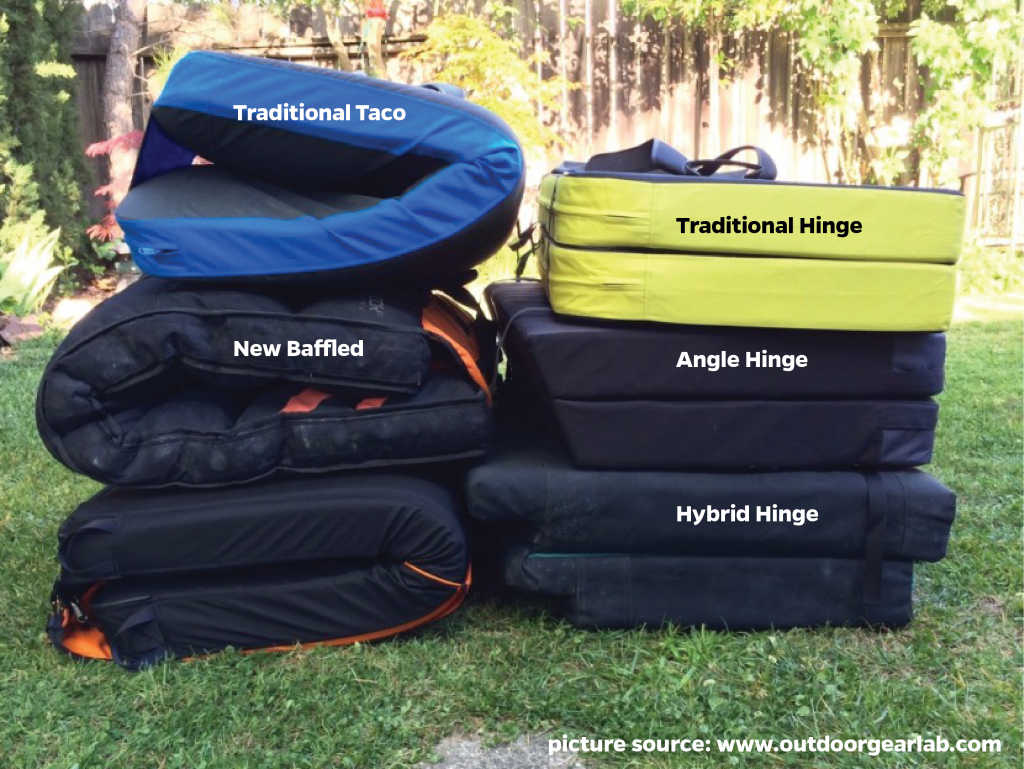 Burrito or Taco – The two basic designs of bouldering crash pads
Burrito or taco? Which construction principle you prefer depends on your personal opinion. We explain the advantages and disadvantages.
Burritos consist of two (three in the case of three-part pads) separate chambers, which are connected by the outer casing on the side where they spring open. Accordingly, they can be folded together at this fold and carried in it like a suitcase during short transports between the blocks with climbing shoes, chalk, etc. But the fold is also the weak point when you land on it with your feet.
Tacos only consist of one chamber and continuous foams. The fold is omitted. The problem is that the foam is bent when folding for transport. In order to prevent the particularly sensitive closed-cell layer from being bent sharply, the carrying system of tacos is often fixed on the side where it is attached. This means that when bouldering, it must be removed or covered.
Noteworthy Bouldering Crash Pads: Innovative cushioning, features & solutions
1) In the almost 15-centimeter thick Ocùn Paddy Dominator, the patented "FTS Absorption Block" with vertical foam tubes in an open-cell foam block provides the best possible protection against penetration, right up to the edge – unlike crash pads with conventional foam layers. Above this, as usual, a closed-cell layer ensures the distribution of impact energy.
2) An innovative damping system is hidden between two closed-cell layers in the Snap Wrap. It consists of 20 cubes connected by Velcros, which in turn consist of many foam/air cells with tiny holes in their shells through which air escapes on impact. The ingenious thing about it is that small bumps on the back are gently cushioned, while hard foot landings from great heights make the cells almost impermeable, thus ensuring high puncture protection.
3) In the 2017 remake of the Mad Rock Duo, the flap and straps are dimensioned so that a second pad can be easily attached. A high-quality carrying system rounds off the potential double pack.
4) On the underside of a normal taco crash pad, there is a bag filled with EPS beads to compensate for uneven landing surfaces. The Edelrid Balance is designed to provide extra safety on the blocked ground and on sloping landing surfaces.
5) It can be used twice, lengthwise, crosswise, or as a handbag. The Ocun Paddy Sitcase is a seat-launch pad that can be used to store shoes, chalk & co. When getting on.
Bouldering Crashpad Placement
Once the boulderer has been selected, the question of how to climb it arises: At which pull could you fall in which direction? Accordingly, the crash pad or pads are placed. If there are dangerous obstacles like blocks or tree stumps in the impact zone, they should be covered (or a landing there by a spotter should be excluded). To secure larger blocks, place one half of a burrito crashpad upside down on the block, with the other half hanging down to secure the front. Caution: The person falling should not be able to thread his feet into any straps.
An always-present danger zone is the edges of the crashpads, where thousands of sidebands have already torn at ankle joints. The only way to avoid this is to place the mats carefully or to use an attentive spotter to guide the falling person towards the middle of the mat. If several crash pads are lined up next to each other, the gap between the pads is also at risk of ligament and elbow injuries. Some crashpads can be joined together with Velcro strips, small, thin seat start pads that are placed over the gap do the same job. With two of these little helpers, you can cover the first low moves of a boulder, plus a small block or even a gap between two mats.
If there are not enough crashpads available to cover the landing zone of a boulder completely, the ground crew must always move the available crashpads in time. Be careful not to move the mat too early! If a sideways, dynamic pull does not fold, the boulderer usually swings back. During the moves, the eyes and hands of the spotter should be pointed upwards anyway.
Carrying system and transport logistics
If you think when you buy a crashpad, oh, the two lobed shoulder straps fixed with Velcro strips are enough for this light little girl, you are wrong. Because only with a pad nobody will get on the bike. One or two pairs of climbing shoes, chalk, brushes, vesper, enough to drink, plus weather protection, and the inevitable down jacket are always with you. Even with a five-kilo pad, you are quickly at double the weight, rather more. Stuff two or three ropes into the mat and run a few meters before you buy. If the shoulder strap is already tightening, you should think carefully about whether you want to arrive at the block with lame arms after half an hour of climbing. Unfortunately, especially with many normal-sized crash pads, the carrying systems are still treated somewhat neglected.
Something else about buying a crashpad: If you want a big pad, but mainly want to go bouldering in dense woods, you should not buy the widest pad, but think about a three-piece or double-bent mat.
With most models, the equipment can be transported in the crashpad. A slim backpack is ideal. Then you can shoulder your equipment when changing blocks and take the pad by the handles. Otherwise, backpack, seat start pad, and telescopic brush come between the two flaps. A shoulder bag is less recommendable, especially in rough terrain, as often the view to the feet is blocked. If someone wants to carry several mats, two long straps help to strap the pads together.
Top 5 Crashpads for Bouldering
Mammoth Crashiano Pad
At 156 x 110 x 12 cm, the Mammut Burrito has a size of 156 x 110 x 12 cm, the foams (the upper one continuous) are suitable for Highball. With the flap, you can cover the good carrying system when bouldering. So it stays clean, but above all, it does not get stuck when slipping.
What we like: Very good damping and dielectric strength; high-quality foams; solid workmanship; footrest; fits in most combos
We like less: Only two positioning loops
Price: 350$
Prices: Mammoth Crashiano Pad
Snap Wrap Original
Quasi the intelligent crashpad. For small falls with a lot of contact surface, the 150 x 100 x 15 cm taco cushions as soft as butter, for really high falls, it offers perfect dielectric strength, as only a little air can escape from the cells.
What we like: Sensational cushioning for small and large falls, robust shell and good workmanship
We like it less: Carrying system must be taken off for bouldering (fixed on the upper side by Velcro); no material transport in the pad possible
Price: 320$
Prices: Snap Wrap Original
Ocun Paddy Dominator
Thanks to the FTS construction, even heavyweights can venture into greater heights with this 132 x 100 x 14.5 cm burrito. For lightweights, the damping is a little hard. The pad can also be connected lengthwise with a zipper (200 x 66 cm).
We like: Excellent dielectric strength; many good details: four positioning loops, fixing strap for the fold; carpet; very durable construction
We like it less: shoulder straps not too comfortable; slips easily on snow
Price: 270$
Prices: Ocun Paddy Dominator
Black Diamond Drop Zone
The classic taco. The 122 x 104 x 9 cm mat is a great everyday pad: good size, relatively light at 4.75 kilograms, neat carrying system, good payload thanks to flap, and fairly high-quality foam.
We like: continuous landing area; practical, elastic flap for transporting material
We like less: Should be stored open; for high boulders only conditionally suitable
Price: 250$
Prices: Black Diamond Drop Zone
Edelrid Sit Start II
With its size of 90 x 55 x 5 cm this starter pad is perfect for the first moves away from the ground, or to cover stones or the gap between two pads.
We like: Amazingly much cushioning; logo serves as a foot scraper; robust material
Price: 50$
Prices: Edelrid Sit Start II
Related Questions
What does the UIAA standard for crash pads contain, and how widespread is it?
Crash pads are not classified as PPE (personal protective equipment), which is why there is no EN standard yet. In recent years, however, more and more manufacturers have brought crash pads onto the market – with considerable differences in price and quality. For the boulderer, it has become extremely difficult to estimate the differences between the products.
Therefore the UIAA- SafeCom participants (manufacturers, alpine federations, etc.) have already started to work on a crashpad test in 2013. The UIAA 161 then became valid in 2016. As far as I know, only Camp/Cassin has currently certified its two crashpads with this standard. That costs money. But I'm pretty sure that more manufacturers will follow in the next years.